You'd be surprised how many well-known faces you might bump into in our colourful coastal town, check out who they might be:
1. David Gilmore
Guitar god and musical titan from the worldwide famous band Pink Floyd supposedly has a place on the seafront.
2. Cate Blanchett
The Oscar winning actress for the bloody good film Blue Jasmine, has on several occasions mentioned that she misses living in our coastal town: 'I miss Brighton the faded grandeur of the British seaside. It has such a nostalgic poetry.'
Her luscious bathtub entirely made out of marble had to be installed through the window at her then five-bedroom house in Brighton's Lewes Crescent, which also required the closure of the entire street.
JUST SEEN CATE BLANCHETT ON BRIGHTON SEAFRONT EATING AN ICECREAM. ONE OF THOSE POSH ONES THOU. #BRIGHTON

— WEIRD CHRISTMAS (@WEIRDCHRISTMAS) May 24, 2014
3. Chris Eubank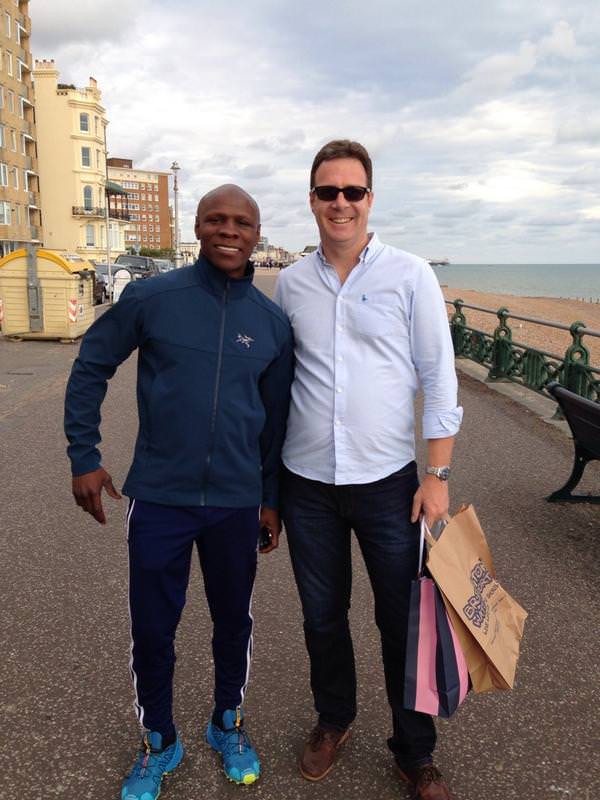 The world champion biffer made Brighton his adopted home town, stayed for at least a decade, then had to file for bankruptcy, we're not sure where he's living now but he has said: "I'll always be in Brighton."
He's well known for the Louis Theroux documentary featuring him driving along in a seven-tonne trunk that would cause road traffic nightmares.
Just gave a sweaty hi 5 to Chris Eubank on my Brighton seafront run and he was on his bike. Survived.

— Seeto (@seeto_) February 20, 2016
4. Steve Coogan
A-ha! The comedian Steve Coogan, i.e. Alan Partridge, was recently banned from the road for driving nearly double the speed limit along Brighton seafront.
So odd to see Steve Coogan outside Aldi on London Road Brighton just now. #spotted #aha

— Rifa ⭐️⭐️⭐️⭐️⭐️ (@rifa) December 19, 2015
5. Noel Gallagher
Noel Gallagher may be mostly known for his work with the band Oasis, but he might have other aspirations – here's a glimpse into a world where Noel is an astronaut: "If I ever get to go to the moon, I'll probably just stand on the moon and go: 'Hmmm, yeah…fair enough…gotta go home now."
https://twitter.com/HarrryOC/status/491254166061608961
6. Nigel Kennedy
The virtuoso violinist was born in Brighton and is known for injecting punk influences into the orchestral music genre.
7. Fatboy Slim/Norman Cook
The disc jockey recently received an Alumnus Award from Brighton Uni. Living on the seafront with his partner and well known TV presenter, Zoe Ball, Mr. Slim has almost become a permanent Brighton landmark.
8. Lesley Manville
The stratospherically talented Lesley Manville was born in Brighton, and has since worked on some of the director Mike Leigh's best films like All or Nothing and Another Year.
9. Nick Cave
Seen practically everywhere over Brighton, and known for his gothic music, Nick Cave has delighted many Brighton fans should they be lucky enough to spot him strutting down the street.
The Dean of the faculty of arts at Brighton Uni, Anne Boddington said: "We are fortunate that Nick Cave is not only resident in the city but has chosen to contribute to its creative life as a performer, musician and singer, as a writer and as a patron of CineCity [The Brighton Film Festival]."
10. Matt King/Super Hans
King of Brighton, the Comedian Matt King is undoubtedly known as his character – Super Hans  – a drug-bewildered friend in the Channel 4 TV comedy series Peep Show.
Image from Objective Productions via tumblr
https://twitter.com/bloodyallen/status/675732734803910656