The post-Pride In The Park blues are kicking in and so is cloudier weather. Don't worry. We have put together our top picks of upcoming gigs that are bound to brighten up your week.
Caesar Jones @ Back Beat Bar, Monday 5th August
Originally from Manchester, the now Brighton-based artist Caesar Jones is a self-taught musician. Following the release of his self-titled album in 2017, Jones has been touring throughout the UK this year, coming back to Brighton to perform this Monday evening. Inspired by the likes of Lennon, Bowie, The Flaming Lips and the Beatles, Caesar Jones has developed an indie sound that is uniquely his own.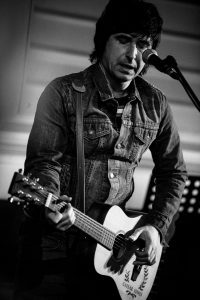 Back Beat Bar, 8.30pm – 11pm. Tickets Free (Additional fees may apply.) 18+. 5/6 Western Road, Hove, BN3 1AE
OKTOBA @ The Brunswick Live, Tuesday 6th August
"OKTOBA" is the new project of the alternative singer-songwriter, Chris Athorne. Three years since his debut release, Chris has redeveloped his story-telling beginnings in folk. He is now working alongside new producer, Ben Townsend, to bring a refreshingly enigmatic sound to OKTOBA. His performance promises captivating acoustics resonant of Bon Iver and RY X.
The Brunswick Live, 8pm – 11pm. Tickets £5 (+BF). 18+. 1 Holland Rd, Hove BN3 1JF
Raffles @ Back Beat Bar, Wednesday 7th August
The Brighton-based band Raffles debuted their first ever live performance and EP, "Couples' Retreat", earlier this year. The young duo describe their music as "snooze music coming out of Brighton sea". Catch their mellow sound and quirky acoustics filling the intimate venue of Back Beat Bar this Wednesday.
Back Beat Bar, 8:30 – 11pm. Tickets Free (Additional fees may apply). 18+. 5/6 Western Road, Hove, BN3 1AE
Dry Cleaning @ The Prince Albert, Thursday 8th August
This post-punk band from London announced their debut EP in early July. Entitled "Sweet Princess", the EP is set to release August 16th. Their performance at The Prince Albert promises a sneak peak at the fresh sound the band are about to bring to the post-punk scene. The EP includes the track "The Magic of Meghan" in celebration of the Duchess of Sussex following the scrutiny she has received in news media.
The Prince Albert, 8pm – 11pm. Tickets £5 (+BF). 18+. 48 Trafalgar Street, BN1 4ED Brighton
Haiku Hands @ The Hope and Ruin, Friday 9th August
The electro-rave-pop trio from Australia have are known for genre bending, with their influences varying from hip hop, pop, electronic, dance and disco." The stage name 'Haiku' represents their "lyrical interests, distilled ideas and imagery", and 'Hands' refers to the collaborative nature of the trio's work (Vogue). With their electrifying performances often sparking pandemonium, this is a night of dance that cannot be missed. 
The Hope and Ruin, 8pm – 11 pm. Tickets £7 (+BF). 18+. 11-12 Queens Road, BN13 Brighton
Isabelle Brown @ Komedia Studio, Saturday 10th August
At just 16 years old, Isabelle Brown is already making a name for herself in the world of music. The Brighton-based singer will be bringing her soulful voice to Komedia this Saturday. Her new EP "03" was released in February, drawing upon classic soul and hip hop influences. Her mature sound yet youthful optimism has been highly praised, with Nation of Billions describing Isabelle as a singer "gearing up to take on the world." 
Komedia Studio, 7.30pm – 10.30pm. Tickets £5 (+BF). 14+. 44 Gardner Street, BN1 1UN Brighton
Jamie Mathias @ Komedia Brighton, Sunday 11th August
Brightonian singer-songwriter Jamie Mathias is making a return to performing after his hiatus due to vocal nodules. The pop artist and rapper's songs are honest recounts of love, in all of its ups and downs. Kicking off his UK tour here in Brighton, his vocal-styling, lyricism and often-uptempo tracks are an exciting taste of the new projects on Jamie's horizon.
Komedia Brighton, 7.30 – 11pm. Tickets £9 (+BF). 14+. 44-47 Gardner Street, BN1 1UN Brighton