Happy Pancake Day! Let's be honest, it's the best day of February, and I'm not just saying that because I'm single. Pancake Day, or Shrove Tuesday, changes every year as it is determined by Easter. Shrove Tuesday comes from shrive, meaning absolution for sins by doing penance and gets its name from Christians trying to be 'shriven' before lent. Pancakes have always been associated with Shrove Tuesday because they were made as a way of using up rich foods like eggs, milk and sugar before the forty days of fasting. Of course, we tend not to fast for Lent anymore but it is common for people to give something up. Pancake Day doesn't mean you have to compromise your diet, there are loads of super delicious healthy pancake recipes, just like the one below.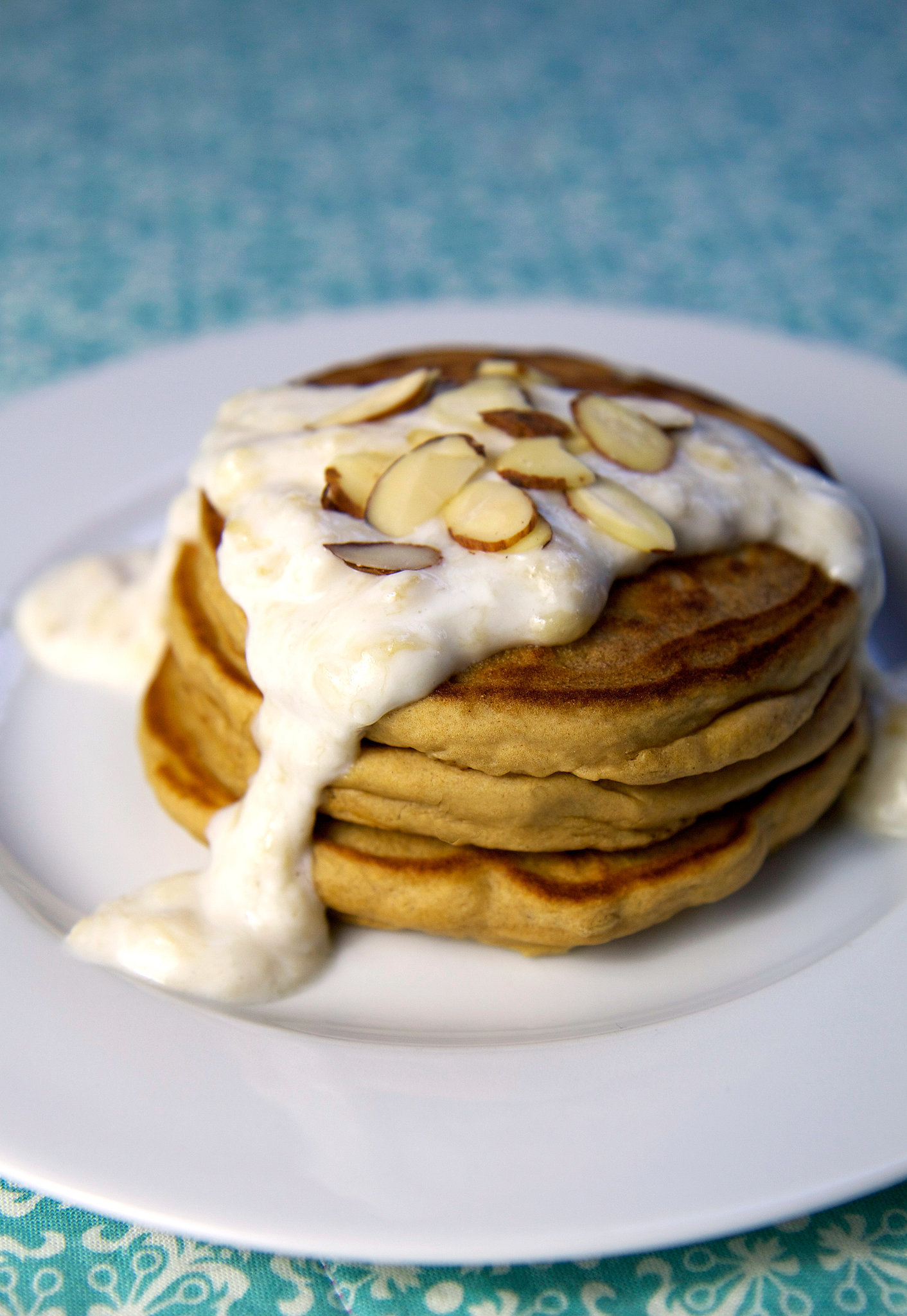 High Protein Pancakes with Banana Cream Sauce
For pancakes:
100g whole wheat flour
75g vanilla protein powder (I used Garden of Life Raw)
1 tablespoon baking powder
1/4 teaspoon salt
1 egg
1 tablespoon maple syrup
1/2 teaspoon almond extract
240ml vanilla soy milk (or almond milk)
1 tablespoon rapeseed oil
30g sliced almonds
Cooking spray for pan
For the sauce:
1 banana
180ml fat free vanilla Greek yoghurt
For the topping:
30g sliced almonds
In a bowl, mix the whole wheat flour, protein powder, baking powder, salt, egg, maple syrup, and almond extract.
Stir in the soy milk and oil. Mix in the sliced almonds.
Place a skillet or griddle on medium heat. After spraying the pan, pour batter into circles (using about 60ml of batter).
Once the pancakes begin to bubble, flip them, and cook for another minute or so on the other side until golden brown.
To make the cream sauce, mash the banana in a small bowl, and stir in the Greek yoghurt.
Serve three pancakes with a healthy scoop of the banana cream sauce, and sprinkle with sliced almonds.
Holly Martin
holly@brightonjournal.co.uk
recipe from Pop-Sugar
feature image:Christi Tolbert/istock