Brighton and Hove Pride takes place this weekend and if you've passed Preston Park this week, you might have seen preparations for the festival taking place with a huge stage being erected for the Saturday Pride Festival.
However if you haven't managed to get a ticket for this Saturdays Pride Festival in Preston Park, you might be experiencing FOMO. Fear not! There are so many other amazing Pride events happening all over the city this weekend and here is our compiled list!
90's terrace party Brighton Pride @ The Western – Friday 3 August – Sunday 5 August
With Britney Spears headlining pride this year, The Western pub are throwing a good ol' 90's warm up/after party where you can expect everything Britney and more! There will be back to back divas all day and all night, live music, DJs and fabulous décor! So come and join the party on their sunny terrace this weekend for all thing 90's and all things PRIDE, plus it is FREE ENTRY!!
The Western, Free Entry, More information see Facebook page, 11 Cranbourne St, BN1 2RD Brighton
Pride 2018 @ FunkyFish Bar & Club – Friday 3 Aug 2018 – Monday 6 Aug
Free entry all weekend at for a great party all weekend at Brighton FunkyFish Bar & Club!
Friday 3rd August – join for 'I Love the 90s' and party to 90s,90s,90s music all day long! Bar and Terrace will be open from 2pm with DJs from 9pm!
Satrurday 4th August – Experience 'The Pride Party' with 2 dance areas, 2 Bar areas, 3 DJs, a Terrace & Street party, an after party and  Food! Great vibes all day where you can expect music such as Dance, RnB, House, Big Beats, Classic House, DnC, UKG, Minima! The bar will be open from 3pm, with the party commencing from 6pm.
Sunday 5th August – 'One More Time!' Street & After Party with outdoor DJs, Street party,After party,Food, Dance hits & Club classics! The bar will be open from 2pm and the party starts from 3pm going on until very late!
FunkyFish Bar & Club, more information, 19-23 Marine Parade, Brighton, East Sussex, BN2 1TL
Pride @ The Prince George – Saturday 4 August 
Get your glitter on, dress in your best and brightest colours and come and celebrate Pride 2018 at the Prince Gerge Pub in central Brighton! Open from 11am until late and with free entry!
The Prince George, 11am till late, 5 Trafalgar Street, Brighton
Brighton and Hove Pride Community Parade – Saturday 4th August 2018
This Saturday sees the return of the biggest and most exciting visual event in Brighton & Hove's calendar – The annual Pride Community Parade! Filling the city's streets with colour, love, light and laughter, more than 300,000 people are expected to participate and watch the spellbinding spectacular "Carnival Of Diversity". A completely free event that is  definitely not an one to be missed!
The parade starts at Hove Lawns at 11am on Saturday and will travel through the city, ending at Preston Park.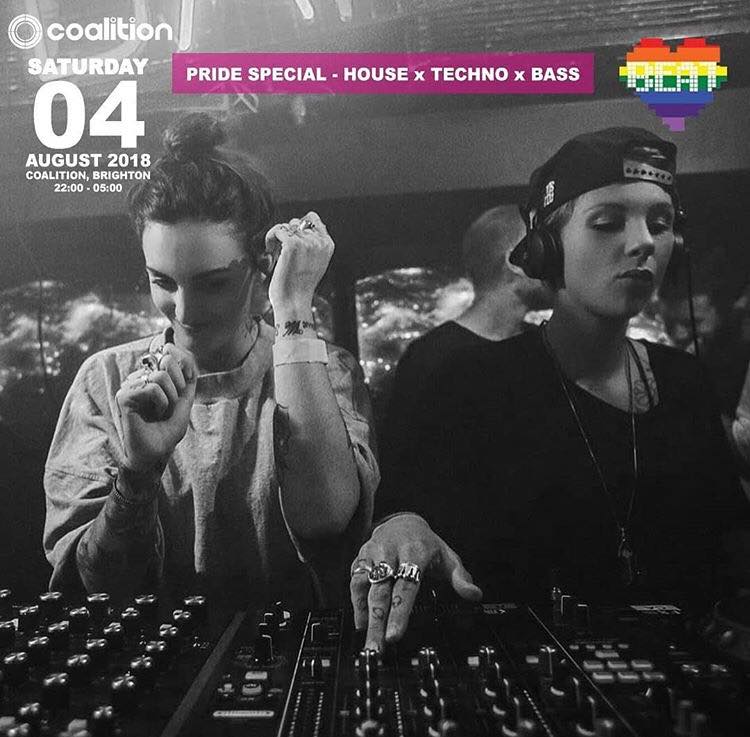 Love Beat Special @ Coalition – Saturday 4 August
Coalition presents 'Love Beat Pride Special' this Saturday 4 August in celebrating Brighton and Hove Pride 2018! With Flava D, Chary Nicks, Ellie Cocks DJ, Jess Bays and Maze & Masters all performing on the decks, you can expect House, Bass and Techno to dance the night away to!
Coalition, 4 Aug at 22:00 to 5 Aug at 05:00, £11.00 tickets, 171-181 Kings Rd Arches, BN1 1NB Brighton
Pride Terrace Party @ Stock Burger Co – Saturday 4 Aug 2018 – Sunday 5 Aug 2018
Come down to Stock Burger Co this Pride weekend and watch it all unfold. There will be music and dancing along with the passing parade in the morning followed by an evening filled with drinks and music – the perfect place to watch it all happen and get involved! Drinks, cocktails, and burgers will be sold all day with a little added flair and louder music!
Stock Burger Co, 12:00 – 23:00 Sat 4 and Sun 5, 137 Kings Road, Brighton, East Sussex, BN12JF
LoveBN1Fest – Preston Park – Sunday 5th August 2018
Get ready for LoveBN1Fest 2018, the brand new Pride Sunday community event in Preston park helping raise extra funds for the Pride Social Impact Fund.  Featuring main stage headline artists, performance and dance tents, family tents, circus skills, spoken word and cabaret, a creative arts and culture zone, LoveBN1Fest will be a great Pride celebration in the park. Tickets are still available!
Preston Park, £37.50 tickets, More information see here,
Pride Village Party @ St James Street- Saturday 4th & Sunday 5th August 2018
The two day Pride Village Party will once again grace St James Street and the city's iconic seafront Marine Parade this Saturday and Sunday! Online sales for PVP 2018 have now finished, however wristbands are available from the Pride Box Office on Victoria Gardens.
Additionally, as part of the huge Pride Village Party, Revenge is transforming the area outside Bar Revenge into an all-singing all-dancing outdoor festival zone! There will be an outdoor stage on Marine Parade with Brighton's hottest DJs, and a performance balcony over Bar Revenge! Expect an amazing Pride celebration with a huge outdoor bar, dancers, drag quuens, confetti cannons & much much more! PVP wristbands will be required to gain entry.
Revenge Brighton, 32-34 Old Steine, BN11 Brighton