"She stole her husband. Now she wants to steal her life" is the captivating tag line of Julia Crouch's fifth and latest novel, Her Husband's Lover. The Brighton-based author is known for her excellent plots full of twists and surprises. When readers buy one of her books, they can be sure to expect: a dark story about the crimes we commit against each other under the shield of love; the writer is the creator of the crime fiction genre 'Domestic Noir'.
Having originally started off as a theatre director and playwright and later on turned towards graphic design, Julia didn't get into writing until she was in her early 40s. At that time, she had the intention to write and illustrate children's books. During her MA course in Sequential Illustration at Brighton University, she produced her first two works but was soon told by publishers and editors that those were "too dark" for children.
Despite the disappointment of having her works being turned down, she wasn't ready to give up on writing and decided to sign up for a couple of creative writing courses with the open university. Starting off with short stories, she was soon told by her tutors to have a go on NaNoWriMo, a programme which requires participants to produce a 50,000 word novel within a single month.
The intensive writing scheme showed her that writing novels was what she really enjoyed and although the first result was "rubbish", as she calls it, it was this first draft that served her as a basis for her debut novel Cuckoo which was published in 2011. Some of the original passages even made it into the final version.
Julia never totally discards one of her old drafts. At the moment, she is working with a story she first wrote ten years ago and which is meant to become her first international thriller. But working on just one project at the time would be too boring for the author who loves to keep busy. By September, she hopes to finish the first draft of a new Domestic Noir novel. The book is set in the middle of nowhere in Puglia, Italy, and features a lot of "nastiness in the sun" when long-hidden secrets start to emerge and friends turn against each other.
"It will be the essence of Julia Crouch so to say", the writer promises with a little smile. Domestic terrorism, psychological abuse and the way how love can quickly turn to hatred is what people can expect when they buy one of her 'Domestic Noir' novels. "I always say it's about the terrible things we do one to another in the name of love."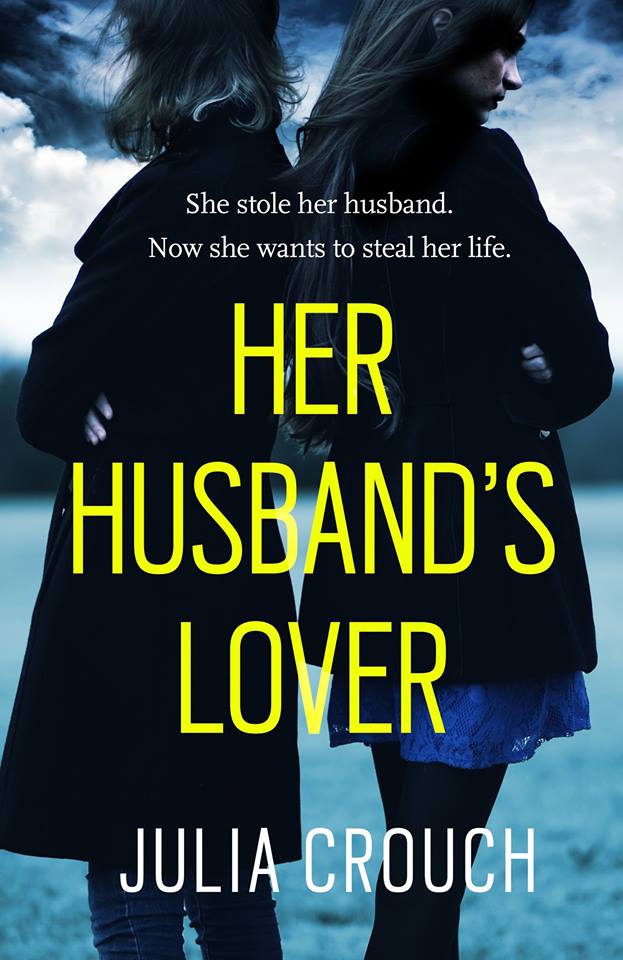 Known as the "Queen of Domestic Noir", Julia even was the one who invented the term which now titles entire shelves in bookshops and is used by publishers all over the world to sell the works of their best-selling authors. In the beginning however, becoming a crime fiction author was the very last thing she wanted.
Inspired by Nick Cave's album "The Boatman's Call" and the complicated triangular relationships so often found in the books of Virginia Woolf, Julia was sure to have created a dark passion literary novel when she handed the first draft of her debut novel Cuckoo to her agent.
After having read the manuscript, her agent told her that it was a crime and not a literary fiction that she had produced. The judgement was more than disappointing for the author who had always considered crime fiction to be a lesser form of fiction, an idea that has now radically changed.
Five successful crime fiction novels later, Julia knows exactly what challenges are involved in writing this kind of fiction. "Not only do we have to create believable worlds, credible characters, incredible situations and keep a story going but we also have to keep the reader guessing, create a really tightly constructed plot and come up with a satisfying conclusion at the end", Julia cites fellow Brighton writer Peter James with whom she strongly agrees on that.
Despite the challenging task to develop all the twists and turns that make a crime fiction novel interesting, Julia still finds it a lot easier than writing a romance.
"Crime fiction is all about conflict; any story has to have an element of conflict in it. To me, the extreme conflicts of the crime fiction genre create a far more potent area for story development. Whereas with a romance, I wouldn't know where to start to make it interesting. I think if I started to write a romance novel, it would probably get very nasty really quickly", she speculates laughing.
For her, writing crime fiction even has a cathartic effect. "I am totally scared of the dark. I could never walk in the countryside or stay in a house in the middle of the woods on my own at night. I had a lot of nightmares when I was a child and I have found that crime fiction is a great outlet for that", she explains.
Like people tend to say about crime fiction authors, Julia sort of 'writes her dark side out', a process that she follows through with an incredible discipline. Still following the NaNoWriMo technique, she tries to write 2,000 words a day even if she doesn't feel like it. When it comes to drafting, the author has a simple and deliberating philosophy.
"The first draft of everything is shit", it reads on the wall above her monitor in the little garden shed where she works. "It's a quote by Hemingway and it gives me enormous freedom because the permission to write badly is extremely deliberating. I have learned that you can't be too demanding of the first draft. I even call my first draft 'draft zero' because no one will see it."
Getting the words out is the hardest bit for her but once that's done she has got the basis she elaborates on. "Once you have carved that really rough path out, you can start to refine and that's the part I really enjoy. I like to get up really early in the morning and write for three hours and by then, I usually have my 2,000 words together and can spend the afternoon reading or doing other stuff."
"Doing other stuff" mainly means doing research for her novels. Although it does, of course, involve a lot of reading, the seasoned author has long discovered that internet tools such as Google Earth and social media are at least as helpful as books.
"Some of the scenes in my international thriller will be set in one of the National Parks in the Democratic Republic of Congo and that is also the place where one of my characters comes from. So, I found where he would live on google maps, I found the business he would run which is a boats trip company he is aiming to build up for tourists and I am on the Facebook group of the local town he lives in. I am following what is going on there so that I get a sense of the community."
But no matter how helpful the internet may be for her research, it can't replace the impressions and tiny little details she picks up when she is actually there. "What you can't get by doing that is the smell, the feel of the grass under your toes, the sounds. If you don't go there, you won't know what time the crickets stop chirping at night and you won't get the sensory experience of what it is like to be in this place", she explains the necessity for her to actually go and visit the places. She has only just recently come back from a trip to Puglia, Italy.
Although researching new novels is the main purpose behind her frequent travels, the author knows well how to make use of this in order to get to her bewished holiday destinations. "I always set them somewhere I want to go", she admits with a little laugh. Enjoying traveling on her own just as much as writing, she is happy about every excuse she can get to go on another trip, even if it is just to somewhere else in the UK. Julia is a regular at many of the country's crime fiction events and festivals where she has met big international names such as Lee Child.
If you want to meet Julia Crouch in person, you can do so at the bi-monthly Brighton Crime Wave events at Waterstones Brighton where she receives and interviews other big crime fiction authors, together with her writer colleague William Shaw.
To find out more about Julia Crouch and her Domestic Noir novels, visit her website. All her books are available on Amazon, Hive and Waterstones. Her latest novel, Her Husband's Lover, is also available as Apple iBook and as eBook on Kobo.