No Comments
10 Gourmet Hot Dog Ideas To Spice Up Your BBQ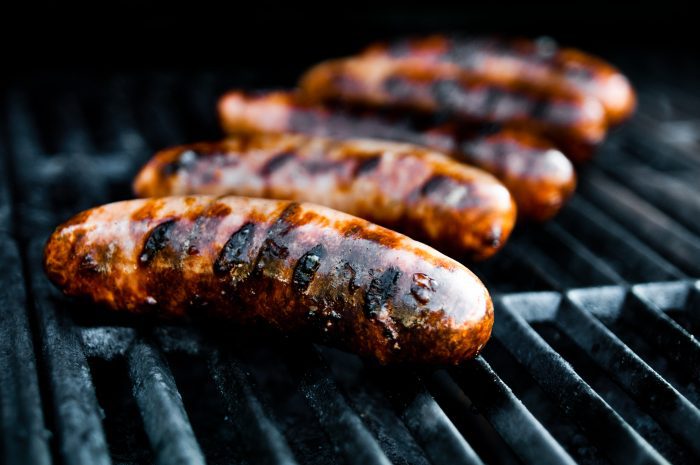 On

20th June 2017

https://www.brightonjournal.co.uk
In the UK, Summer calls for one thing…back garden barbecues! So to spice up your usual ketchup and mustard hot dogs, we've found the best gourmet 'dogs the internet has to offer.
For the vegetarians and vegans amongst you, don't worry, we haven't forgotten you! Simply swap out any of the meat-based ingredients for veggie friendly alternatives. We recommend Quorn or Linda McCartney sausages!
1. Nacho Hot Dogs
This easy recipe is the perfect way to add a little pizzazz to your classic hot dog. Simply top with guac, salsa, sour cream, jalapenos and use plenty of cheese and you'll wow your guests in no time! If Mexican's your thing, you're going to love these.
2. Pizza Dogs
This one's for all the pizza lovers out there. Sure, everyone loves a barbecue, but does anything really beat a nice cheesy pizza? Well why not compromise with this simple pizza dog recipe?These really couldn't be easier to make…
3. Stuffed Bacon-Wrapped Hot Dogs
These OTT hot dogs are as delicious as they look. Serving these stuffed sausages will certainly fill your guests with flavour, with the bacon tying all the ingredients together and ensuring nothing comes un-stuffed. Follow this recipe for indulgent, delicious 'dogs.
4. Jalapeno Chili Dogs
A little twist on the classic 'chili dog', this recipe is simple, comforting and most importantly, delicious. Simply make a chili as usual, add the cooked 'dog and top with plenty of fresh and delicious ingredients!
5. Chicken 'Dogs With BBQ & Honey Mustard
If traditional dogs aren't your thing, why not opt for chicken tenders instead? It may not be conventional but it sure does look appetising. The recipe offers you the opportunity to make your own chicken 'dog, but don't hesitate to take the lazy way out and use from frozen!
6. Teriyaki Hot Dogs
If you prefer to go Asian inspired with your food, why not try out this tantalising Teriyaki 'dog topped with pickled veg? This relatively simple recipe shows you how to pickle your very own vegetables and glaze the hot dog to create that perfect balance between savoury and sweet!
7. Greek Style Hot Dogs
For a refreshing twist on a traditional hot dog just follow this recipe. The crumbly feta cheese, cucumber and black olives will make a nice change from the aforementioned, slightly richer recipes.
8. (Crab) Mac'N'Cheese 'Dogs
For those who love comfort food, what could be better than macaroni cheese topped hot dogs? These American inspired 'dogs are certain to leave your BBQ guests wanting more… PS, if you don't quite fancy the crab/sausage combo, feel free to leave that part out!
9. Sriracha 'Slaw 'Dogs
These spicy 'slaw 'dogs are as tasty as they are colourful and all the recipe really requires is some basic veg prep!
10. Hawaiian Hot Dog
Forget about the pineapple on pizza controversy, what about pineapple on hot dogs? Though this recipe may not be to everybody's taste, it's a cool way to put a fruity and exotic spin on your usual 'dogs.