Brighton's favourite dancer and much loved public figure, Peter Turner, famously known as 'Disco Pete' has sadly had to hang up his disco dancing shoes as he enters full time care in an East Sussex nursing home.
The 82 year old pop-culture figure has been well-known on the dancing scene in Brighton since the 1960's. His appearances at many local festivals and dance clubs will be remembered by generations as his iconic flame outfit and white gloves never goes unnoticed.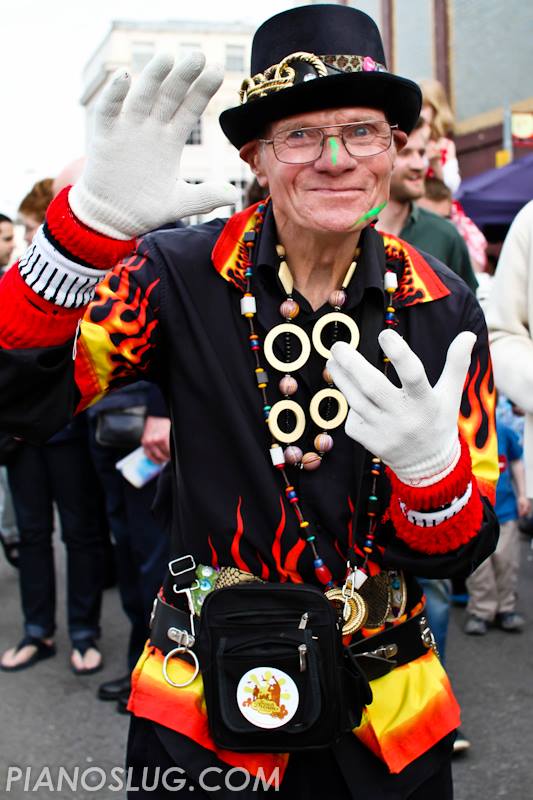 His daughter told Brighton Journal earlier this week, "he had to stop the regular clubbing due to ill health, and has only been able to go a few times since then." Her father was last spotted in nightclub Pryzm in Febuary, in a wheelchair earlier this year. She also spoke fondly of the times she has taken her father to dance clubs when he was no longer able to go by himself – she would sit quietly reading a magazine whilst Disco Pete took to the dance floor!
The popular raver is loved by many in Brighton, with a Facebook page created in his honour having collected over 12'000 likes.
Despite now being unable to attend some of his favourite events where he has been spotted raving, such as Shoreham's Beach Dreams Festival, Brighton's Children's Parade and Brighton Pride, Disco Pete would like all to know he is "now doing much better" in the nursing home. He would like to thank the NHS and his carers for everything they have done to help him in his ill health.
Dancing through the ages: the history of Brighton's Oldest Raver
The dancing legend was once a Radar Mechanic in the R.A.F. in the 1950's, turning down a scholarship for art college to become part of the force. He went on to become a DJ at parties and events, as well as a radio DJ for a local hospital in the early 1990's.
Peter spent 27 years at Standford Infant's school in Brighton as a caretaker, retiring in 2001 where he was greatly missed by the staff and students. In an interview in 2001, headteacher Karen Wicker said "Peter was far more than just a caretaker", reflecting fondly on the work he did to help the children, as well as recording their events and being the much loved school disco DJ.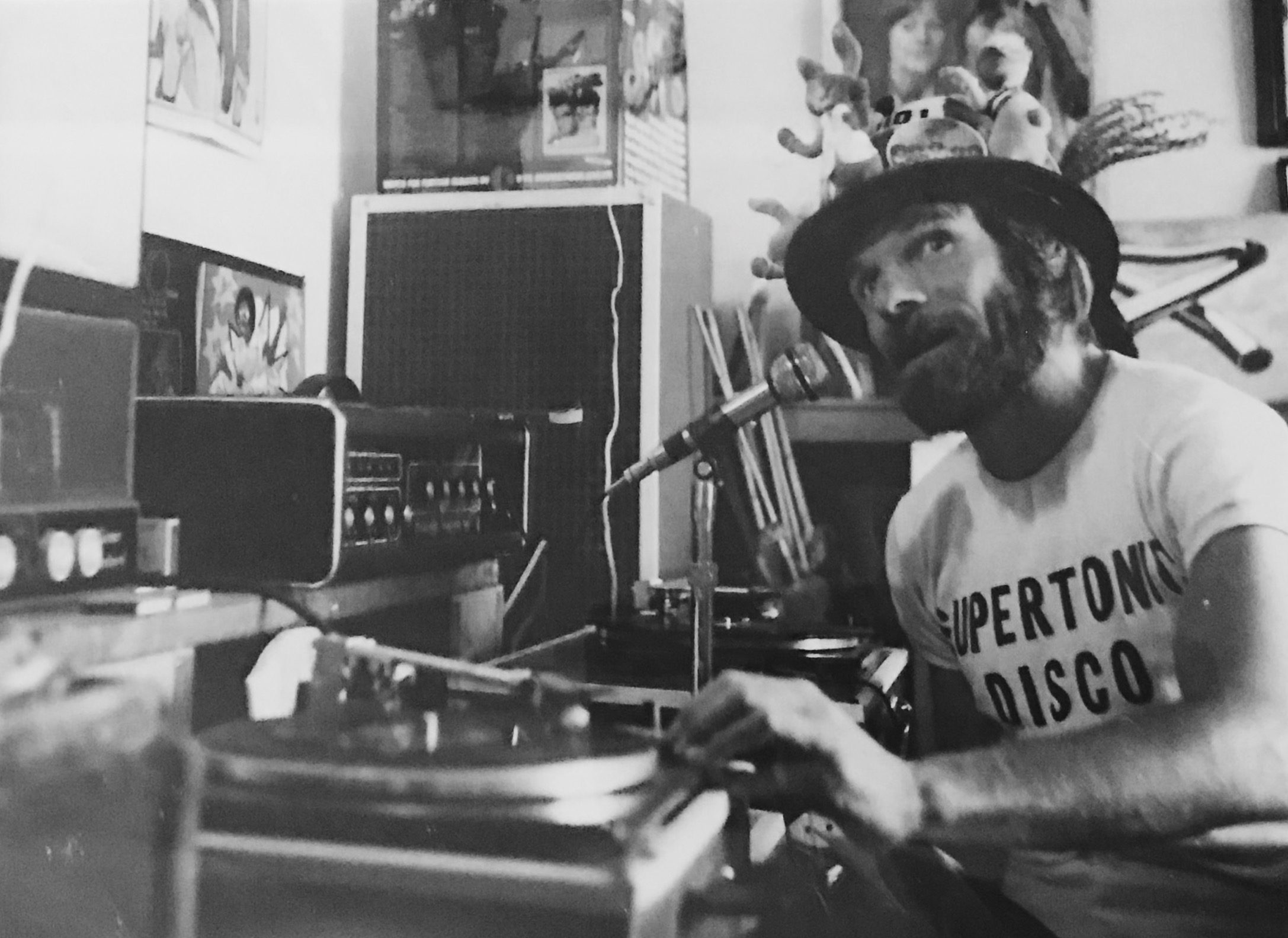 In his music days, Disco Pete loved to go clubbing most weekends, attending his favourite venue in West Street, 'The Pink Coconut' as it was known in the 1980's and 90s.
Dancing his way through every aspect of life, the talented Pete didn't just practice his moves in nightclubs, but went on to win countless disco dancing competitions when on Warner (now known as Haven) holidays with his family.
Peter Turner had incredibly artistic ancestors, including the artist W. Turner and English Romantic poet Percy Bysshe Shelley, so it is no doubt his creative talents came naturally. Although many know Disco Pete for his energetic disco moves, many may not realise he was also an incredibly gifted artist and published poet.
In light of his move to a local nursing home, Brighton Journal were kindly invited to view some of his unseen artwork and poetry by his daughter.
Pete's artwork and poetry was found amongst hundreds upon hundreds of vintage vinyl records – some he had been collecting since his very first DJ days.
The majority of artwork and poetry found reflected imagery of Brighton's West Pier, one of Pete's favourite places in Brighton aside from popular nightclubs.
Disco Pete: an icon of Brighton and loved by so many
Many of us in Brighton have fond memories of dancing alongside Disco Pete at some of the city's popular events. As sightings of him have become less frequent in recent years due to Pete's health meaning he isn't always able to attend – many have taken to Facebook to show concern and ask if "anyone knows how he's doing?"
More comically, Brighton people often like to update the city with photos or videos of his iconic moves and post them to Facebook. Likes and comments thrive as people all love to know the dancing legend is still around.
The popular Brighton icon has devoted much of his later years to helping with local children's charities, donating to organisations such as NSPCC and Chestnut Tree House Children's Hospice.
In 2016, on his 80th birthday, Disco Pete recorded a rendition of Jingle Bell Rock (Jingle Bell Brighton Rocks)  to raise money for local charity Time to Talk Befriending. He recorded the song alongside other Brighton icons such as the cast of Gogglebox and Dancing Ann.
Brighton resident Louis Michael from Gogglebox was part of the charity recording. He told Brighton Journal "Local legends like Disco Pete immortalise Brighton's effervescent energy.  While I was working with him he was a shining beacon of what makes Brighton so magical: insisting on nothing less than outright celebration of life."
Disco Pete would like to thank those who have shown concern and stopped to talk to him over the years, he loves talking about his dancing. As he is now unable throw his regular shapes in the nursing home, he hopes that he has inspired the people of Brighton to get on the dance floor. As Michael Jackson,  his favourite artist and inspiration for many of his dance moves would say, "so get on the floor, and dance with me."
On behalf of all of us at Brighton Journal, we sincerely hope Disco Pete is able to continue doing what makes him happiest, as his legendary dancing is missed greatly on the streets of Brighton & Hove.