No Comments
12 Indulgent Hot Chocolate Recipes For Rainy Days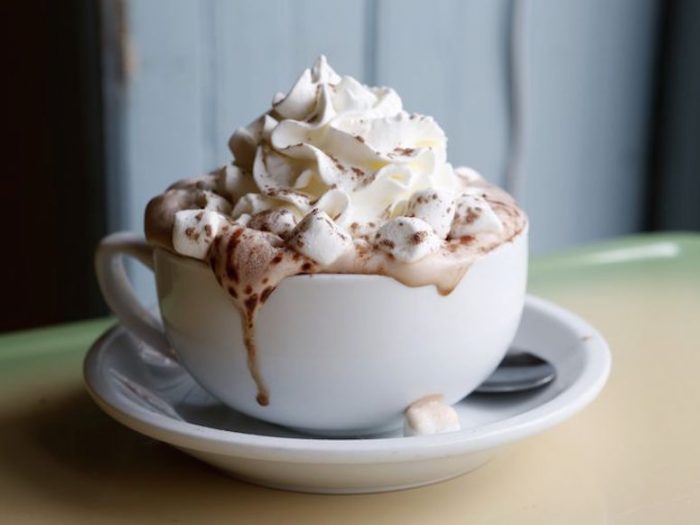 On

6th June 2017

https://www.brightonjournal.co.uk
By now us Brightonians are all too aware of how temperamental English weather can be. Unfortunately, the weekend's sun has left us once again in exchange for rain clouds and rocky waves. But don't be too disheartened – we're here to offer you some inspiration on a rainy day like today with some of the best hot chocolate recipes the internet had to offer!
1. Peanut Butter Hot Chocolate
For all you nut lovers out there, this hot chocolate will look (and taste) like the stuff of dreams. This is the perfect nutty twist on a classic hot chocolate – and it only takes 20 minutes to make! Find the recipe here.
2. Salted Caramel Hot Chocolate
The salted caramel craze started a couple of years ago, but who knew it would stick around for this long? If you've got a sweet tooth you're going to love this recipe.
3. Vegan Gingerbread Hot Cocoa
Don't be fooled by the picture – this drink may look like it's reserved exclusively for the cold Christmas period but delicious hot chocolate has no expiration date! If you're looking to warm up inside on this cold, drizzly day, look no further. This recipe is for you.
4. Nutella Hot Chocolate
A firm favourite in the world of chocolate, Nutella offers the perfect twist on a classic ho-cho. This recipe has to be the easiest and quickest of the bunch! Just add marshmallows.
5. Peppermint Hot Chocolate
Once again, the candy cane may make this look like a seasonal drink, but we promise it'll be just as delicious in June as it would be in December! If you're a lover of the classic combo that is mint and chocolate, like me, then this hot choccy will be perfect for you.
6. Orange Hot Chocolate
If mint and chocolate isn't quite your thing, maybe orange is. This easy peasy orange squeezy recipe will take you no more than 10 minutes and just look at the end result!
7. Homemade White Hot Chocolate
For those of you with a taste for white chocolate, look no further than this glorious homemade white hot chocolate recipe. Ready, set, indulge!
8. Pumpkin Spice Hot Cocoa
Pumpkin Spice Latte, who's that? Meet the more fun, younger cousin of the PSL! This autumnal drink is the perfect way to unwind and treat yourself on a gloomy day like today.
9. Vegan Boozy Mexican Spiced Hot Chocolate
Who says vegans can't indulge in hot chocolate? This recipe will make you think twice about the limitations of a plant based diet! Plus, it offers a boozy twist which is sure to perk you up.
10. Cinnamon Hot Chocolate
What is more comforting and warming than the smell of cinnamon on a cool day? This twist on your classic cocoa is the perfect way to warm you up when the weather is less than tropical. Bonus: It only takes 5 minutes to make!
11. Decadent Dark Hot Chocolate
For those who favour a more classic hot chocolate, why not indulge in this decadently dark drink? This recipe is so good that it even tells you how to store the powder you create, for use in the future!
12. Cardamom Hot Cocoa
For a hint of spice, simply add cardamom to your classic cocoa. This recipe really couldn't be easier, so it's great to have up your sleeve for the Winter months! (Or just for rainy days like today…)