With the General Election only three weeks away, we thought it might be helpful to publish a brief guide to who will be standing in each of the three Brighton and Hove constituencies. Over the next few days, we'll provide an introduction to the various candidates in each constituency, starting with Brighton Pavilion.
Brighton Pavilion constituency stretches from Hanover and Elm Grove to Withdean, and is currently served by The Green Party's Caroline Lucas. In total, there are seven candidates standing for this seat. At the beginning of November, The Liberal Democrats announced that their candidate for Brighton Pavilion would be stepping down as part of pro-Remain pact with The Green Party.   
So, without further ado, here are your candidates…
Adam Imanpour – Labour
Adam Imanpour grew up in Brighton and currently works locally as a mechanic for a family firm. He previously stood in the May council elections in the two-seat Wish ward in Hove, where he received 1,107 votes, but finished behind the two elected Conservative candidates. 
In a message to voters published on Pavilion Labour's website, Imanpour said:
This election offers a choice between a Tory Government which would sell our National Health Service to Donald Trump, or a Labour Government which will implement our Green New Deal.

Growing up in Brighton, I was lucky enough to know the difference that a Labour Government can make to the lives of ordinary people. I could go to sixth form at BHASVIC because of Labour's Education Maintenance Allowance, which the Tories cut in 2010 (when they also trebled tuition fees), and which the next Labour government will restore.

I know what it is like when a family member has their Personal Independence Payment reduced, or when another family member loses their Working Family Tax Credits. This is the reality of our lives in Tory Britain. Because I live and work locally, I also know how hard many of us are finding it to cope – struggling in particular with high housing costs, which make things so tough for all of us, and for young people especially.
Bob Dobbs – Independent 
Bob Dobbs has stood for election on 3 previous occasions. He first stood in 1997 for maverick party The Church of the SubGenius and uses the name of "church" figurehead J. R. "Bob" Dobbs in elections. Journalists often consider the Church to be an elaborate joke, but a few academics have defended it as an honest system of deeply held beliefs regarding commercialism and the oppressive nature of contemporary society. The group has developed an intricate mythology involving gods, aliens, and mutants, which is usually considered by observers to satirise other religions.
Dobbs stood in 2001 and 2005 for the Free Party, a minor political party linked to The Church of the SubGenius, who proposed to select their policies from a wheel of fortune. 
Caroline Lucas – Green Party
Caroline Lucas has held the Brighton Pavilion seat since the 2010 general election, being re-elected in 2015 and 2017 with an increased majority. She was born in Worcestershire, and worked for the charity Oxfam as well as serving on Oxfordshire County Council after graduating from The University of Exeter in 1983. 
Since being elected, Lucas has won numerous awards for her work as an MP, and has campaigned on issues including nuclear disarmament, the Gender Pay Gap and safeguarding the NHS, as well as the environment which is top of her party's agenda. Lucas backs a people's vote on Brexit, believing that the "extreme Brexit" Boris Johnson's government is proposing would be "a disaster for Britain". 
In a message to voters regarding the upcoming election, Lucas said: 
I may not 'fit in' with the grey suits of Westminster, but I know that being there matters. It matters because the vast majority of people I speak to in Brighton have had enough of the way politics is going in our country. It matters because the real opposition to this Government's swingeing, counterproductive and downright dangerous agenda is not coming from Labour – it's coming from the Green Party.When I've stood up in parliament, I'm not tied to vested interests or the party line. I am free to stand up for you, for Brighton and for what I believe in.

I'm standing for our NHS, our schools and our railways and other public services in public hands. I'm standing for a fair and resilient local economy that puts people and local jobs first. I'm standing for better quality, affordable, secure housing that meets local demand. I'm standing for affordable energy and radical action to tackle climate change, protecting our way of life.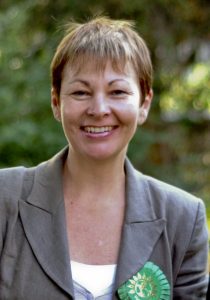 Citizen Skwith – The Monster Raving Loony Party
Encouraging people to "vote for insanity", The Monster Raving Loony Party was established in the United Kingdom in 1983 by the musician David Sutch, also known as "Screaming Lord Sutch, 3rd Earl of Harrow".  Their current policies include sending Noel Edmonds to negotiate Brexit "because he understands Deal or No Deal", reducing national debt by "selling the castles back to the French", and painting half of all grey squirrels red "to increase the red squirrel population". 
The Monster raving Loony Party effectively exists to satirise British politics, and to offer itself as an alternative for protest voters.
But who exactly is Citizen Skwith? It seems nobody knows… 
Emma Hogan – Conservative 
Conservative candidate Emma Hogan works as a psychiatrist, and was one of the first graduates from the Brighton and Sussex Medical School. After graduating she worked at the Royal Sussex County Hospital, Brighton General Hospital and Hove Polyclinic before taking a job in London. She stood in the 2019 Brighton and Hove local elections for the North Portslade ward, but did not get elected.  
On being selected as a candidate, Hogan said:
This is going to be an exciting new challenge. I will give it my all and believe that the constituency is ripe for a change. I am grateful for the opportunity to represent my fellow Brightonians with all the issues we care so deeply about.
There is no statement from Hogan on the Brighton and Hove Conservative's website regarding her views on policy for this election. 
Richard Milton – The Brexit Party
Richard Milton worked as a design engineer in the telecommunications industry for eight years, and has lived on the south coast for 12 years. He is the author of five novels and seven non-fiction books, and is also a business consultant. For this election, he was originally going to stand as The Brexit Party Candidate for East Worthing and Shoreham, but will now stand in Brighton Pavilion.    
In a statement made to the Worthing Herald, Milton said: 
More than 53 per cent of the voters of East Worthing and Shoreham voted to leave the European Union. Yet here we are, three years later, still stuck in the EU. I want to be part of the fight to restore democracy to British politics by carrying out the wishes of the people who voted.

This fight for honest representation in Parliament affects everyone – not just those who voted to leave.

As a business journalist I've reported on UK leadership in many fields from Formula One cars to space satellites and artificial intelligence. We're the world's seventh largest manufacturing nation and we can climb still higher up the league table once we're free to make our own trade deals and free of directives from the EU.
Nigel Furness – UKIP
Nigel Furness stood as the UKIP candidate for Central Hove in the 2019 local elections, but finished bottom of the polls, receiving only 122 votes. He lives in Hove, and has been a vocal critic of Brighton and Hove mayor Alex Phillips serving as a Member of the European Parliament, calling on her to step down earlier this year.
Furness has not released an official statement to voters regarding the upcoming election.
The deadline for registering to vote in the 12th December election is 26th November. It's quick and easy to register or update your details on the government website. If you're at all confused about what you need to do, check out our handy guide to registering where you'll find lots more information.  
Featured image:  © Paul Gillett – Polling Day, Brighton Pavilion via Geograph.