Despite some temperamental weather of late, it is still June and that means sitting out, absorbing some rays and drinking a cold pint of whatever you fancy. With that being said, we understand with so much choice in Brighton's beer scene, it can be hard to locate the best pub for you and your pals to sit in. For me, summer + pub = one thing, and that's a nice beer garden. So we've compiled a list of the best beer gardens that Brighton has to offer!
1. The Hare & Hounds
Boasting a relaxed and chilled out atmosphere, The Hare & Hounds is located on London Road. H&H offers an intimate beer garden, with heated booths, lots of greenery and fitting artwork on each wall. As well as switching up which fresh beers they serve every week, meaning you'll have a lot of choice, they are also home to Brighton's very own La Choza mexican joint. What sounds better than being able to chill in the cosy garden with a pint of something local and some nachos on the side?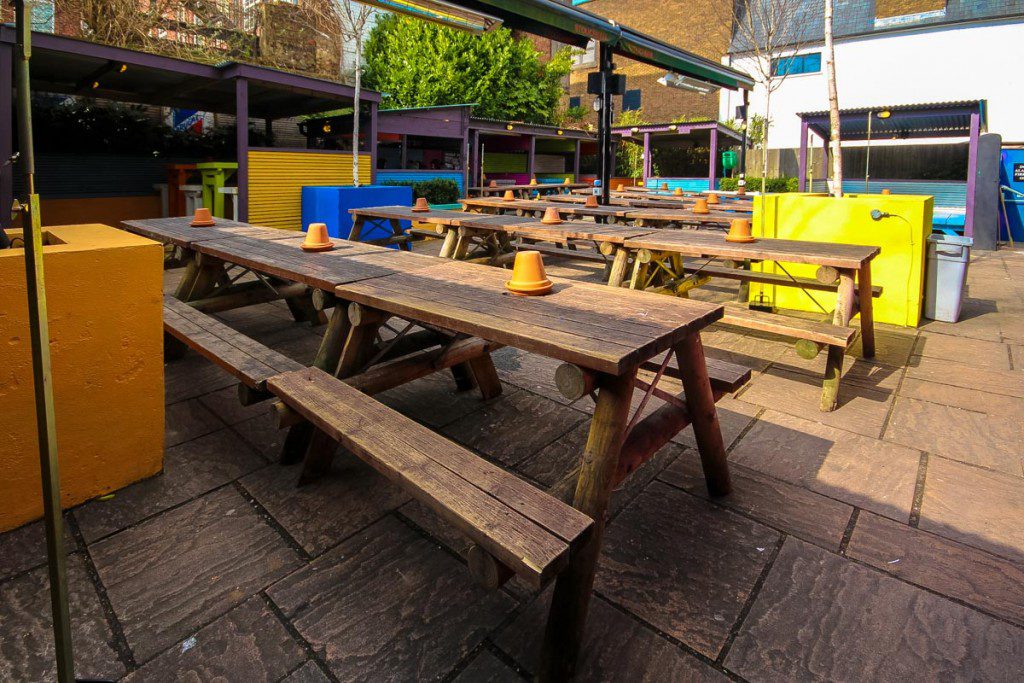 2. Hobgoblin
Hobgoblin is a classic Brighton pub, situated on York Place, not too far from the laines. Although the interior may not be anything to shout about, the beer garden offers a wide range of seating, with vibrant decor and some heated booths too! With different drinks deals throughout the week, including Tequila Tuesdays, this watering hole is particularly popular with students. And to top it all off, Hobgoblin also have great food to offer, with Doughbo in charge of their kitchen.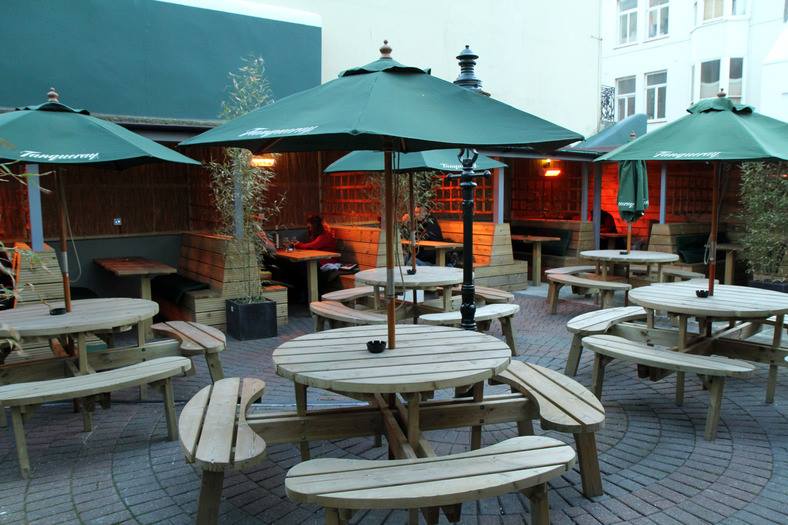 3. Sidewinder
Located in the heart of Kemptown, Sidewinder is another great pub to swing by if you're looking for a good beer garden. Sidewinder's garden offers lots of space, with heated booths, tables for groups and even sofas if you head to the back. The local pub offers a great selection of beers, local or otherwise as well as offering a selection of food. Plus, they offer student discount! Win-win.
4. The Mash Tun
Okay so this isn't technically a beer garden…but it's pretty good going for a pub that's located in the centre of town! With several benches outside, accompanied by heaters, The Mash Tun is a great place to spend a day people watching or listening to local buskers. It's just minutes walk from the North and South Laines, Churchill Square and Old Steine – so location-wise, it's pretty great. Good luck getting a table on a Saturday though!
5. The White Rabbit
Located in the heart of the North Laines, The White Rabbit has outdoor seating on both sides of the establishment. You may have noticed the hoards of people gathered on benches, nursing pints as you walk past To Be Worn Again, but I bet you didn't know it also has a beer garden to offer! Keeping to the Alice in Wonderland theme, The White Rabbit offers a vibrant and sunny hideaway round the back.
6. The Setting Sun
The Setting Sun is located on Windmill Street and offers a rooftop patio which is perfect for, you know, watching the setting sun… With plenty of room and a great view, this is the place for you if you're into rooftop bars!
7. The Lion & Lobster
Known for its delicious food, The Lion & Lobster also offers an attractive two tiered patio area. If you're looking for good food, good booze and good atmosphere this is the place for you. Adorned with fairy lights for when it gets dark, this beer garden is more than Instagram worthy.