Laura Windebank, 41  from Crowborough, Sussex is the designer and maker behind the embroidery based enterprise 'Cubb kids'. She is now living in Brighton with her partner and 5 year old daughter, Bethan. "Brighton is such a vibrant, tolerant and creative city, which keeps you young!"
How would you describe your business?
"Cubb kids specializes in quality embroidered patches, modern room decor and accessories for children, all designed and handmade by me from my home studio."
"It all began with my old girl guide camp blanket, which was covered in fantastic colourful patches. This inspired me to create my own range of unique patches for children which would celebrate their adventurous spirit!  Many of them can be personalised, creative wonderful keepsakes and perfect for decorating camp blankets and accessories. The range has now grown to include kids room decor, including modern dreamcatchers and pennant flags."
"The majority of my work is made from wool felt, a medium I love, particularly because of it's versatility."
How did you build 'Cubb kids'?
"I've always had a desire to create things and ran another business for 12 years making personalised embroidered greetings cards.  After my daughter was born I felt I needed to start something new which would excite me again and have a fresh more modern approach to my embroidery. So at the end of 2014 I set up my Etsy shop and since then the Etsy community has played a big part in the growth of my business.  America has a big camp culture so my patches in particular attracted the American market and it was really exiting to be selling my products internationally.  The fact that I make each patch myself enabled me to offer them personalised, which means I can create a totally one off design for a customer which I love. With the confidence I took from customer feedback I gradually have expanded my brand to include a larger variety of products,  and now also sell through my own website and notonthehighstreet, as well as Etsy."
What were your influences and who were your inspirations?
"I'm influenced by so many things! Nature, vintage textiles and embroidery, simple scandinavian design and traditional crafts are just a few."
Where would you like to see yourself going with 'Cubb kids'?
"I want to keep expanding my brand, and 'by brand' I mean keeping on creating things that make me happy and leaving my little stamp on the world."
What makes you passionate about your business?
"I'm so lucky to do something I love as my job and It really makes me happy to see that people like my designs and to get such warm feedback."
"This really gives me the passion to continue to create and develop my business."
Have you got any other hobbies?
"I love to cook, and I'm a real bookworm.  I've also just got in to weaving too."
If you could be an animal, which would it be?
"A cheetah would be pretty cool."
What effect would you like your work to have on the world?
"I hope my work makes people happy when they receive a patch or dream catcher and maybe I will inspire my daughter to run her own business one day."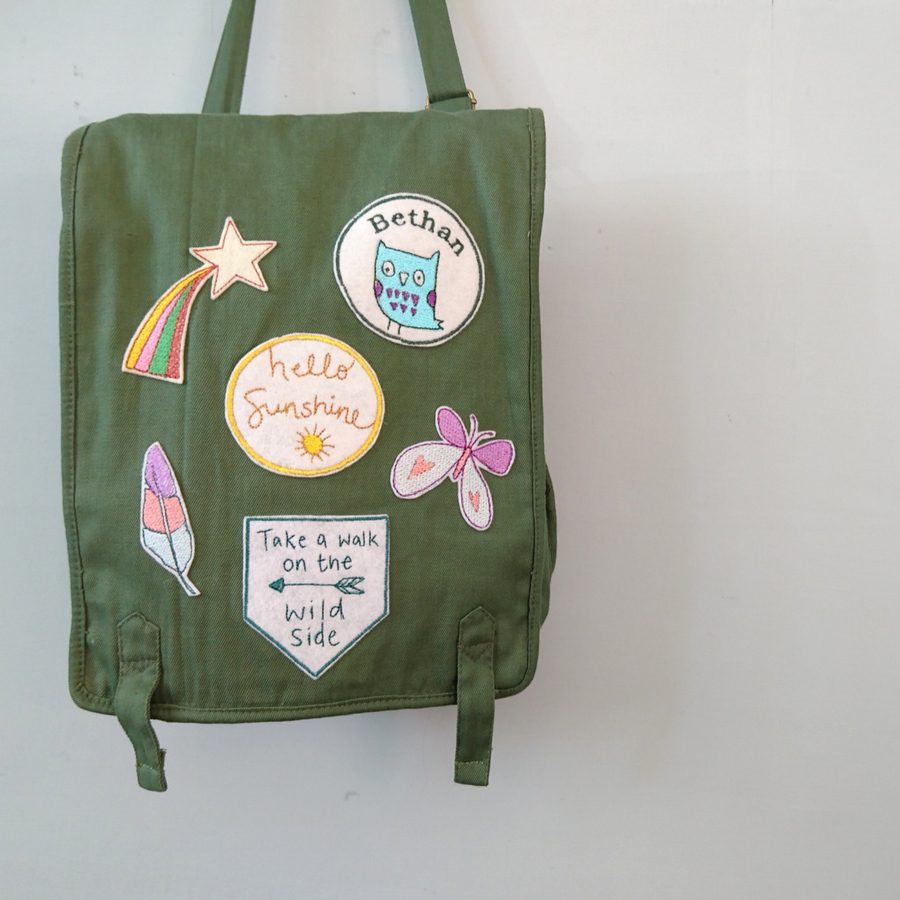 What makes you happy?
"My friends and family make me very happy."
What would you say is one of your greatest achievements?
"Apart from my daughter, I would say being able to do something I love as a job from my happiest place, which is my home."
What would be your inspiring message to humanity?
"My favourite message is 'If life deals you lemons, make lemonade'  It reminds me to try and always stay positive and be grateful for what I have."
Is there anything we should look out for planned for the future?
"It's such an incredible learning curve when you have your own business and I hope to keep learning and improving on my photography, social media, seo skills!"
"I'm interested in lots of different things, so plan to launch lots of new designs and products in 2017!"