Monday 4 December
Yakul @ Green Door Store
Brighton based 4 piece making forward thinking neo-soul. Influenced by the likes of J-Dilla, D'angelo and the soulquarian collective, they put a unique spin on the music they have grown up with. Marrying together thoughtful, soulful lyrics with deep grooves and jazz infused progressions, Yakul seamlessly blend genres to create something fresh and original.
Pulled Apart By Horses @ Sticky Mike's Frog Bar
Pulled Apart by Horses are an indie rock and alternative rock band from Leeds, England. They formed in early 2008. In 2009 they were successfully signed by Transgressive Records and released their debut self-titled album Pulled Apart by Horses on 21 June 2010. In August 2011, the band went into Monnow Valley Studio in Wales to record with renowned Foo Fighters & Pixies record producer Gil Norton, and their second album Tough Love was released to critical acclaim on 20 January 2012. After Tough Love, the band sold out their first European tour, and went on to support Biffy Clyro & Foals. In 2010 they supported Muse at the Manchester County Cricket Ground. In September 2014 the band's 3rd album Blood became their first top 40, entering the charts at 38. In 2016, Pulled Apart by Horses recorded a take over for Annie Mac and the BBC's Radio 1 in the United Kingdom. The bands 4th album, The Haze was released in March 2017 and reached number 12 in the charts.
LAU @ Komedia
Named after an Orcadian word meaning "natural light" (although deliberately misspelled it from "lowe"), LAU formed in Edinburgh in 2006 and were quickly hailed as a band of rare innovation and invention. Consisting of Martin Green (accordion and electronics),
Aidan O'Rourke (fiddle, fx) and Kris Drever (vocals, guitars), for a decade they have been stretching folk music's boundaries further and exploring new musical territory with each release and concert tour. "Lau are a remarkable band – the most musically adventurous trio in British folk exquisite and hypnotic, musicianship at its best."
Tuesday 5 December
Forever Cult @ Green Door Store
FOREVER CULT have just announced a string of dates following the release of 'Homewrecker', their ferocious new EP. It includes dates with Pulled Apart By Horses. The EP takes raw aspects of their live show + combines them with Kieran Clarke's earworm hooks, creating a visceral yet catchy balance. The Leeds based quartet, made up of Kieran Clarke (vocals, guitar), Alex Greaves (bass, vocals), James Douglas Wilkinson (guitar, vocals) and Aaron Snowdon (drums), have developed a fearsome reputation on the live circuit. Produced by Matt Peel (Eagulls, Bad Breeding) at Nave Studios, Homewrecker was released via Clue Records (TRASH, AVALANCHE PARTY).
Natty @ The Haunt
Natty is an Artist/Musician born in San Francisco, raised in London. Hs heartfelt recordings and live performances (acoustic or with The Rebelship) have gained Natty a loyal and ever-growing fanbase from people of all walks of life. Natty's new album was first released on his website in 2016 and is already being hailed as a "classic" by bloggers, critics and music lovers. The album will be available to stream and for sale from all outlets in September 2017 in conjunction with releasing videos for 2 songs from the album: Seasons Change ft Alborosie and Busy Signal, and Motherland shot in Sierra Leone. Tune into Natty and The Rebelship, check out links below.
NaNNik @ Latest Music Bar
"These nights are dedicated to showcasing bands and artists that we love, and we've got one hell of a lineup ready for this one (see below)! We've got some of our favourite names in hip hop to coming down and play, but we'll also be opening up the floor to all of you for a freestyle session with our wonderful house band, so come on down and get involved!
We're running another competition for you guys to be in with a chance of winning free entry to the night AND a drink on us! Just share the post at this link and give us a like on our page to be in with a chance of winning!"
Wednesday 6 December
Mik Artistik's Ego Trip @ Komedia
The three piece from Leeds have a growing national reputation and are proving to be one of the most interesting, unpredictable, and exciting acts on the circuit. Mik's lyrical dexterity and the musical range of Benson Walker and Jonny Flockton combine to make people laugh, cry, and throw themselves about. They should be on the national health and are a tonic in these troubled times. BBC 6Music's Gideon Coe has played their tunes, Keith Allen has one of the Band's teapots, John Cooper Clarke called them 'sensational', and Glastonbury love them, this year is their ninth invite back to the Worthy Farm Festival on the trot.
Findlay @ Green Door Store
A cat scratching in her throat, full of banter and insolent, tearing cracks through nature: Natalie Findlay comes from the same bloodline as PJ Harvey or The Kills' Alison Mosshart. Born and raised in the county of Manchester, but far enough away from the grips of its elders The Smiths and Joy Division, Findlay invents herself as a true original, electric guitar swinging at her side. At 17 she signs to a major label, but the dream soon turns into a complete misadventure, for her personally and for her art. Craving to regain her freedom, she creates her own label, Mint Records, signs to BMG and escapes for good. Today Findlay runs and jumps across genres. She revisits 90s grunge, flies up into the skies of shoegaze and creates lightning with hip-hop, before landing in a dream world of garage pop. She loves Motown artists, psychedelic rock, blues and well as hip-hop, she creates electronic soundscapes drawing from all styles to mix and create textures filled with aspiration. She composes alone, mostly on guitar, sometimes on piano, or turns her voice and words into drum rhythms to serve as a canvas, always on the lookout for strange sounds and new distortions, carried by her addictive choruses.
Support from MarthaGunn and KLAE.
Low Chimes @ The Hope & Ruin
Tipped for great things by BBC 6 Music's Marc Riley & Elbow's Guy Garvey, Low Chimes are an alt-folk band from Stroud. Following their two acclaimed EPs, released under previous name, Hot Feet, the band's debut album is set for release on Bellow Records on 6th October 2017. Singles 'Sleepwalking' and 'Blood Orange' have earned the band acclaim from the likes of The Line Of Best Fit and Clash, as well as an invitation to perform live in session on 6 Music. Already UK festival regulars, the band has appeared at Glastonbury, Green Man, Kendal Calling and many others. Since the EPs, Low Chimes have developed a fuller sound, finding influences beyond folk, rock and blues. The core live elements remain but the introduction of synths, samples and other electronics lend the music new shades and nuances. "Truly nothing short of fabulous… really wonderful" – Marc Riley, BBC 6 Music "Deliriously hypnotic" – The Line Of Best Fit
Thursday 7 December
Fujiya & Miyagi @ Patterns
Brighton locals Fujiya & Miyagi return to the city to celebrate the 10yr anniversary of the release of Transparent Things with a live show at Patterns on Thursday. Formed by guitarist David Best and synth player Steve Lewis, Fujiya & Miyagi are deeply indebted both to vintage '70s Krautrock and the '90s bands that were themselves influenced by the likes of Neu! and Kraftwerk, from Stereolab and Broadcast to Aphex Twin and the Orb. The group started in the coastal city of Brighton, England in 1999, when Best and Lewis first met in a pickup football game. Taking their name at random from Mr. Miyagi in The Karate Kid and a brand of stereo equipment, they recorded their first album, Electro Karaoke in the Negative Style, as a duo, releasing it on the Tirk Records label in 2003.
Wolves In The Throne Room @ The Haunt
Wolves in the Throne Room have become one of the most potent and highly regarded bands in extreme music. The listener encounters crystalline metal riffs and ritualistic laments that sing of endless rain falling upon ancient cedars. Their music is a doorway into a mythic ethereal heathen landscape entered through music, magic and dreams.
SikTh @ Concorde 2
Cited as one of the more influential bands in the djent branch of the progressive metal movement, versatile English rockers Sikth perform live at Concorde 2 this Thursday. Sikth formed in 1999 in Watford, Hertfordshire, but didn't settle on the core lineup of dual vocalists Mikee Goodman and Justin Paul Hill, Dan Weller (guitar, piano), James Leach (bass), and Dan Foord (drums, percussion) until 2001. Sikth issued a pair of well-received EPs, Let the Transmitting Begin and How May I Help You?, before releasing their debut studio long-player, The Trees Are Dead & Dried Out Wait for Something Wild, in 2003. International support slots for Anthrax and Killswitch Engage followed, as did high-profile appearances at festivals like Download and Fuse Leeds, and in 2006, Sikth released their sophomore full-length outing, Death of a Dead Day. In 2007 Goodman and Hill announced that they would be leaving the group to pursue other projects, and in 2008 the band ceased operations. The ensuing years saw Sikth's reputation in the underground metal community grow exponentially, and in 2013 they announced that they would be re-forming and headlining the Red Bull Stage at the following year's Download Festival. Rumblings of a possible studio reunion began to swirl as well, and in early 2015 the bandmembers announced that they would be releasing a new crowd-funded EP, Opacities. Two years later, the band dropped their hotly anticipated third long-player The Future in Whose Eyes?
Friday 8 December
Bananarama @ The Brighton Centre
This will be the first time Sara, Keren and Siobhan have ever toured together. The 15 date tour will kick off in Glasgow on 12th November and will be hitting Brighton on 30th November. "Keren and I have toured as a duo for years, but we never toured or played live with Siobhan," explains Sara.  "We've been talking about this idea for a while and now the moment has finally arrived it's incredibly exciting! Lots of fans have often asked 'please just do one tour with Siobhan,' so now their wishes have come true. We'll be performing all the hits and some surprises too, I really can't wait it's gonna be an amazing party every night!" says Keren "These were my formative years," adds Siobhan. "I never thought it would happen again. It's like going back down the road to find a piece of myself that I left back then. The older I get, the more I realise it was pretty magical." Since their unforgettable last performance as a trio on The Brits in 1988, Keren and Sara have continued as Bananarama, releasing records and touring to global audiences. Siobhan went on to have hit singles and albums around the world as part of Shakespears Sister before becoming a solo artist. Bananarama made it into the Guinness Book Of Records as the most successful female group of all time on account of the fact they'd had more hit singles than any other girl band ever. To date they have had 30 chart hits. They hit the top of charts around the world. In the US, Venus became their first #1 single on the Billboard chart. Their combined record sales were over 40 million.
Split Prophets @ Patterns
Foundations x Clean Cuts presents, Split Prophets at Patterns. Fresh off the back of their incredible night with the iconic TaskForce we team up with Clean Cuts for the first time to bring you some more UK hip hop heavyweights in Split Prophets. Hailing from Bristol and comprised of various different individually excellent MCs we're delighted to be welcoming them down to Brighton in December. Also we're very privelleged to be hosting Upfront's album launch 'Lettermorphosis'. Homegrown hip hop enthusiasts should recognize the name Split Prophets by now, The Bristol-based crew has been bringing consistent heat for a few years now and Upfront MC is at the forefront of their movement.
French Boutik @ The Hope and Ruin
In their first show in the seaside city for over four years, the Parisian stylists play The Hope and Ruin on Friday night. The "pop moderniste" sounds displayed on their debut album 'Front Pop' has received great praise and reviews: "Their '60s-drenched power pop is more than just a bit infectious" – Louder Than War "With neat cinematic touches, a variety of moods, a couple of languages and an air of sophisticated savvy, French Boutik have plenty to offer" – Shindig! "There is a joy de view to their playing that makes any possible language barrier irrelevant. The sound and feel is so infectious" – Rock At Night "If you want to sound ultra-cool and sound like you're a 'finger-on-the-pulse' type on the scene, French Boutik are one of a handful of bands to mention among your peers…There have been some great releases this year and a few still to come, but 'Front Pop' will take some beating for album of the year" – New Untouchables
Saturday 9 December
Island Club Presents @ Green Door Store
Island Club Presents is all about the band sharing the stage with some of their favourite acts from around the UK and they've been incredibly blessed over the last year to play with some amazing acts. Supports to be revealed closer to the event. "We're so excited to be bringing you the 3rd Island Club Presents show to Green Door Store this December! This is our last show of the year and it's going to be a big one, make sure you're there!"
Continents @ Sticky Mike's Frog Bar
Reprisal is the perfect word to describe the new, sophomore album from CONTINENTS.   "We had experienced some serious challenges as a band, so we had a lot to get off our chest.  Some of the riffs are dark, slow and you can feel this atmosphere spread throughout the band like a cancer," states drummer Duncan "Ken" Hamill. The Welsh Metalcore band from South Wales finally unleashed their sophomore album, Reprisal, on October 30th, 2015.  The new project features new guitarist, Rhys Griffiths, bringing an entirely new dimension to the band.  Showcasing a vast improvement and newfound confidence, CONTINENTS have provided us all with a fresh, modern twist on hardcore in 11-tracks – Reprisal is the ultimate next chapter for this talented, creative five-piece.
Silverstein @ The Haunt
Ontario, Canada's post-hardcore heavyweights, Silverstein have announced their biting new full length, 'Dead Reflection', due out July 14th via Rise Records. To celebrate the announcement the band has premiered their massive new track, "Retrograde". Dead Reflection is Silverstein's eighth full length, a feat reached by very few bands, especially within the heavy music world where youthful fire and aggression is often finite. Silverstein, however, have always been an outlier, and Dead Reflection proves that the band still has plenty of fight left. The band pushed themselves harder than ever before resulting in an album the takes all of Silverstein's strengths–pummeling riffs, explosive dynamic shifts, and hugely anthemic choruses–and ramps up the intensity, demonstrating exactly why Silverstein remain at the top of their game over 17 years into their career.
Sunday 10 December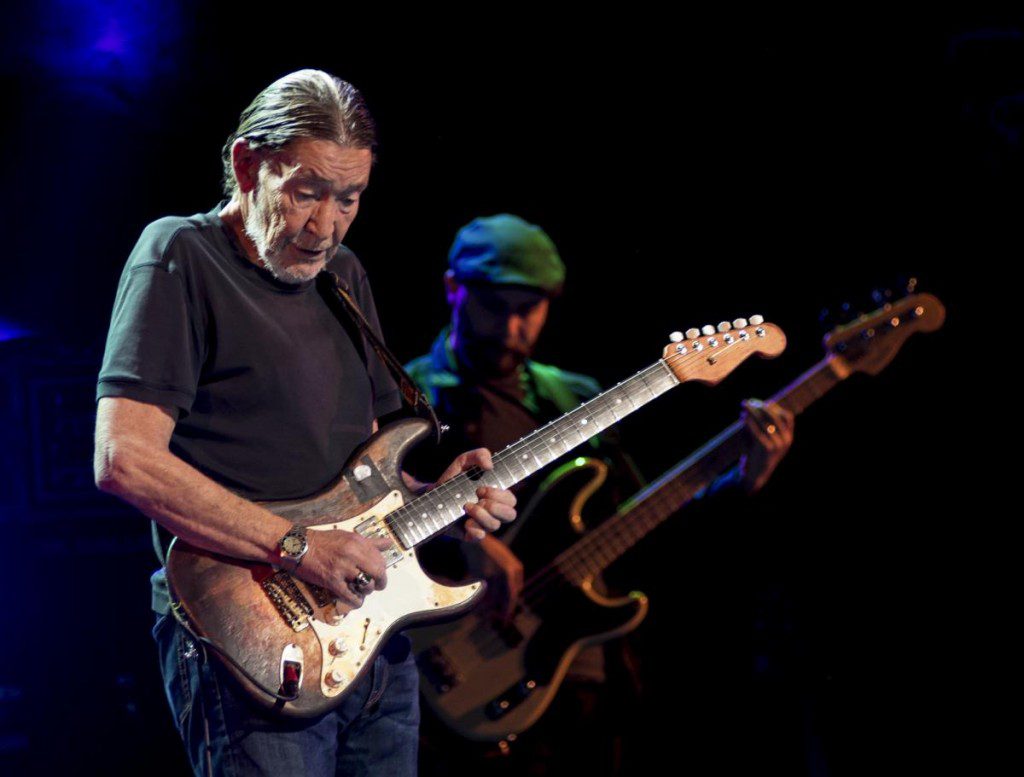 Chris Rea @ The Brighton Centre
Like all truly great artists, Chris Rea has followed his own unique artistic vision and a path that is his and his alone. And although his exemplary musical output to date is deeply embedded into the framework of the world's rock n roll DNA, it is also safe to say that his presence has been something of a glittering thorn in the side of an industry that has always had him down as a perennial outsider. Artist and painter, blues aficionado and self-confessed motoring nut, filmmaker and Italian-influenced classical music composer, eclectic and maverick are two terms that hardly come close to describing a man who has sold more than 30 million albums worldwide for just being himself. In 2017 Rea returns to what he's best known for: an album of gorgeous rock ballads which showcases Rea's unique voice and a songwriting skill at the top of his game.
Tuval (Single Party) @ Green Door Store
Brighton songwriter, multi instrumentalist and producer Tuval will be celebrating in Brighton at his spiritual home The Green Door Store with some of the finest talented souls in town as part of the launch of his latest single 'My Love Don't Worry'. FREE ENTRY
Troy Redfern w/ Sweet Williams @ The Prince Albert
The protean slide guitarist leads his power trio with style, gusto and virtuoso playing that fuses spontaneity with real craft. Redfern combines the rawness of Hound Dog Taylor, the freeform approach of Sonny Sharrock, the firebrand playing of Johnny Winter and the technique of Dave Hole with the ghost of Elmore James. Troy: "I've got a wide range of influences from Zappa and Mike Keneally to Sean Costello, but it all originally came from a friend of mine Nigel Peters who lent me a Son House collection. That led me to discover Hound Dog Taylor, Mississippi Fred McDowell, the rough attack and hard edge approach of Bukka White's resonator, and Mississippi Hill Country Blues, with people like RL Burnside and Junior Kimbrough etc."