When Emma opens the door of her nice little Kemptown house to let us in, we are immediately impressed by her totally calm and relaxed appearance. It seems like nothing could make the young blonde woman sitting in front of us on the sofa lose her calmness, a result of her regular yoga practice. The founder of Brighton's Yoga Cabinet teaches several yoga classes a week. Her newest class, beer yoga, hasn't failed to gain wide attention as it will be the first one of its kind in Brighton.
"Five years ago, I went out and had a few beers and got home and really wanted to do some yoga. Although I thought it probably wasn't the best time to do it, I just really felt like it. Surprisingly, I found out that my balance was better and that I was able to do poses that I normally wouldn't be able to do", Emma remembers her first experience with the combination of beer and yoga.
Ever since, the idea of starting beer yoga classes has been stuck in her head but it wasn't until she recently saw videos of people practising it in Germany, Australia and Thailand that she decided to finally launch it in Brighton. "I honestly think that it can help you because it relaxes your mind enough so that you can get into things a bit more. It gives you that bit more confidence", Emma says about the positive effect having a beer or two while practising yoga can have.
However, the yoga instructor is far from encouraging alcoholism and prefers her yoga students turning up sober and enjoying one or two drinks during the actual class that will take place in a pub, a location the 32-year-old yoga instructor chose for a good reason.
"I have spoken to a lot of people who have gone to yoga classes in Brighton and they have told me that it felt quite intimidating when they walked in. A pub is a setting most people feel quite comfortable in. So hopefully, they just walk in and feel at ease and will just be able to enjoy it", she expresses her hopes that her beer yoga classes will break the barriers that stop people from trying yoga.
For the woman who also teaches the piano and does private tutoring in Maths and English, yoga is the one way to really make a difference in people's lives. Although she really enjoys her other teaching activities as well, it is her yoga classes that she cares about most.
"I think yoga gives people something they really need. So many of my friends and family are working such long hours and they don't really have time to do anything else and get so stressed out. When you get so exhausted, it becomes harder to keep your temper under control. I have been there myself. There have been phases in my life where I got angry over absolutely nothing. Yoga is such a strong tool to bring all of that back under control and bring balance back to your life", Emma describes the positive effects of practising yoga.
Emma has been practising yoga ever since she was a teen. At the time, she mostly did it because she thought it was cool but her view on things changed when she saw her mother going through a serious hip operation at a young age. It was this eye-opening experience that made her decide to take yoga more serious as a regular practice keeps bones and muscles strong and stretchy.
After spending years and years of trying all different sorts of yoga and having discovered her big passion in it, the young woman decided to become a yoga teacher, although her reasons probably weren't the best ones to start off with as she admits. "In the beginning, I just liked the idea of wearing yoga clothes all the time but then I also could see that it's a great way of helping people and it's so nice to have a job where you can do that", she explains her motivation.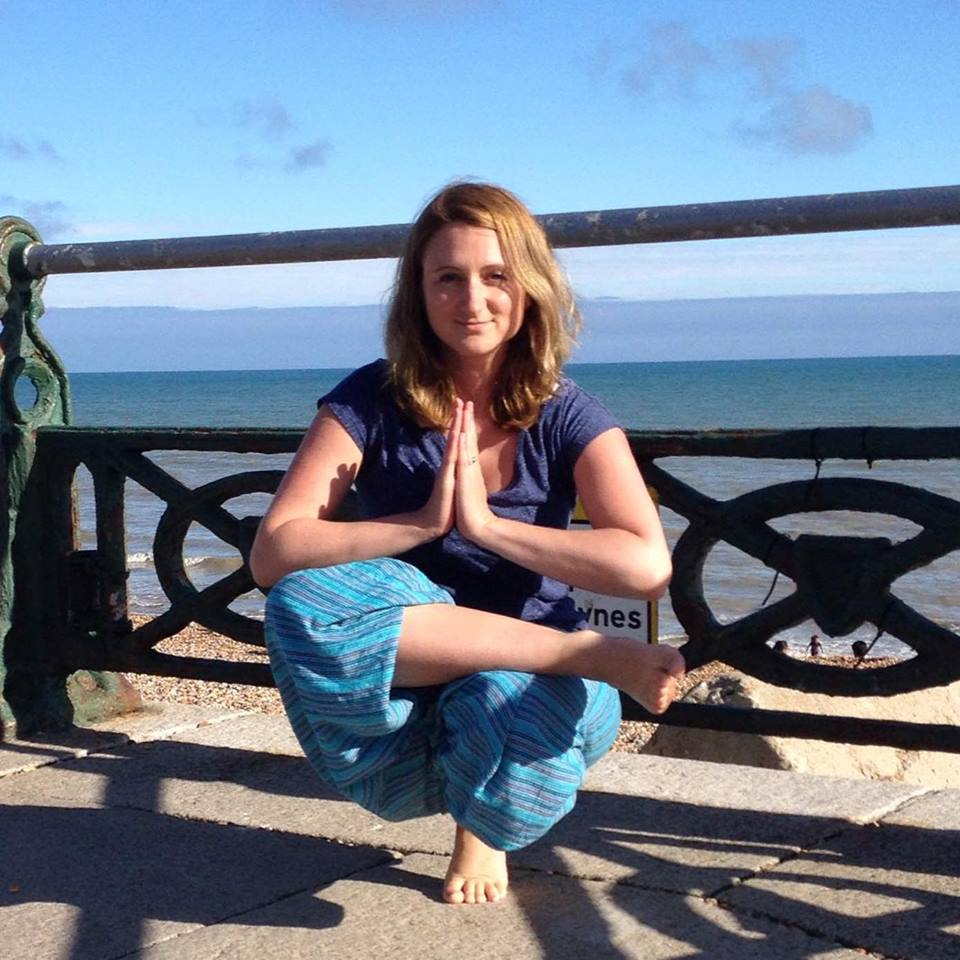 The 200 hour intensive class in the middle of the Balinese jungle to finish off her yoga instructor training was simply amazing. "We were in the middle of the jungle and everything was really clean. There was no meat or sugar or caffeine and no chemicals to leave only a minimal footprint on the environment. We were only girls and that created a lovely maternal atmosphere. Spending the whole day doing yoga and talking about it was just amazing", Emma remembers her trip to Bali.
Although she had successfully finished her training, the freshly baked yoga instructor didn't feel a hundred percent prepared to actually teach her first classes. She was well aware that it would be hard to stick to what she had learned as soon as she would be back in England where everyday life would challenge her newly gained calmness.
"When you come back to the real world, it's hard to maintain that lovely way of seeing things. You think you can totally control your emotions and you are confident that you are on the right path but then life just constantly throws little challenges at you which might knock you off a little bit but then you have to come back to it. What I have learned is that yoga is just a constant learning process", Emma explains how she felt right after she got back from her Bali yoga camp.
There is, however, one special moment that has marked her during her training and that will probably always be in her mind whenever she teaches one of her yoga classes. "In one of the classes right at the beginning, one of our teachers was talking about humility and being humble in our practice and all of our learning and she looked straight at me. At that moment, I thought I was pretty humble but later on I have realised that there is still a lot of work for me to do", she admits.
Although her training and reading about yoga have surely had an impact on her personal development as a yogi, it was a totally different circumstance that made her feel "more yogic than ever before" as she describes it. Throughout her pregnancy, Emma has done a lot of internal yoga work with a surprising result: "From the point I got pregnant, I would say that I progressively got more and more relaxed and easygoing."
Even after the birth of her little daughter, the yoga instructor obviously hasn't lost any of her calmness. Although the now one-year-old keeps her busy and constantly takes up her attention, she is happy with how things are and looking forward to her new beer yoga classes. The trial session she has run with friends and former participants of her Mummy & Baby Yoga classes has known quite a positive feedback.
"I asked them to be totally honest with me because I wanted to be sure first before turning it into a regular class and I had a very positive feedback. People were surprised that their balance was genuinely better. I tried to incorporate the beer bottles into the actual yoga exercises and surprisingly, everyone managed to balance it on their head", Emma says with excitement.
Her new beer yoga classes will run every second and fourth Thursday of the month at The Railway Inn in Portslade. For more information and booking, see here.