This week Brighton Journal spoke to Lewes-based artist, Martin Gayford. Martin's work considers the interplay between the abstract and the figurative, frequently exploring a sense of space, colour and light. His current projects include a continuation of a series of cityscape drawings and paintings that were exhibited at his solo show 'Start Of / End Of' in Star Brewery Gallery. We discussed upcoming collaborative collages, Martin's band, and his inspirations. Keep reading to find out more about his incredible work.
Featured Image: by Chris Arran 
What are you doing today? 
Drawing in my Studio in Lewes.
Describe where you do most of your creative work. 
I have a drawing desk in a shared space in the Star Brewery building in Lewes and a separate studio for painting, both in the centre of Lewes.
What's the most exciting thing you've worked on? 
I had a piece of work included in a show at Tate Modern two years ago which was pretty exciting. But I'm always excited to make work.
What made you decide to become an artist?
I was drawing and painting from a young age and just kept going – I don't remember making a decision about it!
What are you currently working on? 
I'm working on a follow up to my recent solo show 'Start Of / End Of' at Star Brewery Gallery in Lewes. This is a series of 'cityscape' drawings and semi-abstract paintings that will hopefully form a show sometime in 2022. I also have an ongoing series of collaborative collages and a new writing project on the go.
What are the key themes in your work? 
Formal considerations such as sense of space, associations with light and colour that evoke memory, nostalgia and humour and an interplay between seemingly abstract and figurative elements.
What would you like people to notice about your work? 
I like posting details of work on my Instagram page @martingayford as they're often a way in, particularly to my paintings.
What attracts you to the medium you work in? 
I really like the way oil paint feels on canvas and enjoy exploring the ways it can be manipulated. For drawings, I work over grids and lines with about 6 different H and B pencils to achieve a particular surface quality. I try to work with both mediums in a way that is specific to me.
What equipment could you not do without? 
iPod.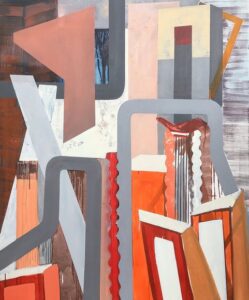 Who or what inspires you?
Marlene Dumas, Philip Guston, Georgia O'Keefe, Frank Stella, Jonathan Lasker, Martin Kippenburger, John Baldesari, Paul Nash.
How is your work affected by living in this area? 
I generally work with images I've collected from various places, none of which reference Lewes directly, but it's a wonderful place to work. There's a wide network of creative people that help motivate and support each other. And having two workspaces close together, I can be as sociable as I like (or not) when I'm working.
What's your favourite thing to do locally? 
My band The Manitees is currently restricted to rehearsals – when we can, I can't wait to play live with them again.
What's your favourite gallery (or place to see/experience art)? 
I have a soft spot for Studio 1.1 in Shoreditch – as well as solo and mixed shows, members get to take part in critiques of each other's work which is really interesting.
If you could collaborate with one artist, from any time, who would it be and why? 
I am collaborating with another artist at the moment in fact.
What's your favourite colour? 
My favourite colour is orange and grey (and black and white).
To find out more about Martin and his work, take a look at his website and Instagram.