This week Brighton Journal spoke to local artist and author, Miguel Amortegui. Miguel uses different media including painting, sculpture, film and photography to share stories with a social conscience. He also works as a Participatory Photography Facilitator, teaching photography and digital storytelling skills to those who have been victims of war, forced displacement and sexual abuse. Miguel told Brighton Journal that he teaches photography to give people "a voice and a therapy that enables them to see their story from a different perspective." His photography book 'Voices of the Jungle' was created in response to his time teaching refugees at the Calais Jungle, and shares the stories of the people he met whilst working there. The book raised both awareness and funds for the refugees, and Miguel was invited to present his work at the United Nations General Assembly in 2019.
We discussed Miguel's latest project, 'Love in the Time of Corona', an ongoing series of paintings that explore how the pandemic has affected our relationships, movement, mental health and experience of community. The first exhibition of Miguel's series is currently on display at St Ann's Warehouse Theatre, New York. Miguel also described how Brighton is a source of inspiration for his work, as well as how capturing the complexity of love, loss and hope is at the centre of his paintings.
What are you doing today?
Today is my writing day. I will be sitting at my desk all day, probably not resting, drinking or eating enough, but just punching never ending keys in order to finish a screenplay that has been hunting me for a few months – and finally I've worked out the ending! So I am pretty excited.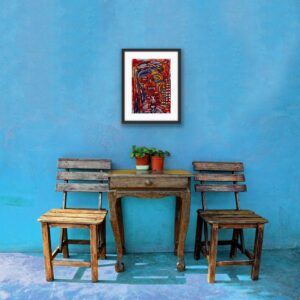 Describe where you do most of your creative work.
I think most of my work as an artist is outside the studio. When I was a kid my teacher used to say that I was going to be an astronaut, not because of my ability in maths or physics but, according to her, because of my ability to travel and stay on the moon in a matter of seconds. That hasn't changed much and even though all my physical work is in the studio, most of the time I am creating in my head, writing words in my little book, personalising feelings, reacting to news headlines, quotes from old films, poetry and music. All through the day I am creating scenarios and visualising the characters that will be trapped on a canvas later on in the day.
What's the most exciting thing you've worked on?
This is a really good question, and a hard one too! I use different mediums to adorn my voice, sometimes it's painting, sculpture, film, or photography which is one of the art forms that has taken most of my life. I work as a Participatory Photography Facilitator with communities around the world that have been victims of war, forced displacement, sexual abuse, etc. I travel to these places and I teach the the people photography to give them a voice and a therapy that enables them to see their story from a different perspective. To reconnect with the rest of the community that in some cases stigmatises them, and to create international awareness of the situation.
In 2015 I traveled to the infamous Jungle refugee camp in Calais, France to deliver some workshops and ended up living there for some time. I collected stories and photographed some of the habitants in order to write a book called "Voices of the Jungle". The idea behind the book was to raise awareness of the situation that was and still is happening worldwide, and to raise funds to create future projects with refugees.
It was a very exiting project to work on because the book ended up accompanying the internationally acclaimed theatrical play "The Jungle" in New York, and opened the doors for me to speak at the United Nations General Assembly to highlight the situation. I guess for me this was exciting because I still can feel, as we say in Colombia, "chicken skin" [goosebumps] when I remember walking up to the famous podium to speak.
What made you decide to become an artist?
I don't know if you can decide to be an artist, either you are or you aren't. If in the middle of a telephone conversation, or an important meeting, your hand keeps drawing funny shapes, faces, landscapes on the note pad in front of you you don't need to look any further! Has it ever happened to you that you keep seeing faces hidden in walls or post boxes? Strange shapes in clouds reminding you of an old memory lost in nostalgia, do you close you eyes when you feel Miles Davis playing a high note in the middle of solo? If you do, you probably are an artist.
When I was a kid, my mum used to teach at the Arts University in Bogota, she didn't have anyone to take care of me and there was no such a thing as a babysitter. She used to sit me at the end of the classroom and give me the same materials as the students had – clay, acrylics, Watercolours and I was supposed to copy whatever the project was. I don't know if I was good or bad, all I know is that I kept distracting everyone from their work and we always had lots of fun.
What are you currently working on?
I am working on the continuation of my project "Love in the time of Corona" a series of large paintings that explore the feelings that reflect the current situation that we are all going through at the moment. Not just highlighting the alarming increase in mental health issues, but also touching on how much it is affecting our relationships, our dreams and hopes, the way we interact with each other, the will to survive, our restriction of movement, how we feel as a community, as individuals and how powerful our capability to adapt and continue is.
This is something that I have been observing since the beginning of the pandemic, and I feel that is very important to keep a memoir of my perception towards this issue.
The first exhibition of "Love in the time of Corona" is being exhibited right now in Dumbo, Brooklyn, New York at St Ann's Warehouse Theatre.
What are the key themes in your work?
As I mentioned before, I work as a Participatory Photography Facilitator, I love my work and what I do. I love meeting new people all the time and being able to tell or help them to tell their stories. To click the shutter at the right time, immortalising a moment of injustice while drawing myself in adrenaline or fear. Trying to keep truthful to what these people go through every day and try to light a tiny candle in the middle of their darkness. It is a hard job, and sometimes it is inevitable to pick up some ghosts along the way; images and sounds that penetrate your heart, set camp in your memories indefinitely so that they become part of who you are.
Some of these memories can really affect your life and the way you see the world around you. Sometimes I feel more comfortable being in those places than living in the so called "First world". There is some kind of invisible magic that seduces you when you are there, it is the happiness, the dignity and hope that these people have after loosing everything in their life. The humanity of wanting to share with you a piece of bread without knowing when the next meal is going to come their way. It is watching armies of skeleton children laughing and dancing to the beats of a broken plastic bucket, stomping the ground so hard that it feels as if they are squashing the horrible memories of their past.
Sometimes is hard to come back from these places, listening carefully to people struggling with first world problems and trying to understand their reality too, without holding any judgement. When you do this type of work for a long time you learn to live between the two realities, like if you were setting camp in the middle of a bridge trying to find a way to shelter yourself from each side.
This is where my painting takes place. Painting has helped me to overcome the skeletons that my work has left on me. I intend to trap them in plain canvases and fill them in with vibrant colours to try to resemble the dignity of the people I portray.
What would you like people to notice about your work?
Exactly that! In my paintings I show the complexity of us humans and our lives. Our feelings, passions, sadness, hopes and traumas, filling each stroke with all the colours these feelings have to offer. My paintings narrate stories where the characters are experiencing feelings of happiness, nostalgia, loss and hope for a better life but especially love and passion. All my characters are filled with bright and dark strokes, dozens of strong colours that represent all their happiness as well as their wounds. They are beautiful in their on way; complex, passionate and free. They are portrayed as if they were X-rays, to show the many layers of complexity that make us who we are. Most of them have useless hands without joints to make us feel incapacitated and impotent towards certain situations in life.
What attracts you to the medium you work in?
I work in many mediums, I love them all, each of them have something that the others lack, the vibrant colours of the acrylic with the spontaneity of spray paint, pastels to highlight an expression, photography collage to produce nostalgia, oils to help you remain patient. In my work they are like one of those jazz bands, where they start at one, two, one, two, three, bang! They then all take their own path, always watching out for each other and making sure they sync perfectly right at the end. You learn to value and respect them all, I don't think is possible to work in only one medium.
What equipment could you not do without?
Not literally but, I don't think I could do any kind of work without the filter that my heart provides. Everything that I project comes from there: my anger, my love, my passion, the people that inspires them, everything comes from there and it ends there too.
Who or what inspires you?
Life and its eternal mysteries are my biggest source of inspiration. The fact that every second that we live is a gift: "The Present". The fact that nothing is certain, everything can change at any minute, that we are ruled by our emotions so therefore we are even more unpredictable. The beautiful chaos that we called society and eternal belief that we are better than animals. I find that fascinating. Injustice is another one, the one that makes me create art as an insurrection, as an immediate response.
How is your work affected by living in this area?
Brighton is full of inspiration for new projects, the diversity that you find in the streets, the fellow artist that decorate its walls, the dramatic contrast that the city has with social issues such as the homeless population, drugs, etc. That makes it an incredible source of inspiration based on the fact that my work is inspired by the people and is designed to question us as human beings.
What's your favourite thing to do locally?
I love riding my sidecar motorcycle to town, an old military Russian Dnepr 650cc from 1963 called Nikita. The story goes that Nikita was one of the most reliable bikes in the Ukranian army, after years of being on the front line and accomplishing many missions, Nikita moved to Poland to support the troops there. The depression came and Nikita ended up in the hands of a farmer that didn't recognise her achievements and ended up using her to move manure and grass. After a few years I got hold of her, repaired her and since then I roam the streets of Brighton bringing smiles and curiosity to everyone that crosses her path.
What's your favourite gallery (or place to see/experience art)?
The streets.
If you could collaborate with one artist, from any time, who would it be and why?
I have two artists that I admire immensely, Frida Kahlo, and Oswaldo Guayasamin, both of them Latin Americans. Frida because she manages to transmit her feelings through her painting. When you look at her work you understand what is going through her heart, it is hard to judge someone when they are spilling all their feelings so clearly that it makes you not just understand them but feel inside their skin.
With Oswaldo I admire the representation that he achieves with his paintings to portray the invisibles, the people that nobody sees and no-one cares for, the ones that are condemned to suffer in this world just because they were born in "the wrong place" and with "the wrong skin."
I hope one day I manage to achieve these two amazing gifts with my work.
What's your favourite colour?
Red and Black.
To see more of Miguel Amortegui's work, please visit: