This week Brighton Journal spoke to jewellery designer Risza Lopes da Cruz. Risza found her love for jewellery design whilst living in Timor-Leste, where she learnt traditional techniques from local jewellery makers. She designs and makes contemporary pieces inspired by Timorese ceremonial and matrimonial objects, or the animals that feature in Timorese folklore. She's currently working on a collection for this summer's Artist Open Houses and a set of traditional jewellery for her cousin's wedding. Risza told Brighton Journal about the cultural significance and meaning of Timorese objects, as well as her design process. Keep reading to find out more about Risza and her wonderful work.
What are you doing today? 
Today started with home schooling followed by setting an Emerald in a silver ring. It's a surprise for a friend's daughter, so that's exciting.
Describe where you do most of your creative work.
This would be my mini studio slash utility room next to our kitchen. My bench is opposite our washing machine. Not ideal and a little squeezed at the moment, but it's well-lit and ventilated. I can spend hours here working without any food or drink…easily. When I'm creating a new sample piece, I normally scribble a design (as I'm not very good at drawing), then I prefer to start working directly with non-precious metals. My designs tend to evolve during this process.
What's the most exciting thing you've worked on?
I am most excited when I'm working on a one-off design or commission for a special person or live event. Every piece is unique for me, and it's exciting as I have the wearer in mind when designing and making the piece.
The most memorable piece I worked on was a pendant for a cancer survivor who shared her story and wanted me to make her a Timorese bravery symbol. I'll never forget the emotions I felt whilst making the pendant for her.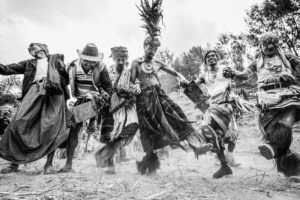 What made you decide to become an artist?
Until this very moment, I still find it funny to call myself an artist. I did not study jewellery making, I learned how to make jewellery by experimenting and going to small classes in Brighton, tourist classes in Bali and Thailand during our holidays. I also spent time with jewellery makers in Timor-Leste, watching and learning their traditional techniques and methods.  At the moment I'm enrolled in an online course with Lucy Walker Jewellery Academy. I am always learning as I go.
I found my passion in jewellery making quite late in life. A good friend pushed me to make and sell my jewellery in Dili, Timor-Leste, in 2014. This was when I started participating in local fairs, then ended up building a business and haven't stopped making jewellery since then.
What are you currently working on?
I've been entrusted to make a set of jewellery for my cousin in Timor. She's getting married this year, and the tradition in Timor is for the groom to give various engagement gifts ranging from jewellery, shoes and clothes, to underwear for the future bride. Engagement parties there is a big deal and can be as big as the wedding party itself.
I'm also working on a new collection for this summer's Artists Open House, still a work in progress.
Who or what inspires you?
My jewellery pieces are mostly inspired by traditional, ceremonial and matrimonial objects, or animals that feature prominently in Timorese folklore. These include headdresses (Kaibauk), traditional houses, bravery medallions (Belak), fertility symbols (Mamuli), harvest celebratory bangles (Keke), masks, roosters (I used to live near a cock fighting 'arena') and crocodiles. I make these objects in more wearable sizes with some simpler geometry, and I often add semi-precious stones to make my pieces 'pop' with colour.
What are the key themes in your work?
Each traditional object has a different meaning, for example, the Kaibauk represents leadership, Belak signifies courage and bravery, and the masks are believed to keep enmity away. The Belak collection has been a hit, as people acknowledge others' bravery, particularly during this difficult time. Traditionally, the belak medallion was awarded to warriors returning home from war for their courage and service.
I tend to go back to Timorese objects for inspiration, but on occasion, I like making jewellery with no particular theme attached just because I like the look of it and enjoy the process of creating something unique and/or personal.
What would you like people to notice about your work?
Originality and cultural significance. For me, it is important for people to know the meaning behind each piece of jewellery. I have an East Timorese and Indonesian background, so it is great to promote these beautiful countries through my work too.
What attracts you to the medium you work in?
I find heating silver and watching it 'relax' fascinating. I enjoy turning 'hard' metal into beautiful pieces.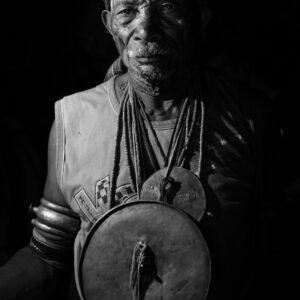 What equipment could you not do without?
This is a tricky one as I have a few favourites, but the one thing I cannot do without now is my Optivisor, it is a head vision magnifier. I don't have very good eyesight, and 2 years ago I discovered the Optivisor and have never looked back! On a full working day, this magical instrument is constantly on my head and I always get a funny look when I answer the door while I'm wearing it.
How is your work affected by living in this area?
I started my jewellery business in Timor but moved halfway round the world to Brighton at a time when my business was thriving. It has been difficult to continue selling my jewellery in that part of the world, especially during a pandemic, and I particularly miss the interaction with my clients there.
I have lived in Brighton for over 3 years now. Living here has been amazing for my creativity and the freedom to express myself. I do have more business competition here, but this pushes me to improve how I make my jewellery and where I source my supplies.
Brighton also comes with more marketplace opportunities. I have participated in Artists Open Houses for a couple of years now, and this event has helped me expand my network and understand my target market a little bit better. Most artists I've met here have been incredibly supportive.
What's your favourite thing to do locally?
Going to the beach. I live 5 minutes from the beach and love running on the seafront. This may sound selfish, but I've really enjoyed the beach being quieter during lockdown.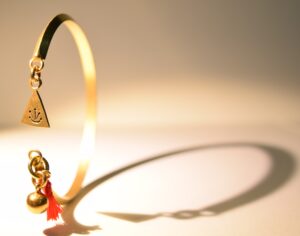 What's your favourite gallery or place to see/experience art?
Tate Modern. I think it is my favourite so far because this is the first gallery I visited in England. I was so excited to see how vast, creative and cutting edge it was, and quite distinct compared to galleries I've experienced in Indonesia and East Timor. I have not visited many galleries in the UK and Europe, so I can't wait to visit more once the doors are open again.
If you could collaborate with one artist, from any time, who would it be and why?
If I could, I would have loved to collaborate with Alexander Calder, a legendary American sculptor and artist (1898-1976). He produced sculptural jewellery from wire and scraps he found and started doing this from when he was only 6 years old. I think I was first interested in his work because he incorporated similar designs I found in most Timorese jewellery, i.e., the Spiral motif from the Bronze age. I adore his impractical and whimsical designs.
What's your favourite colour?
I love black and gold. Ok to have two favourites, right?
To find out more about Risza Lopes da Cruz's work, take a look at her Instagram and the 7 Dials Art website. Risza's jewellery is currently available from the Two Kats and a Cow Art Gallery on Brighton seafront, as well as on the 7 Dials Art online shop.