For this week's artist, The Brighton Journal interviewed 'The Postman' a Brighton based street art duo, who are behind the epic paste-ups of Marylin Monroe and Basquiat that you will recognise if you live in Brighton.
The Postman Art are a Brighton based street art duo brightening up public spots locally and internationally. Focussing on paste-ups as their medium, they put a colourful twist on the photography of iconic personalities with a fun punk attitude. They use a mixture of double exposure imagery and hand drawn elements to bring icons of past and present to life.
All images in this article
© Postman Art
As well as Brighton, they have been putting up their latest work around Brick Lane in London and the Shoreditch area, they've also put up their pieces in America.
"We spend a lot of time designing in the studio. Pasting is the fun part – the reward for our work. We've been lucky to be able to put up our pieces in a number of international cities including New York, LA and Miami."
What's the most exciting project you've worked on?
"Doing a piece for LA based star photographer David LaChapelle at his studio in Hollywood last year was a highlight.
Block Bar on Brighton's St James Street also recently got taken over by our art. Other local spots are Guitar, Amp and Keyboard and The Hope and Ruin."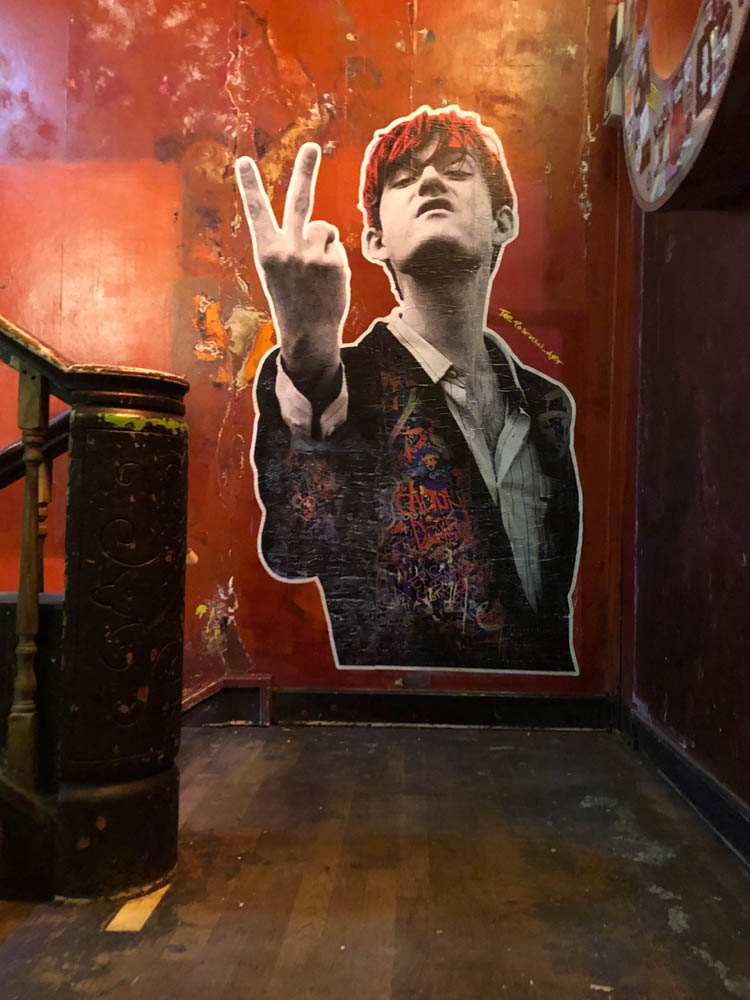 How is your art affected by living in Brighton?
"Brighton is a happy bubble. We love living here. So much happens in such a small space. We get inspired by the city's energy, its music and pub scene. It's about to get even better now spring has arrived."
How are you affected by Brighton's art scene?
"We actually wish there was more of a scene here. We hear a lot of people moan about tagging. However, we feel there is a place for tagging when it's done in the proper way, complementing other art work, but not on newly white washed walls of beautiful buildings. Unfortunately, the street art scene is minimal here and it is often mistakenly put under the same umbrella as vandalism. We hope we can contribute to changing this misconception."
"We always had a soft spot for street art. Last year we decided to create paste-ups of musicians performing at Pride. Pride is such a special time for Brighton and we just wanted to make people smile. Luckily, it was well received, so we just continued with it. "
What are the key themes in your work?
"Nostalgia with a punk attitude. Recently someone referred to our art as 'iconography', which pretty much sums up our work."
What would you like people to notice about your work?
"We would like to cheer people up with our art. Everything these days is covered in adverts. We hope it's refreshing to just see beautiful faces and bright colours out on the streets."
Who or what inspires you?
"We are always looking for an image that expresses a story. The look in someone's eye, a gesture or pose. You know when you've seen something that moves you. You trust your instinct and nine times out of ten you're right.
Sometimes we use a colour palette that compliments a character's personality. And sometimes one designed to contradict this. There isn't a formula, as soon as you think there is, an image never turns out right."
What's your favourite thing do to locally?
"We live by the beach for a reason…when time allows, we like to socialise outdoors."
If you could collaborate with one artist, from any time, who would it be and why?
"Tricky! We love Warhol and Basquiat which is easy to see in our work. Warhol invented pop art. His use of colour and repetition is just fantastic. Basquiat was great in terms of his speed of creation experimentalism. Keith Haring is a massive inspiration too as he was able to do something simple yet very powerful. He made art in all sorts of public places too."
As part of the Brighton Festival Postman Art are exhibiting at two Artists' Open Houses in May: Adelaide Crescent and Stanley Road Open House.
They are also about to embark on an art filled road trip to Belgium, The Netherlands and France.
You can check out more of The Postman's work on Instagram: @thepostman_art, Facebook @thepostmanart or on their website, the link is available here.