The city of Brighton and Hove has had its ups and downs, the thirtieth anniversary of Pride, the Brighton Fringe Festival and of course, the wonderful music festivals this city plays host to. But it was also hit by tragedy on more than one occasion, with the city being rocked by the news that music legend Nick Cave's son had died falling off a cliff, and of course, the tragic events at Shoreham Air Show. Here are just some of the many things that happened in and around Brighton and Hove this year.
Brighton Pride: This year we celebrated the 25th Anniversary of the biggest Pride event in the UK. Thousands and thousands of people flocked to Brighton to celebrate what is always a fantastic weekend. Even a bomb-scare couldn't stop the Pride Parade and after the Police disposed of the suspicious package, the celebrations continued.
The Great Escape: One of the best festivals for new music, The Great Escape was a hit yet again this year and was the best way to kick off the festival season. This year they had some incredible artists such as Supergrass superstar Gaz Coombes, The Cribs, The Maccabees and The Cribs. The Great Escape has gone from strength to strength and we can't wait to see what 2016 has in store for the festival.
Together the People Festival: The inaugural festival took place this year at Preston Park in Brighton and I don't know much about organising festivals, but when you have Super Furry Animals and Roots Manuva at your first ever festival, you've done a pretty good job. The family festival was attended by almost 8,000 people and we can imagine Together the People 2016 will be even more successful.
Wildlife Festival: Another incredible festival held in our beloved Brighton this year with stars such as Rudimental, Disclosure, Years & Years, Wu Tang Clan and a DJ set from Mark Ronson proving that you don't have to be a big name to get the big names. Judging by the incredible line-ups our festivals are hosting, there will be no need to travel to a festival next year, just hop on the bus.
Rugby World Cup: Brighton played host to two Rugby World Cup matches this year, South Africa v Japan and Samoa v USA. Though the tickets sold out, the matches were shown on Brighton beach, giving Brightonians the opportunity to watch such an event with the rest of their community.
Brighton Fringe: The Fringe was another hit this year and saw an increase in sales by 50% exceeding sales expectations. One the first weekend's Fringe City, the free outdoor showcase, saw over 20,000 people alone. New shows such as The Bombing of the Grand Hotel received standing ovations at its sold out run. Registration for 2016's Fringe Festival is now open.
It's war on Brighton beach:killer gull just snatched half my Hoisin duck wrap: how unsafe us my deck chair?! pic.twitter.com/X7Oz2JzWQs

— Jon Snow (@jonsnowC4) September 28, 2015
Labour Conference: At the start of the year you would have never expected the Labour Conference to be in the same article as Roots Manuva. You still wouldn't now but there's a first time for everything. However, this year the conference was held after Labours defeat in the election, the resignation of Ed Miliband and the rise of Jeremy Corbyn. Labour supporters, political commentators and news reporters flocked to the seafront and we read this gem of a tweet from Jon Snow.
Brighton Fashion Week: Another reason to celebrate this wonderful city this year. Brighton Fashion Week was yet again a hit with fashion lovers. Brighton Fashion Week has proven to showcase a hotbed of new and local talent and also raises awareness of the issues surrounding fast fashion, such as ethics and sustainability.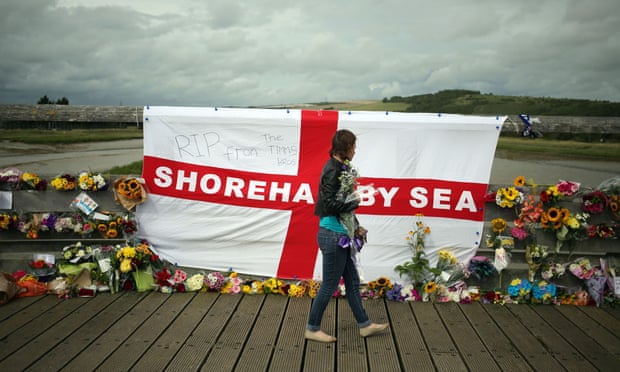 Shoreham Airshow Crash: Unfortunately, the buzz of the incredible summer we had here in Brighton and Hove was cut short when tragedy struck at Shoreham Airshow. On August 22nd this year, a vintage jet aircraft crashed on the A27 during a display at the popular air show, killing eleven people on the ground and injuring many others. The devastating impact will be long lasting for not only those affected, but for everyone in Brighton.
Cuffs: The Brighton based BBC police show aired this year, but was subsequently cancelled after one series. There were mixed reviews from Brightonians though everyone was agreed that the Brighton back drop stole the show. It was also quite fun pointing out all the places you knew, which was everywhere. Unfortunately, we will not be seeing Cuffs next year but it was fun while it lasted. Or not, depending on where you stand with Brighton based police dramas.
22 Games Unbeaten: Brighton and Hove Albion started off the year with a manager who saved us from relegation, and we went 22 games unbeaten. However, whilst there were highs, there were also lows, of which will be explored in greater depth later on this week.
A General Celebration of Brighton: It has been announced in recent months that Brighton has the most attractive residents in all the cities in the UK. It was also announced that Brighton is one of Trip Advisors up and coming cities of 2016 and this isn't surprising. With the building of the i360, the plans for the seafront that include a brand new venue as well as private members club Soho House, there is no doubt that Brighton will be the place to be next year. Of course, we already knew that, but it's nice that everyone else now knows too.
What summed up Brighton in 2015 for you? Comment below!
Holly Martin
holly@brightonjournal.co.uk