Guest post by Annie Hopkins
The year's first edition of your earnest subscription to Elle magazine flops onto the doormat. A few pages in, the fashion editor announces – in caps lock – the 'season-defining pieces' you'll need to be draped in if your 2017 is to be any good at all.
Don't be silly. You're too embarrassed even to Google your proximity to a Fendi store, let alone ever enter one. Some Dior boots are actually pictured with the caption: 'Price on application'. This is going to be tough.
But it's OK. Though there's no sign of Fendi, just a heart-thumping march away is Brighton's good old London Road and the North Laine, where the charity shops are bursting with gems glimmering among the racks of once-loved, worn-out Primark.
According to the Charity Shop Survey 2016, the UK has almost 7,000 charity shops which boast combined income of more than £846 million. David Ainsworth of Civil Society Media estimates that around 200 charity stores opened across the country last year, a small but significant rise of 1.7%.
With austerity measures inspiring a nationwide mood best summed-up by the crying emoji, bargain hunting is vital if you're bankrupt but hungry for style. But while second-hand stores are ever more popular, isn't the idea of finding current trends hidden between crumbling cast-offs a ridiculous dream? Won't charity shops be the graveyard of last year's -or even last decade's – pretty things?
Kerry Lockwood, a teacher at Brighton Fashion School, talked me through the shapes, fabrics andcolours that are key for 2017. She also has an eye for charity shop treasure and considers choosing and customising pre-owned items an excellent exercise in creativity.
"It's about the way you wear it," she explains. So this is the challenge. Can you shop the trends at the handful of charity shops around the corner? I braved the rain to find out.
Trend 1: Yellow
Along with fuchsia pink and warm toasty orange, Kerry explains that for 2017, yellow is important.
Beyoncé blazed the trail for this not-so-mellow colour-trend last year when she took out her rage on various fire hydrants with a baseball bat. She just happened to be dressed in a mustard Roberto Cavalli gown at the time.  You'll spot lots of yellow at the PDSA store, where Meggy Cappiello, an illustration student from Italy, is browsing its vintage section.
"I don't care about trends," she declares with a shudder. Then, toying with the cuff of a golden satin blouse priced at £4.99, she shrugs. "If you say yellow is in fashion, maybe I'll buy some. It's my colour actually."
In Italy, she explains, charity shopping is not so common. "I love the UK because people are not snobs about wearing second hand."
Prada's Spring/Summer collection for 2017 includes embellished pastel-yellow coats and dresses.
A favorite find along these lines is at Age UK.
It's a faded lemon-colour blouse, and while it's not trimmed with washed-out canary plumage like the gowns on Prada's catwalk, the twinkly gems and faux pearls down its neckline are not a million miles away from a daydreamer's couture fantasy. Not bad for £7.99.
Trend 2: Seaside Stripes (and over-long sleeves)
Jasper Conran's ready-to-wear collection for 2017 is bursting with vertical candy-stripes, though the khakis and burgundies aren't exactly life-changing.Much cheekier are the stripey, puffed-up blouses in the Dolce and Gabbana line, teamed with trout-print midi skirts and the signature D&G patterned box-clutch.
Though there are plenty of stripes on every charity rack in town, it's mainly big, shapeless shirts that would require considerable alone-time with a sewing machine.
Actually, according to Kerry, sleeves lengthened far past the wrist are in style this season too, so borrowing exaggerated shapes from menswear collections, so the wrong size could potentially work in your favour…
If you haven't tired of stripes and practicality isn't a concern, a Hobbs' buttoned blouse for £6.99 from Age UK or a Savoy Taylors' special for £6.50 at Mind will let you tip your hat to two whole trends on a shoestring.
Trend 3: The Trench Coat
A quick leaf through Elle will tell you that trench coats are back.
Not sure exactly when they went away, to be honest, but my trend oracle Kerry confirms this light jacket is another nod to the menswear influence this spring. This is one high-fashion look you absolutely can re-create second hand, then proudly brag to everyone about the change in your (trench) coat pocket.
Mind, Age UK and British Heart Foundation all have examples in the typical shade of 'greige' that Audrey Hepburn made look so lovely in Breakfast at Tiffany's, and none more costly than twenty quid.
Venture further into town and Western Road's Oxfam has a decent display of trench-style jackets in livelier colours, plus there are even one or two in a liquid-like fabric, not far from the lurex that magazines are heralding this season.
Trend 4: Nightwear as Daywear
When someone tells you it's acceptable to wear pyjamas to work, it's like your life dreams all coming true at once.
Along with PJ-style two-pieces, Kerry tells me that leisurewear like bra-lets and slips are set to see a revival in 2017.
Givenchy's collection makes serious use of pure white lace and plunging necklines. Perhaps this trend isn't quite as comfy or low-maintenance as it first sounds, though you can spot literal bathrobes on the Lacoste catwalk this season. Think Miranda Hobbs in her lime-green satin dressing-gown, rather than tartan PJs tucked into socks with pandas on (I promise I've never done that).
At the new Martlets vintage shop on Church Road, you get the sense that this is somewhere special where donations to charity are exchanged for carefully-selected jewels in the tiara of second-hand shopping.
Allison Martin, Retail and Communications Officer for the Martlets, tells me that this particular shop attracts customers who are much more fashion aware.
"As you can imagine, we don't know what stock will be coming in so we have to be much more creative. It's a challenge but it's also exciting and yes absolutely! Someone could easily find a key piece in one of our stores."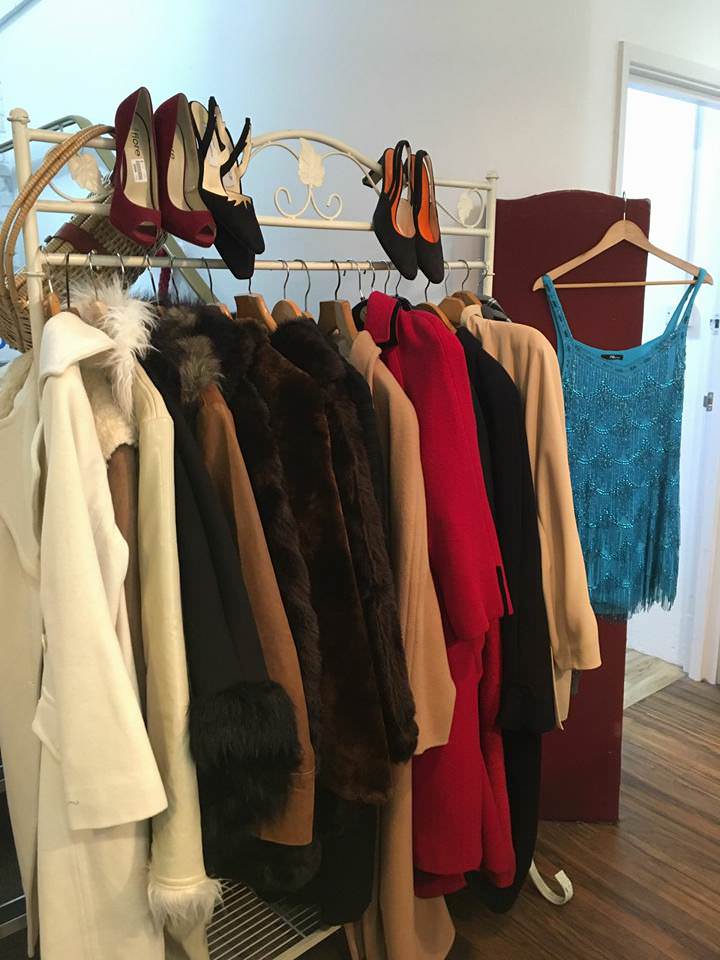 A boudoir-ready blue slip hangs coyly by a rail of snug winter coats. It's not exactly bedroom wear. It's definitely not as weather-appropriate as the duvet-like sheepskin jackets it's displayed beside, but with fronds of turquoise sequins (another motif Kerry mentions alongside metallics and dreamy tulle) it gives a discrete nod to the negligee trends we've seen on the catwalk, with a twinkling Roxy Hart twist.
By now the January sun has shrunk into the drizzle-blown sea behind Brighton's West Pier. I sense polite tension in the shoulders of shop volunteers who wish I would put down the porcelain lion I'm caressing and leave. So I go.
And the answer to my question is yes, you can find this season's trends second hand, give cash to good causes and leave your credit card un-bruised.
Follow @martletscharityshops on Instagram for first dibs on their newest items.
For more information about the Brighton Fashion School, visit www.thefashionschool-uk.com