With the holidays approaching and temperatures increasing, we're going to have to find ways to fill the long Summer days. It's well known that Brighton is absolutely bursting with activities, you'd find it hard to be bored here. Nevertheless, like all cities, it can be an expensive place for a day out. When so many of the main activities revolve around shopping and eating, it may seem like a daunting prospect for your wallet. So, to all of you who are looking for a money savvy day out, whether you're local or not, we present you with our top tips for a cheap day out on the seafront.
Experience The Pier
When you're going to the seafront, the pier is a good place to start. An attraction in itself, it's a great place to people watch, take photos and browse the shops full to the brim of local rock (a stick of rock could set you back as little as 70p if you find the right place!).
Sieze Photo Opportunities
Why not take photos on the pier to take home and make your own postcards as an after holiday/day out activity?
Take In A View
The pier is a great place to take photos of the coast line and really take in all of Brighton's beautiful seafront architecture.
Visit The Arcade
A visit to Brighton palace pier wouldn't be complete without a trip to the arcade. As a child my parents could keep me entertained for hours with nothing more than a bag of 2p coins. So this is a great one for a family day out, as you can spend a little for a lot of fun, providing you pick your games wisely!
Win Souvenirs!
If you're after a cheap day out, nothing beats the penny machines. With just a pound you could play a hundred of these games with a chance to win some novelty goodies to remember the day by. You may not be in it to win a jackpot, but it sure is a lot of fun.
Challenge The Claw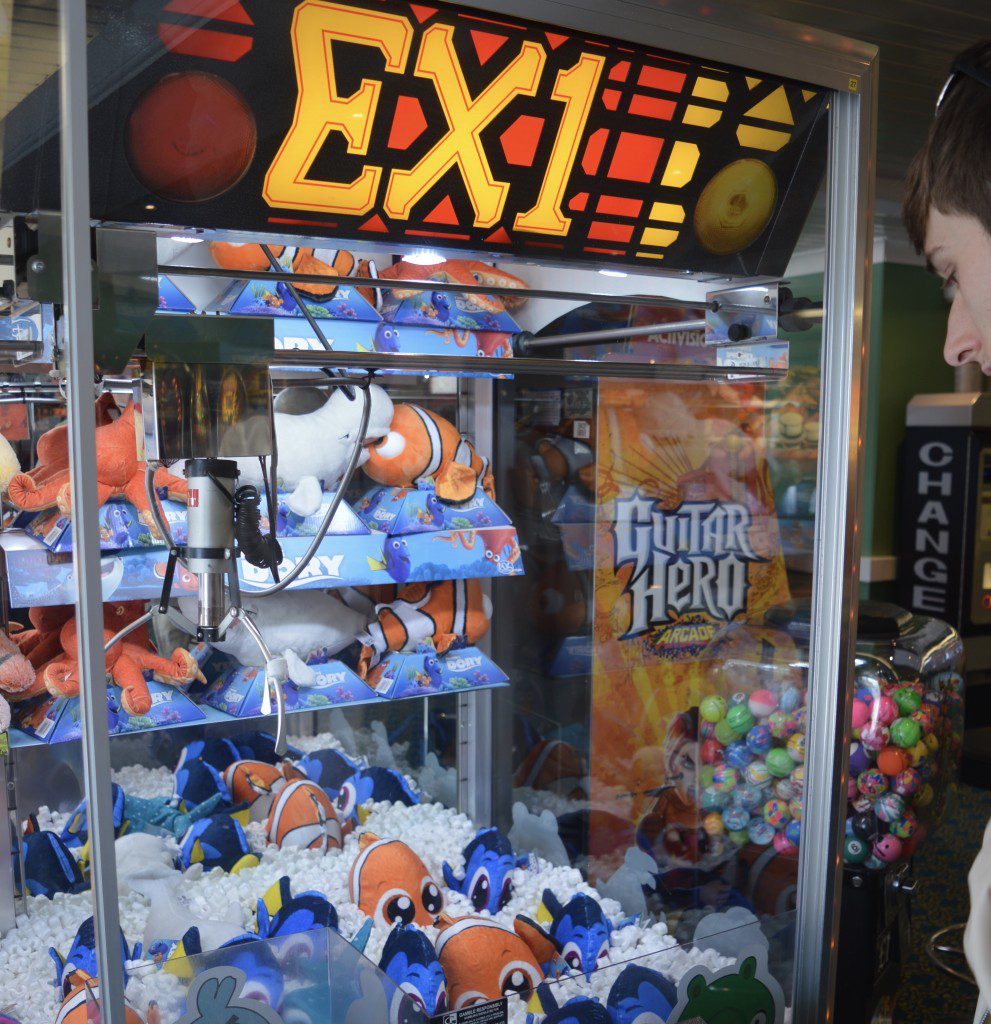 If you don't mind being frustrated by the (seemingly) unbeatable claw machine, then this classic arcade game is for you. For just 30p you could win a cuddly Nemo or Dory of your own. But of course, with bigger stakes, this game is a little harder to master, so be prepared to yell at an inanimate object in front of your fellow pier-goers. This activity is particularly good for dates, who doesn't want to be wooed with their very own pier souvenir?
Look At The Rides
If you have energy after or simply just don't fancy the arcade, why not walk on a little further to where the rides are? It may sound boring, but surprisingly watching people on the rides can be equally fun (especially if you're scared of rollercoasters). Seeing people squeal, laugh and turn green can provide a lot of entertainment, even if you can't quite justify buying a ticket for one yourself. Although, I definitely wouldn't suggest this idea for families as no doubt your little ones will get jealous!
Get Involved
If you don't really see the fun side of watching other people on rides, then don't fear, there are some rides that are affordable! The Turbo coaster pictured earlier and the Crazy Mouse ride will set you back £4.50 respectively, dodgems cost £3 and the heater skelter is just £1. So, if you're willing to sacrifice some of your budget these attractions are definitely worth a try!
Observe Some Art
Once you've exhausted the pier and all it has to offer, why not wander along the seafront. Amongst all the typical souvenir shops you can find some really exciting stuff. Check out the art shops and galleries, some of which showcase local artists. There are postcards available to purchase too if you're looking for a cheap memento!
Enjoy Window Shopping
Keep an eye out for quirky shops. Another cheap way to explore the seafront is to wander in and out of all the shops, admiring the intricate arts and crafts.
Be Nostalgic
Rides aren't only for the pier you know! Keep an eye out for this vibrant carousel. At just £2.50 a turn this carousel is pretty budget friendly. Why not relive your childhood holidays whilst looking out at Brighton's beautiful sea?
Have A Taste Of The Seaside
If you're looking for a bite to eat, seafood shacks along the seafront offer a cheap and authentic way to enjoy a taste of Brightonian food. If shellfish isn't your thing, you can get chips for as little as £2! Of course, prices do vary so it's worth going for a wander if possible to hunt out the cheapest price. And if you've got more of a sweet tooth, nothing beats the classic beach front Mr. Whippy. For just £1.70 you could satisfy your craving. But of course, the cheapest way to eat at the seafront is to bring a picnic (if you can brave the seagulls). Just a few minutes walk away you could stock up on sausage rolls, scotch eggs, strawberries and whatever else your heart desires at a supermarket to save money.
Find The History
If history is what you're after, a visit to the Brighton Fishing Museum will be perfect. Best of all, it's completely free.
The museum features parts of the old West pier, with fitting historical information alongside it, as well as an old boat you can look in and videos projecting Brighton's history as a seaside town. Although small, this is definitely an interesting way to kill half an hour and offer you some shade if the Summer sun is getting too much.
Watch Out For Local Art
In Brighton, there's always something new to capture our attention. Keep an eye out for pop up art exhibitions such as this one documenting life on the seafront. Whatever it may be, there's always something exciting to keep your eyes peeled for…
Be Active
If you're with a group of pals, simply bring a ball along and utilise Brighton's free basketball court. This is a great way to catch the sun and keep active!
Search For Opportunities
Like I said, you never know what you'll stumble across in Brighton. Today, it was this sign offering anyone named Mark (that could provide ID), a free slushy or ice cream – what a deal.
BYOB
With the lure of seafront pubs and ice cold beers on a hot day, it can be hard to avoid splashing the cash. To save money, bring your own booze (or soft drink if you'd prefer it). To amp up the atmosphere bring along a portable speaker and it'll be like your own private oasis on the shore.