Kellie Miller Arts gallery hosted the opening night of their brand new 'Storytelling' exhibition in the Laines in Brighton on Friday. The gallery was packed with people from start to finish all wanting to gaze at the new work from artists, Sabina Pieper and Steve Fricker. Sabina's artwork focuses around opulence in the Tudor era and Steve's paintings centre around people's connections with objects.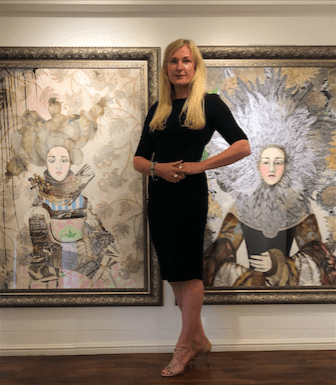 Sabina Pieper, featured artist in 'Storytelling', using pencil drawing and collages.
Guests discussing Steve and Sabina's art at the two-floor exhibition.
Tosin Adeosun, Gallery Assistant.
Guests admired the galley's art deciding on whether to make purchases.
Master's student, Amy Quinn, and Eva Poliszczuk, Catalyst Intern.
Megan Trump greeted guests at the door with champagne.
Steve's paintings interwoven with the gallery's regular stable of pieces.
Artist and writer, Jo Wonder.
These mouse figures are part of the gallery's staple collection.
Katie, an art appreciator and keen photographer.
Sabina Pieper speaking to friends and guests at the exhibition.
'Storytelling' is open Monday to Saturday, 11am-6pm, Sundays 11am-5pm, until 15th October 2018.
If you have an event or a venue you would like us to visit and promote get in touch here.