It's that time of year again, when the evenings are getting darker earlier and there's a crisp chill looming in the air. Time to start planning for everyone's favourite Autumn event next week!
Halloween is just around the corner and what better way to get you excited than by getting the creative juices flowing in brainstorming some costume ideas. However, living in the environmentally-conscious place that Brighton is, this Halloween we're thinking of ways we can limit our expenditure and source ideas from our very own homes. So, look no further than our list below for some Spook-tacular (had to be done) costume ideas this Halloween that will save money, time and most importantly the environment!
Old Married Couple
While everyone dons their Harley Quinn costumes and Trump wigs, stand out from the crowd as an Old Married Couple. As the clocks go back next weekend, turn time forward instead as nothing's scarier than ageing fifty or so years! Pair the dressing gown with some old-fashioned pyjamas and any other accessories you find around the house – rollers, slippers, fake glasses, your favourite mug and perhaps a packet of Werther's Originals and a Sudoku for added zest.
Funky Bat
Up-cycle an old black umbrella into a seriously impressive bat costume. Simply cut your umbrella in half and use black safety pins or hot glue to attach it to the arms of a black hoodie. Fasten the hinges of the metal umbrella pieces with black electrical tape to help them properly fold. Create ears with foam core or cut out some ear-shaped pieces from black material such as a bin bag, attach to cardboard and clip them to a headband.
Plant Lady
Love your plants? Well bring them along for the night and dress yourself in head to toe green! Attach some fake leaves or even collect some real ones on the way there for a quirky, #Plantpower costume.
Rosie the Riveter
Fancy flexing those feminist muscles? Then grab a hairband, a blue shirt and that's all you really need!
Spooky Skeleton
To create a simple but effective skeleton costume, cut out sections of an old t-shirt to create a ribcage illusion, add some face paint, and stick on a paper heart. Add a quirky accessory like a hat to personalise the costume.
She sells sea shells
Make use of Brighton's much-loved seaside and look to none other than our own shores to collect your costume! With an abundance of shells to pick, fasten them to any sort of costume or attach them to the inside of a large coat. Complete with sunglasses, this popular tongue twister makes for the perfect unique DIY costume.
Under the Sea
Continuing the aquatic theme, these DIY underwater creature ideas are a brilliant way to incorporate whatever materials and accessories you have lying around. Use a pair of old fishnet tights to spray over with coloured glitter spray, leaving a magical and sea-like effect with minimal effort. Fancy a slightly less serious costume? Grab your shower cap and dangle ribbons, tissue, beads all round it to be the funkiest jellyfish in East Sussex. Also makes for a brilliant dance accessory while grooving out to the tunes all night.
Pop Art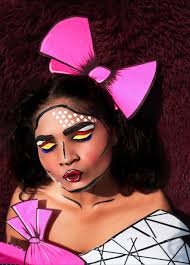 No matter how much makeup you have, there are a multitude of Halloween looks you can achieve with what you have and without having to fork out money on new clothes. With this cool Pop Art costume makeup, you can pretty much wear whatever you want and still look put together.
Spice Girls
A Spice Girls tribute is the perfect group Halloween costume. Pull from what you already have in your closet or alternatively go as the authentic Spice Girls and raid the Spice rack.
Scarecrow
All you'll need is a pair of dungarees and a check shirt to dress as this firm favourite for Halloween.