This weekend the Brighton Centre will be taken over by Europe's biggest Vegan festival; Vegfest! Vegfest is a weekend dedicated to the vegan lifestyle, and is open to everyone who is either vegan or interested in pursuing a vegan lifestyle. There is so much at Vegfest so Bjournal have broken own the programme and taken a look at some of the highlights.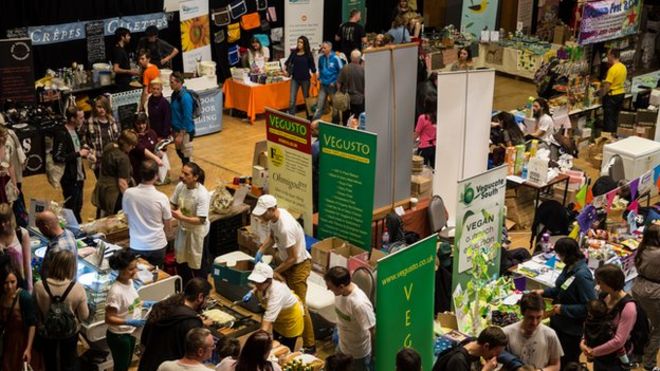 The FXEctive Factor is a feature that is brand new to Vegfest an involves a number of contestants showcasing 'creative peaceful vegan education in front of a panel of judges'. Some of the performers include Ian Haywood performing 'Cargo of Shame' and hopes 'that his music can help empower others in this evolution towards a more compassionate world'. Jack Dean will also performing his back catalogue of socially conscious spoken word indie/folk songs. His new animal rights track "Do You See" comes straight from the heart tackling the injustice of the innocent.
On the Sunday there is the Activists Summit which is 'a selection of short workshops, talks and discussions empowering you to do your own vegan advocacy after the event, influencing those around you on their food choices and ethics. There will be talks from the founder of Vegfest UK, Tim Barford bout the events of 2016 and beyond as well as single issue campaigns, effective activism and the go vegan message. There will also be a talk from Dr Casey Taft of Vegan Publishers. He will talk about how he came to help found and develop this vegan-themed publishing house.
There will also be the Vegan Comedy Festival taking place on the Sunday seeing comedians such as Jake Yapp, Angie Belcher and Carl Donnelly. Jake Yapp is a writer, composer and comedian who has writing and performing credits on the likes of Never Mind the Buzzcocks and Charlie Brooker's Weekly Wipe. Angie Belcher is a standup poet, comedy actor and writer. She presents 'dirty stanzas and awkward observations about approaching 40 via Agnosticism, angry computers and puppies.' Carl Donnelly has become a regular on the comedy club circuit and has won a host of awards such as Chortle's Best Newcomer and Leicester Mercury Comedian of the Year.
There will be performances all weekend including One Man and His Beard, The Captain's Beard, VeggieVision Speed Dating and a Vegan Bodybuilding Contest, because why not? There will also be film screenings on all things vegan as well as mature zones for the older generation of vegans and a children's zone, for the younger.
Of course, there will be a host of talks by experts on plant-based nutrition and health who will be sharing their insights on being healthy on a vegan diet. John Jezewski will be talking about an Alkaline diet and Stephanie Jane Rowden will be talking about her journey as the UK's first vegan WBFF Pro. There will also be cooking demos, so you can learn how to create vegan cheeses as well as vegan sushi-style dishes.
There is loads to do and see and listen to at this year's Vegfest so whether you're a seasoned vegan or are just interested in what they have to say, it's well worth popping along. You can get tickets here.
Holly Martin
holly@brightonjournal.co.uk
feature image from  here.