Friday – Throwback Friday 80s/90s @ The Funkyfish Club
Is there a better way to celebrate the end of a long week than going to the club and shaking it off on the dance floor? Hard to imagine, especially when the DJ plays all our favourite tunes from the 80s and 90s and entry is free.
10 pm till 3 am @ The Funkyfish Club, 19-23 Marine Parade, Brighton BN2 1TL. Free entry.
Friday – Once and Future @ Brighton Open Air Theatre
What happens when poets, rappers, storytellers and musicians sit around the table together to discuss about how our past can help us handle the future? You will find out tonight.
7 pm till 9 pm @ Brighton Open Air Theatre, Park Dyke Road, Dyke Rd, Hove BN3 6EH. Entry £7 (£5 concession).
Saturday – Launch of Brighton Festival with the Children's Parade
As you might have read on our website a little earlier this week, Brighton Festival is about to start on Saturday. The annual children's parade will mark the festival's official beginning. For a full list of Brighton Festival events this weekend click here.
Saturday – Brighton Craft Fair
Looking for an extraordinary present or just interested in what Brighton's local artists are up to? Then here's an opportunity not to be missed. Get your hands on arts and crafts works and have a chat with the artists at the Brighton Craft Fair.
11 am till 4.30 pm @ Friends Meeting House, Ship Street, Brighton BN1 1 AF. Free entry.
Saturday – Musical Bingo @ Komedia
Castle On The Hill! Dance With Somebody! Broken Strings! Musical bingo is all about shouting out the names of the songs you are hearing before it's on for DJ's Rapture and Jonny Unknown.
Starts at 8.30 pm @ Komedia, 44-47 Gardner StreetBrighton, BN1 1UN. Entry is £8 to £10. To buy advanced tickets click here.
Saturday – 2nd Birthday Party @ Patterns
Yeah you heard that right. One of Brighton's most popular night clubs celebrates its two years anniversary. Happy Birthday Patterns! DJs such as Joy Orbison, Willow and Chris Headcount will do their best to guarantee the ultimate dance experience.
Starts at 10.30 pm @ Patterns, 10 Marine Parade, Brighton BN2 1TL. Entry is from £6.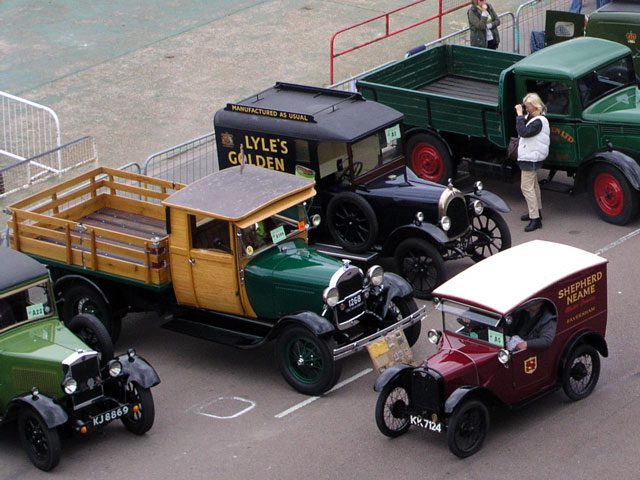 Sunday – 
56th Annual Historic Commercial Vehicle Society – London to Brighton Run 
Historic vans, lorries, buses, military and steam vehicles as far as you can see.  Held each year on the first Sunday in May, the HCVS London to Brighton Run will make car lovers' hearts jump higher. Around 200 historic vehicles will be on display on Madeira Drive from 1 pm on.
Free admission after 1 pm @ Madeira Drive, Brighton Seafront.
Friday, Saturday & Sunday – Fringe! Fringe! Fringe!
No need to say that there will be heaps of stuff going on each Fringe weekend. Why not get the family together and head out to the Pavilion Gardens for a picnic with live entertainment? Or join in the exciting investigation of a murder for a show where not even the actors know who the killer is.
Find more information on the Fringe City Family Picnic and Crime Scene Improvisation and a full list of Fringe events for the weekend here.