Situated in the heart of the city, sandwiched between Kemptown and the Royal Pavilion, Old Steine Gardens is yet another staple in Brighton's beautiful scenery. Although it may now be better known for being a hub for busses, the gardens remain beautiful and it still plays host to some of the biggest events of the summer. If you're local, you've probably walked through it a hundred times, but how much do you know about its history?
1. It Was A Hot Spot For Local Fishermen
Old Steine Gardens didn't always look as it stands today. In fact, you might be surprised to know that it previously acted as a local spot for fishermen. Back when Brighton was the small fishing village of Brighthelmstone, fishermen would gather at Old Steine to store their boats and allow their nets to dry. As time went on, however, the fishing community was excluded, with the area being drained and enclosed, they had to move on. Eventually, the area turned from a place of occupation to a place of recreation, with visitors using the Old Steine to promenade.
2. Old Steine Used To Incorporate The Royal Pavilion
Did you know that part of the Royal Pavilion used to be considered as part of Old Steine Gardens? The eastern lawns which were originally built as a seaside retreat for George, prince of Wales, were in fact considered part of the Old Steine at one time.
3. Victoria Fountain Used To Be Even Prettier
The beautiful structure that stands in Old Steine Gardens, Victoria Fountain, used to be even more enjoyable to look at if you can believe it… The fountain used to have goldfish and waterlilies floating about in it!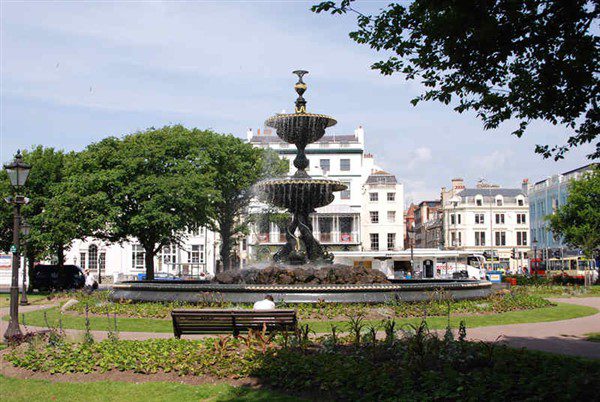 4. The Fountain Exists Because Of John Cordy Burrows
If it weren't for John Cordy Burrows, who knows if the Victoria Fountain would exist now. In 1837, the commissioners of the town decided against erecting a fountain to commemorate Queen Victoria's accession to the thrown. Luckily, Burrows placed a private commission with British architect, Amon Henry Wilds in order to complete the piece. The project was financed by Burrows for the most part alongside a public subscription and proceeds from a bazaar, concert and night at the theatre.
5. The War Memorial Was Based On Something From Overseas…
The Brighton War Memorial located at the southern end of the northern enclosure of Old Steine gardens found its inspiration from somewhere a little more sunny even than Brighton…Apparently, the memorial was based on the appearance of a Roman water garden!
6. The War Memorial Is A Grade II Listed Structure…
As of 26th August 1999, the Brighton War Memorial was added to the National Heritage List for England as well as being declared a grade II listed building.
7. …And So Is The Victoria Fountain
Another listed building at Old Steine, the Victoria Fountain was declared grade II on 13th October 1952. When a building is 'listed' it generally means they are considered to be nationally important and of special interest, so it's pretty cool that Old Steine has so many!
8. George IV Once Stood Where The War Memorial Is Today
The site intended for the Brighton War Memorial was originally where a statue of George IV stood. Upon review, the statue of George was transferred to the North Gate of the Royal Pavilion.
9. The Victoria Fountain Was Inaugurated
On 25th May 1846, the Victoria Fountain was inaugurated in celebration of the 27th birthday of Queen Victoria herself. To celebrate, a royal salute was fired from the pier at noon, in time with the fountain starting. Music was also commissioned and local businesses closed at 3 o'clock. The day concluded with fireworks, in true Brighton style.
10. John Cardy Burrows Pretty Much Made Old Steine What It Is Today
There's a reason there's a statue of John Cardy Burrows erected at Old Steine – he did a lot to make it what it is today. The previous surgeon was popular amongst townspeople for all his work towards building a better community. In regards to Old Steine alone, he planted and designed the gardens at his own expense. In 1849, as part of the town committee he assisted with the sale of the Royal Pavilion. His popularity is clear when you look at the history – Burrows was elected mayor not once, not twice but a record of three times. So when he passed it only seemed fair to erect a huge statue of him…Oh and did we mention that's yet another grade II listed structure?