With so many things to do in Brighton we knew finding 26 things to correspond to letters of the alphabet would be a piece of cake… Take a look at our A-Z guide of activities in Brighton and you'll have no excuse to ever be bored again!
Art Galleries
Being the cultural place that it is, Brighton has a plentiful supply of art galleries to browse. As part of the Royal Pavilion, the Brighton Museum & Art Gallery is a must see when visiting Brighton. Keep your eyes peeled for local art galleries too, there's plenty to be found in the South lanes!
Beach
Not that we needed to mention this one, but what would an A-Z of Brighton be without the beach? Arguably, the main draw of Brighton is its glorious pebble beach. We love it and think you should too! A trip to Brighton just isn't complete without a little seaside wander…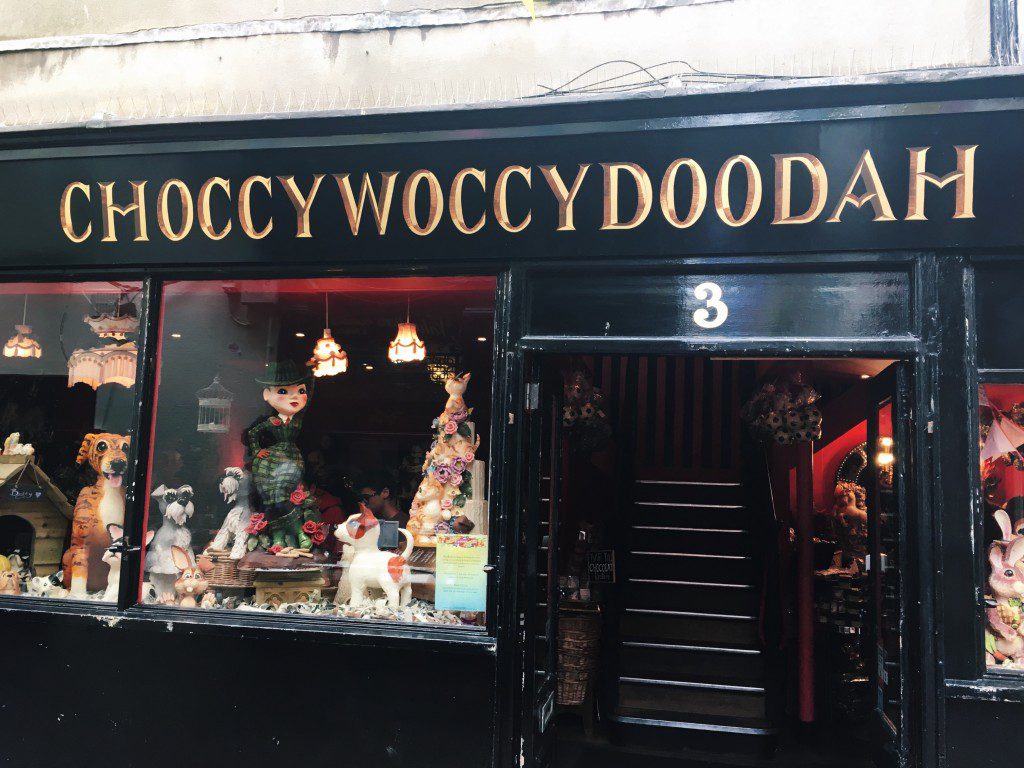 Choccywoccydoodah
This famous chocolate shop nestled down the South lanes is somewhere everyone ought to experience at least once when visiting Brighton. Choccywoccydoodah is a renowned chocolatier that specialises in ostentatious handmade cakes, confectionery and gifts. From frogs to rats to cats and dogs, this lavish shop is full of sweet treats that'll have you in awe!
Dance
With so much nightlife in Brighton, if you have the chance to spend the night here, you better go out and dance! Brighton has an abundance of seafront clubs including: Coalition, Shoosh, Mono, Patterns, Volks and Pryzm as well as plenty of bars that'll provide you with tunes to get your dancing shoes on all night long.
Eat
If you come to Brighton, be sure not to miss out on the incredible food we have to offer. With burger joints, burritos, falafel, seafood, vegan fast food and more at your fingertips, eating is a big part of life in our seaside city! Why not check our some of our favourite places to eat here for dates, families and friends?
Festivals
Brighton & Hove plays host to plenty of festivals throughout the year. We've already had Brighton Fringe, Brighton Festival, the Great Escape and Wild Life and Boundary is yet to come! Whether you're a local or not, it's definitely worth utilising all the music and arts we have right on our doorstep.
Gelato
We've raved about Brighton's great gelaterias many a time in the past and we think they're definitely something worth experiencing! If you want a taste of Italy without having to get on a plane, Brighton & Hove is here for you with deliciously authentic ice cream in abundance.
Hire A Bike
Cycling is popular amongst most Brightonians, (apart from when trying to conquer a hill), but if you don't have your own, why not rent one for the day? Bikes are available for hire along the seafront, just right of the Palace Pier. With plenty of cycle paths in the city and a nice route along the seafront, what better way is there to take in the city?
i360
Recently being crowned one of the best buildings in the UK, the i360 is a relatively new addition to Brighton's seafront. Despite some locals questioning its aesthetics, the i360 remains a popular tourist attraction, offering people the chance to get a 360 degree view of Brighton from a special viewing platform. If you're one for heights and nice views, we'd definitely recommend this.
Jubilee Clock Tower
Another famous Brighton landmark worth swinging by is the Jubilee Clock Tower located near Churchill Square. There's not much to do at the clock tower other than take pretty pictures but at least you'll be right in the heart of town!
Kayaking
Amongst an array of other water sports, kayaks are available to hire down by the seafront! For a small fee you and your pals could be kayaking on the wavy shores of Brighton. Water sports are a great way to keep active and have fun so why not try this out next time you're down by the sea?
Lanes
North & South are both worth seeing – the beautiful Lanes are amongst Brighton's most iconic features. With vintage clothing, records, comics and more, the North Laine is the edgier of the two, with the South Laine offering fancy jewelers and plenty of yummy eateries.
Marina
Just a stone's throw from Kemptown is Brighton Marina. A great place to go if you're looking for somewhere to eat over the water or even if you just fancy taking a look at the boats.
New Steine
Home to Brighton's famous AIDS memorial is Kemptown's New Steine. A quaint little garden surround by B&Bs with a lovely view of the sea, it's a great place to sit down, have a bite to eat and take it all in.
Old Steine
If you're going to visit New Steine, of course you ought to visit the old one too! Old Steine is a thoroughfare in the centre of Brighton but is surround by gardens and even a fountain. An iconic location to sit and picnic, in Summer you'll find Brighton fringe tents there as well as other activities taking place!
Palace Pier
Arguably Brighton's most famous attraction, Brighton Palace Pier is embedded within the city's culture. Having featured in famous films such as Quadrophenia and Brighton Rock, everyone ought to experience the pier. Whether you're there to observe the architectural impressiveness or just eat a few doughnuts, it's definitely somewhere worth visiting.
Queen's Park
In Kemptown just a short walk uphill you'll find the lovely Queen's Park. With a big pond, a clock tower of its own and plenty of space for picnics or games, this is a great place to come when looking for activities in Brighton. In the summer it's a complete suntrap so is the perfect alternative to the (often windy) beach!
Rides
If you're going to visit the pier it'd only be right to have a go on one of the rides, wouldn't it? Whether you prefer helter skelters and carousels or the crazy mouse, there's something for everyone – from old school games like dodgems to newer (and scarier) rides like turbo…
Sea Life Centre
The oldest functioning aquarium in the UK, Brighton's Sea Life Centre is a must see for families and fish lovers alike. There's plenty to explore with underwater shark tunnels, nesting turtles and inquisitive sea horses!
Theatre
Pioneering arts, music and theatre, if you have the chance you ought to experience Brighton & Hove's drama scene. The Theatre Royal, the Old Market and New Venture all have performances on throughout the year, whether you're looking for a local indie play or something more broadway-esque!
Universities
The University of Brighton and the University of Sussex are two huge parts of Brighton's culture, bringing in a great deal of young people in the form of students. Look out for talks or exhibitions at Brighton or take a leisurely walk through Sussex's glorious campus…
Volks Electric Railway
It may be closed for the time being but Volks Electric Railway is a popular staple on the seafront. Taking you up and down the short piece of coast, this activity is great for small children or families!
West Pier
Another beautiful Brighton landmark is the old West Pier. Despite being out of use for many years people still come to admire what's left of it and take photographs of the beautiful sunsets it supports.
X-Rated Shopping
It may sound strange but many visitors to Brighton claim that adult entertainment store, Taboo is actually well worth a look! Obviously we wouldn't recommend this activity to families…
Yoga
Yoga may not seem very Brighton-specific but you'd be surprised as to how many yoga studios we have in our city! This may not be something you want to try out if you're on a day trip but locals, look out for on the beach yoga as well as the new trend – hot yoga!
Zip (Coming Soon!)
Okay it may not be here just yet, but Brighton zip should have arrived on our shores by the end of July! The 300m seafront attraction will see screams throughout the summer months as people sail over the beach…