There really is no place in the world quite like Las Vegas. As you pass through billion dollar hotels, connected by travelators inside and out, the gleaming lights and jackpot chimes transport you to a unique place that oozes magical meaning. Beautiful on the eye and undecided on the wallet, Las Vegas is an authentic destination that is well and truly, out of this world.
Located in the state of Nevada, Las Vegas attracts people from all over the globe. Renowned for its casinos, the city offers the best gambling attractions worldwide and continues to thrive as Las Vegas Boulevard enjoys a continuous flow of money-making traffic 24 hours a day, 7 days a week.
The Las Vegas Strip, approximately 4.2 miles in length, is made up of 31 stunning hotels that possess their own individual style, adding to the diverse options available to holidaymakers from far and wide. From the Venetian Hotel, that is designed around the beautiful city of Venice, to the MGM Hotel which caters for blockbuster sporting events all year round. Choice is a luxury Vegas has in abundance and no matter what you're interests are, there'll be somewhere and something to suit your needs in this fascinating city that never sleeps.
Experience a thunder storm inside Planet Hollywood's 'Miracle Mile', as it pours down whilst you browse around shops and witness something quite spectacular. Just across the road, the Fountains of Bellagio is a choreographed water show that takes place frequently throughout the day, supplying the most breathtaking backdrop as you venture down the bright-lighted strip late at night.
If you're more interested in pampering than playing with poker chips, a number of spa treatments are available in various hotels along the stunning stretch, with shopping outlets a short journey north of the Vegas' crazy epicentre of enjoyable madness. Just south of the strip is the famous 'Welcome to Las Vegas' sign that of course, is paramount snap for your photo collection once departing 'Sin City'.
Vegas really does stay alive and kicking all day long, however at night time the atmosphere hits new levels with a wide range of shows, club nights and water parties taking guests into the early hours of the following morning. Wet Republic is a venue part of the MGM complex and when the sun goes down, the water party begins as some of best DJ's from around the world perform poolside at one of Vegas' most popular venues.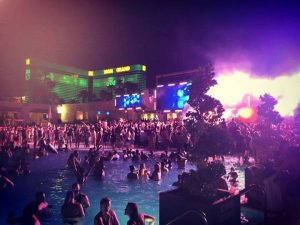 Evening shows such as Fantasy at the Luxor, Tournament of Kings at the Excalibur and Celine Dion at Caesars Palace offer a wide range of entertainment, warming you up for a late evening of gambling action on the strip. Deals can be found online or by taking a daytime stroll down the Boulevard where you will find reduced show tickets and guestlist entry to nightclubs throughout the week.
Whether you dine in your hotel or visit one of the many eateries on the strip, you are guaranteed to find somewhere that tickles your taste buds at whatever price bracket your budget falls into. From the Harley Davison Café to the pricier Le Cirque restaurant at the Bellagio, Las Vegas takes care of its guests with a wide range of delicious places to eat.
And if all of this isn't enough, the weather in Las Vegas is reliably hot all year round, especially throughout the summer months when temperatures reach as high as 41 degree Celsius. The weather provides the perfect platform to make the most of your hotel facilities and relax by the pool throughout the day, before heading out for an evening of fun.
Pictures may show Las Vegas for all its glitz and glamour, but they don't compare to experiencing the place first hand. Whether you consider yourself a brilliant bluffer or an amateur player, it really doesn't matter. Yes, the place is famous for its gambling traditions but it means so much more than the turn of a card.
You may not be the biggest gambler in the world, but one thing is for sure, a trip to Las Vegas will be the best gamble you ever make.
Kieran Cleeves
Kieran@brightonjournal.co.uk
All images courtesy of Kieran Cleeves