This week Brighton Journal spoke to Jo Hathaway, a local illustrator and landscape painter. Jo's colourful abstract paintings explore the nostalgia, memory and emotion that places hold for us. Her love of language and poetry continuously inspires her work, as each piece visually transforms poetry, fiction and plays. We discussed Jo's illustration work for an upcoming children's theatre show, her involvement in 2020's Brighton Festival, and how the local area affects her creative output. Take a look at Jo's vibrant work.
What are you doing today?
I've got a couple of things on the go today – I've been varnishing two new pictures about Winter seas that are going up at Gallery 92 in Hurstpierpoint this weekend, and I'm finishing off some illustrations for an interactive children's theatre show called 'Mouse and Sam'. I divide my time about 70/30 between painting and illustration work.
Describe where you do most of your creative work
I have a small studio (don't call it a shed!) in the garden which is completely my zone, and has been a fantastic space for me. I work there every day. Until two years ago, I worked on any surface I could find in the house, which meant fighting my children's lego for space, and constantly either covering everything in paint, or cleaning it up, and shoving all my stuff on shelves or on top of cupboards. My shed, sorry – studio – has changed all of our lives!
What's the most exciting thing you've worked on?
That's a great question. I've been lucky to have been able to 'mix it up' in my career, doing a variety of different things – from painting a mural in Ghana to educating people about protecting themselves from Malaria to large-scale portraits, to children's theatre. But honestly, the most exciting thing is the buzz of opening your own exhibition when you've been working on a collection of paintings for months behind doors, and you get to see them all framed, strung and hung together, and to share them with others.
Having your paintings in other people's houses is always exciting and a privilege to think something you have made becomes a meaningful and loved element in someone else's home.
What made you decide to become an artist?
I think it chose me ultimately. I started out at art college and then went on to study English, and to work as an editor and writer. I've been able to run these two creative compulsions in parallel over the years, but now focus almost entirely on painting.
What are you currently working on?
2020 is going to be a busy year for me – I'm just about to start work on a series of paintings for the Brighton Festival (I'll be showing at 44 Florence Road in Fiveways with Emily Beaumont and others for the first time which I'm really excited about), as well as planning a series of pictures for my own show in Co. Clare called 'In My Mother's Place' later in the summer.
What are the key themes in your work?
My work is concerned with memory and landscape. Famously, Proust talked about a single crumb of a madeleine cake transporting him back to his childhood. I think landscapes – interior and exterior – can have the same power. My work aims to express how we remember, project onto, and interpret places that are meaningful to us, our emotional connection with what the Beatles described 'In My Life' as the 'places I remember' – that heartbeat, that nostalgia. I hope my work explores the moments that these places hold for us.
Increasingly, my work is concerned with the strangeness of the blending seasons due to climate change, and the unexpected effects that has on landscape – like seeing peonies, a herald of spring, peeping out of a late snow fall.
What would you like people to notice about your work?
I think of myself as an abstract-landscape painter, but all along that abstract spectrum – some paintings are more identifiably what we see, and some more about how we feel.
Because of my love of language and poetry, I almost always associate a piece of writing with each painting – these might be famous poems, a line from a song or newspaper article, fiction, or even something from a film or radio play. This is something which I am hoping to make more explicit in my shows this year, so that people can experience/come to the pictures from a different angle.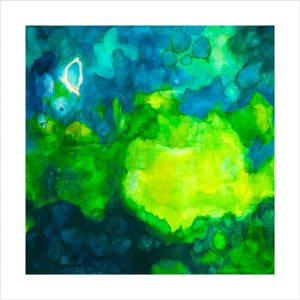 What attracts you to the medium you work in?
I generally paint on canvas, and work mostly in acrylics, often using the pop of oil colours to finish off a painting. I love the negotiation you have as an artist with paint, and the speed of working in water-based, fast drying paints. My paintings involve many layers of paint, so working in acrylics suits me, particularly as I often have to clean up in a hurry to get on the school run.
But there is nothing quite like oil for depth and luminosity, so I keep my hand in, and if I'm ever painting smaller, I go with oil.
What equipment could you not do without?
Acrylic gels and sponges! I buy a ton of both. On my big canvases I almost always paint with sponges, and find different kinds of acrylic gels help the paint to move and layer and ridge in interesting ways as I work.
Who or what inspires you?
Other artists; colour; poetry; nature. When you spend most of your time alone in a small box in the garden, it is so important to get out and see other artists' work, to read, and to 'get amongst it' into nature and your surroundings.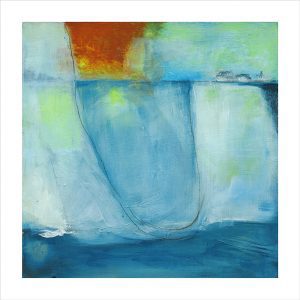 How is your work affected by living in this area?
Being part of such a vibrant creative community, with so many places and events to see other artists' work, and to show and share your own paintings, is a constant stimulus to develop your work.
I really value my association with Phoenix Art Space and go and see as many exhibitions and open studios as possible there, as well as taking their courses whenever I can. This Spring I'm also taking part in a couple of courses at Starling Studios in Havelock Road, and hoping to run a workshop or two myself.
What's your favourite thing to do locally?
It's not very original but it's all about the Downs and the sea to me – the fact that Brighton snuggles between the two is such a life luxury. I have young children and they never get tired of the sea; and a friend and I pound the Downs every Sunday morning, walking all along the swoops and swirls and dips and dykes – often ending up at Saddlescombe or Kingston, two of my favourite local destinations.
What's your favourite gallery (or place to see/experience art)?
I feel a bit disloyal to Brighton saying so, but probably Tate Modern – my family and I are members again now, after a long break, and the range and change of the work there, along with the wonder of the space, make it such a wonderful destination. The fact that it's so easy to get to really helps too. I can get there, have a good visit and get home within a school day.
I also love the galleries and museums in Scotland, and I try and get up to Edinburgh every other year. I find a kind of national confidence there that expresses itself so creatively, so boldly, so innovatively – I love the Museum of Modern Art there, and have a particular soft spot for the small Fruit Market Gallery in the centre of the city.
If you could collaborate with one artist, from any time, who would it be and why?
This is an impossible choice! I am obsessed with colour but for that reason think I would learn most and be challenged by an artist who managed to create richness with a more muted palette. I love paintings of snow, and I really love Peter Doig's pictures of skiing. But I think the French did it best so I'm going to go with Albert Marquet.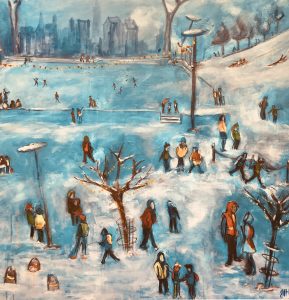 What's your favourite colour?
I would have to say turquoise, which always, always creeps into or dominates my work, no matter what I plan! I love the all-worldliness of it – to me, it can be both a very true colour, like a spring sky or a Mediterranean sea; and an artificial one – it can be both pretty and eerie, as it is a colour so rarely found in nature.
To find out more about Jo and her work, check out her website.