This week Brighton Journal spoke to local mixed-media artist, Keren Bevis. Keren is self-taught, and amidst her many artistic inspirations the city of Brighton has always remained a constant. Her often abstract application of paint creates dynamic compositions exploring identity, fantasy, social change and nature. Keren's ongoing series 'Chase the Rainbow' includes a recent painting of Kylie Minogue as a tribute to the pop star's performance at Pride.
What are you doing today?
I have a unit at Cobblestone Walk in Steyning to sell my art, adult colouring books, prints and furniture. I was there today.
Describe where you do most of your creative work.
I sometimes paint at Cobblestone Walk but prefer to have more space. I tend to work on large canvas using primarily acrylics with added spray paints and various other mediums – it can be pretty messy!
What's the most exciting thing you've worked on?
I was commissioned to paint about 25 pieces of art for a small hotel in Brighton. They were all abstract colour, complimentary to each room. It was one of my biggest commissions. I decorated a heath centre in Haywards Heath with murals of various images which was really lovely to do. I also painted a mural in a child's bedroom of him swimming underwater, surrounded by sea creatures. His reaction to it was amazing.
What made you decide to become an artist?
I was always interested in art from a young age, influenced by my brothers who were also artists. My launch into the art world however didn't start until my son was born. I painted a mural in his nursery which lead to several commissions in the field, which lead to commission after commission – not only for murals but for water colours and abstracts etc…
What are you currently working on?
I am currently working on a painting of Kylie Minogue on a rainbow background, including iconic images of Brighton and Hove that are often featured in my work. This is part of a collection entitled 'Chase the Rainbow' around the world.
What are the key themes in your work?
Identity, fantasy, social change and nature.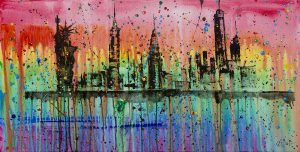 What would you like people to notice about your work?
That it is an expression of the way I am feeling at a particular time. I hope to incite people into my mind, to feel how I was feeling when I created that particular piece, to have some understanding of my creative mind.
I've had many people say "I could do that" because all they see is paint thrown at a canvas. There is reason behind the colours used and why they are created in such a way. It's intriguing when others study your art and see images you hadn't intentionally created, perhaps something they've desired to see, is of comfort or makes them smile. This happened recently after I gifted a painting to a dear friend following the loss of her parents close together. She saw so much more in it, that was so precious.
What attracts you to the medium you work in?
I work in various mediums, predominantly acrylics which I find flow effortlessly and are easy to layer…uncomplicated. I also use spray paints which I like to use to soften certain areas. I have recently discovered epoxy resin which I am excited to explore some more!
What equipment could you not do without?
The obvious would be canvas, brushes, easels….but i'm going to say my fingers! I blend and shape with them.
Who or what inspires you?
Colour, the sea, the elements, animals, media, my surroundings and the people I meet. This includes my favourite artists, and the thoughts and feelings of others and myself.
How is your work affected by living in this area?
The sea, the bright colours, the diversity of the population and the bohemian influence all have a place in my thought process, as well as iconic images of Brighton. Being by the sea has a calmness which helps with the "artist's block!"
What's your favourite thing to do locally?
Walk by the sea or over the downs and surrounding countryside. We are so lucky to be surrounded by such beauty.
What's your favourite gallery (or place to see and experience art)?
I wouldn't say I have a particular favourite. I love to visit galleries and exhibitions wherever I am in the world. There is so much art to see and absorb. I did a short introductory into Art History at The Courtauld Institute of Art at Somerset House. I felt very privileged to have been "behind the scenes" to experience all that goes into restoration, and to have been so close to such incredible art and history.
I also visited the V&A to see the Frida Kahlo Exhibition… amazing venue and of course exhibition.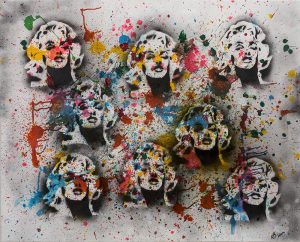 If you could collaborate with one artist, from any time, who would it be and why?
There are so many artists that I love and that inspire me, Banksy, Kandinsky, Rothko, Andy Warhol, Picasso, Renoir and on and on! But my greatest love is for Frida Kahlo. I find her fascinating, her tragic accident created a wealth of intriguing and poignant images, as well as some wonderfully colourful portraits. Each one unfolds her life story, stimulating the mind and making you feel such empathy for her.
I would love to have had long conversations with her and picked her brain!
What's your favourite colour?
Blues and greens… perhaps because I am a Piscean!
Have a look at Keren's work on Facebook, or on her website: http://artofkerenbevis.com/