No Comments
Artist of the Week: Tom Gillham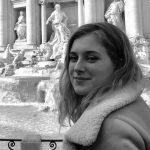 On

2nd April 2020

https://www.brightonjournal.co.uk
This week Brighton Journal spoke to Tom Gillham, a local abstract artist. Tom's dynamic work is a process of spontaneous mark-making, frequently exploring diversity, journeys and dreams. The human story is at the heart of Tom's artistic expression, and he hopes for his work to connect emotionally with others. We discussed how Frank Bowling inspires Tom's practice, and what he loves about living in Brighton as an ex-Londoner. Take a look at his vibrant work.
What are you doing today?
I took the day off (Monday) as I'm currently working remotely from home – this meant I was able to work on a new painting and varnish some finished works. It was nice to spend time with family in sunshine and carry out garden improvements between playing basketball with my lads.
Describe where you do most of your creative work.
Since last summer I have made use of a small garden studio, which I find a peaceful and creative place to work in. Prior to that I really enjoyed a couple of years renting space in friendly BN14 Art Studios in nearby Worthing, for experimental practice and larger scale paintings.
What's the most exciting thing you've worked on?
Studying part-time for my Masters of Fine Art at University of Brighton (2017-19) was an extremely stimulating and rewarding experience. Mixing with a great bunch of professional artists and in an academic environment challenged my usual way of thinking and making. Fellow students and tutors really encouraged me to create work outside my comfort zone and develop my practice.
Over last month I have been excitedly planning a few exhibitions, in particular "SoLo SoHi" @ Colonnade House. A huge disappointment, as it should have opened today (Monday 30th March). Unfortunately, the Covid-19 situation altered it initially to a "virtual" show, and then the total 'lockdown' cancelled it altogether.
What made you decide to become an artist?
Creating pictures is my true passion, one of my very first loves. At its free-flowing best it's a fabulously productive form of meditation, where I lose track of time and space that allows me to find myself in the act of making marks or images.
Drawing, paintings and photography are my way of expressing feelings about places, people and personal thoughts and emotions that are for me (and many of us) rather difficult to put in words.
What are you currently working on?
I am working on a series of oil paintings on bare wooden board box frames. Working from my garden studio means scaling down the size of my artwork, and I am enjoying the task of creating compact mini versions of semi-abstract scenes.
What are the key themes in your work?
I am fascinated by the human story, our diversity, journeys and dreams. Spontaneous mark-making releases images from my subconscious and imagination, creating semi-abstracts with atmospheres populated by fragments of memory or universal myths.
Reflections of a person or an atmosphere of a place and imperfections that make something unique and truly beautiful. My art embraces chance and I see my art, my life and other people as ongoing works in progress.
What would you like people to notice about your work?
I wish for my pictures to connect emotionally with others, now and in the future. I hope they are able to revisit them as I do and see something slightly different each time.
What attracts you to the medium you work in?
I use a variety of tools and mediums, ranging from brushing acrylic and oil on canvas, palette knifing paint onto linen or wooden boards, to drawing with ink, watercolours – more recently electronic pen on a digital screen.
What equipment could you not do without?
Probably a pencil and paper – but a camera phone is a very close second.
Who or what inspires you?
My early influences included the post-impressionists; the use of colour and expression of Edvard Munch. The energy, passion and ingenuity of Picasso. Frank Bowling RA has been major influence on my latest series of intuitive semi-abstract paintings. I researched Bowling who I see as a true 'poet of paint' for my final year dissertation. Bowling inspired me to layer and then wash off paint which fragment my figures and transform my landscapes into colourful 'mindscapes', reflecting an essence and atmosphere of a scene or a state of mind.
How is your work affected by living in this area?
As an ex-Londoner I dreamed of living on a hill by the sea, so I'm loving the Sussex coast with its own micro-climate and ever-changing atmosphere creating special clear light and fresh channel breezes. Many local features appear in my landscapes such as the Brighton & Worthing Piers that exude an iconic mix of vintage glamour, combined with rust and decay.
What's your favourite thing to do locally?
I walk on the Downs and picnic on beach with friends and family, enjoy a swim in the sea on sunny days. I do like to wander in the Lanes and look at latest work shown in local galleries.
An evening out in Brighton to meet mates in a pub or meal. Share conversation, laughs and debate over a few drinks and good grub – ideally the night capped off with some late-night music venue or comedy (at the Komedia's Krater club).
What's your favourite gallery (or place to see/experience art)?
Probably Tate Britain – beautiful building and surroundings on the bank of Thames – as I adore the wonderful variety of old and modern works on display at any time.
If you could collaborate with one artist, from any time, who would it be and why?
I'd love to work with Frank Bowling's and hinted at helping out in his London studio, via correspondence with Frederik his grandson (Bowling's studio assistant and communication manager). Although following Bowling's wonderful retrospective at Tate Britain last summer – I may be waiting for long time for call back and in a very long and growing queue of artists offering to collaborate.
What's your favourite colour?
My favourite colour has changed over time. When I was a young lad it was "Royal Blue", influenced by my support of Everton as football team, as opposed to my big brother's Man U. We were living up North at that time; also, I loved toffees!
It then was orange and my living room walls briefly glowed as a result, until the launch of a telecoms company declaring life was a citrus fruit – which questioned my choice of favourite colour. My personal selection of palette is initiative and often reflects my mood at that time.
To find out more about Tom and his work, check out his website and Instagram.