2020 has been a tumultuous year to say the least. A deadly pandemic has swept the globe, shining a light on those governments that were equipped to deal with a crisis, and exposing those that were not.
Furthermore, following yet another series of extrajudicial murders in the US, people have been forced to take to the streets to impress upon those in power that black lives matter.
Amidst these events, various British sports stars have used their platform to speak out against injustice and inequality. 
In June, the Government reversed their decision to end the free school meals voucher scheme during the summer holidays following a campaign led by Manchester United footballer Marcus Rashford. In a heartfelt open letter to MPs, Rashford detailed how his family relied on breakfast clubs and free school meals while he was growing up, and railed against the fact that an estimated 200,000 children have had to skip meals during the coronavirus crisis.
"As their stomachs grumble, I wonder if those 200,000 children will ever be proud enough of their country to pull on the England national team shirt or sing the national anthem from the stands," he wrote. He called on MPs to "find their humanity", saying, "Political affiliations aside, can we not all agree that no child should be going to bed hungry?"
More recently, in a moving piece of broadcasting at the start of the England vs. West Indies Test series, ex-England cricketer Ebony Rainford-Brent spoke passionately about ending racism, both institutional and everyday, alongside ex-West Indies fast bowler Michael Holding.
"There's a virus that has been part of our society for well over 400 years that is continuing to push this oppression," Rainford Brent said. "Until people in power start to understand and feel what it feels like to be oppressed, we won't progress. This isn't just black people's problem, it's got to be everyone's problem." 
"The evidence is clearly there that white lives matter. We want black lives to matter now, simple as that," Holding added.
Elsewhere, after winning the Styrian Grand Prix at the weekend, Lewis Hamilton stood on the podium with his fist raised and head bowed in a "Black Power" gesture. Before the race in Austria, there was another gesture of solidarity on the grid, with some drivers kneeling and wearing "End Racism" T-shirts. 
Hamilton is the only black driver in F1 and has been vocal in his support for Black Lives Matter since the killing of George Floyd. He has condemned F1 for its lack of action in support of the anti-racism movement.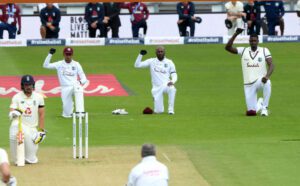 Anyone who has tuned in to watch sport since its return will have seen participants kneeling before games and wearing Black Lives Matter logos on their shirts.
Athlete activism is nothing new. From Muhammad Ali refusing to be drafted into the US military for the Vietnam War, to Arthur Ashe leading the fight for civil rights, to Billie Jean King demanding equal pay for women in tennis all the way up to Colin Kaepernick taking the knee before NFL games in 2016, there are countless examples of sports stars fighting to make a change off the field. Here is our look at just a few of these inspirational individuals:
Billie Jean King
One of the greatest tennis players of all time (she won Wimbledon 10 times!) Billie Jean King was a trailblazer in the fight for equal pay.
In 1972, King won the US Open but received $15,000 less than the men's champion Ilie Năstase. She stated that she would not play the next year if the prize money was not equal, and in 1973, the US Open became the first major tournament to offer equal prize money for men and women.
King went on to become the first female tennis player to earn over $100,000 in prize money.
Muhammad Ali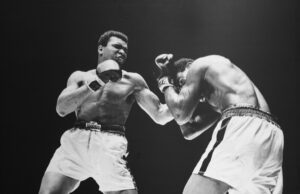 Perhaps the most renowned sports star-social activist, the Greatest's sharp tongue was as devastating in the political arena as his punches were in the boxing ring.
In 1966, Ali refused to be drafted into the US military during the Vietnam War, citing his religious beliefs and opposition to America's warmongering tendencies.
Commenting on his refusal, Ali famously said: "Why should they ask me to put on a uniform and go ten thousand miles from home and drop bombs and bullets on brown people in Vietnam while so-called Negro people in Louisville are treated like dogs and denied simple human rights?"
Ali sacrificed three years of professional boxing while at his prime by refusing to compromise his beliefs, but his example inspired countless black Americans and many others to oppose the war in Vietnam.
Arguably no other sports star in history could lay claim to a legacy as abiding as Muhammad Ali's.
Tommie Smith and John Carlos
In terms of a singularly bold and polarizing act that called attention to the issue of race relations, the black power salute of Tommie Smith and John Carlos during the US national anthem at the 1968 Olympics in Mexico City is arguably the most famous.
This act of defiance from Smith and Carlos, who had won gold and bronze in the 200m sprint respectively, stands as a crystallising moment in the civil rights movement.
Arthur Ashe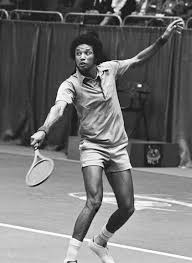 Softly spoken and eloquent, 3-time Grand Slam tennis champion Arthur Ashe worked tirelessly as an advocate for civil and human rights, becoming a role model for athletes interested in more than fame and fortune.
After visiting South Africa in the 1980s, Ashe became a passionate anti-apartheid campaigner, giving speeches about the issue, endorsing international sanctions against South Africa and encouraging other tennis players not to play there.
In 1985, Ashe was arrested for demonstrating outside the South African embassy in Washington, and was later arrested again for taking part in a protest against the US Government's treatment of Haitian refugees outside the White House.
He once told a reporter that putting oneself at risk for a good cause "does wonders for your outlook. Marching in a protest is a liberating experience. It's cathartic. It's one of the great moments you can have in your life."
In 1988, Ashe was diagnosed with HIV, and dedicated the rest of his life to raising money to help combat the virus, setting up the Arthur Ashe Foundation for the Defeat of Aids (AAFDA).
Colin Kaepernick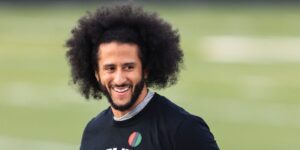 American football player Colin Kaepernick caused a political firestorm when he and his San Francisco 49ers teammate Eric Reid knelt during the US national anthem played at the start of a game against the Green Bay Packers in 2016, in protest against police brutality towards black people.
Kaepernick continued to kneel during the national anthem throughout the 2016 season, saying: "I am not looking for approval. I have to stand up for people that are oppressed."
Controversially, in response to Kaepernick and Reid's actions, the NFL introduced a policy stating that every player and coach must stand during the national anthem or face punishment.
Kaepernick has remained unsigned by any NFL team since the controversial 2016 season, and recently sued the NFL for colluding to keep him and Eric Reid out of the league, which ended in the NFL paying the pair a $10m settlement.
Whilst out of the game, Kaepernick has founded the "Know Your Rights" campaign, which hosts camps for young people of colour to raise awareness about higher education, self-empowerment and interacting with law enforcement.
Megan Rapinoe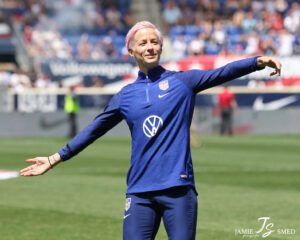 U.S.A footballer and winner of the Ballon d'Or Féminin, Megan Rapinoe, garnered national attention for kneeling during the national anthem at an international match in September 2016 in solidarity with Colin Kaepernick.
Following the match, she stated "It was a little nod to Kaepernick and everything that he's standing for right now. I think it's actually pretty disgusting the way he was treated and the way that a lot of the media has covered it and made it about something that it absolutely isn't. Being a gay American, I know what it means to look at the flag and not have it protect all of your liberties."
Rapinoe has been involved in the women's team's equal pay complaint to the Equal Employment Opportunity Commission since 2016. In March 2019, she, along with 27 of her teammates, filed a lawsuit against the United States Soccer Federation, accusing it of gender discrimination.
She is also also an ambassador for Athlete Ally, a nonprofit organisation committed to ending homophobia and transphobia in sports.  
Raheem Sterling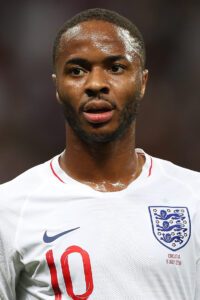 Manchester City forward Raheem Sterling has been at the forefront of the anti-racism campaign in football for a number of years.
In 2019, he fronted the Premier League's "No Room for Racism" campaign, appearing in a video that was played on big screens at the start of all matches.
He has frequently challenged the British media's portrayal of black players, arguing that it serves to perpetuate negative perceptions of black men in wider society.
More recently, Sterling appeared on BBC Newsnight to discuss the killing of George Floyd. He said: "I know this might sound a little bit cheesy but the only disease right now is the racism that we are fighting. This is the most important thing at this moment in time because this is something that has been happening for years and years. Just like the pandemic, we want to find a solution to stop it."
Commenting on Black Lives Matter protests, he said: "This is what all these protesters are doing. They are trying to find a solution and a way to stop the injustice they are seeing, and they are fighting for their cause. As long as they are doing it peacefully and safely and not hurting anybody and not breaking into any stores, they should continue to protest in this peaceful way."
Helen Richardson-Walsh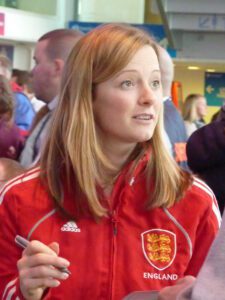 Richardson-Walsh's triumph with Team GB's hockey team at the Rio Olympics in 2016 had added significance as it was achieved alongside her wife Kate Walsh, providing a milestone for LGBT visibility in sport.
Now retired from international hockey, Richardson-Walsh has been campaigning tirelessly for inclusion, gender equality, and to raise awareness of mental health issues in sport. She now works as an ambassador for numerous organisations attempting to level the playing field for people from minority groups.
Speaking in support of Trans inclusion in sport, Richardson-Walsh has said: "Trans people are going through what gay people went through in the 70s and 80s, and it doesn't need to be the case. In sport, I think governing bodies and associations need to really start talking about this. Recognising that there are trans people that want to play their sports is first and foremost. But the more vocal we are as a collective, the better it will be."