Brighton5 have launched a Crowdfunder page to produce video content and discuss crucial mental health issues many teens are suffering with. The youth project has emerged with the aim to fight back against a mental health crisis for young people, as an estimated one in four, predominantly girls, are suffering from depression before the age of fourteen.
Their campaign states they need to raise £15,000 to produce videos which help teenagers tackle mental health issues and to distribute them in schools and online. Teens will work together to share their stories in a creative, positive, and safe space to develop an understanding of issues affecting their well-being, such as device addiction, self-harm and negative body image.
The project was founded by sisters, Daisy and Tayler Creswell, who launched Make (Good) Trouble productions this year. Their video content is overseen by Executive Producer, Jane Keating, who is responsible for creating the outreach videos and has almost 20 years of television industry experience behind her.
Tayler Creswell, co-founder of the Brighton5, said: "What we're doing with Brighton5 has clearly struck a chord – not only with teens but parents too. It seems that the experience of being a teenager is so different from that of their parents that there's a real gap in understanding. Technology has moved on so fast that there is a gulf opening up between the generations."
Brighton5 is working closely in partnership with Sussex Police, The Greater Brighton Metropolitan College, and three other Brighton and Hove secondary schools, involving over 10,000 students. The video project is carefully examining safety and risk as well as mental health and how best to engage young people through their own peers.
Tayler said: "We're really excited to be working with Sussex Police and the relationship between them and Brighton5 is really important. It's crucial to us, to the wellbeing of teens, and to the relationship that the Police has with young people."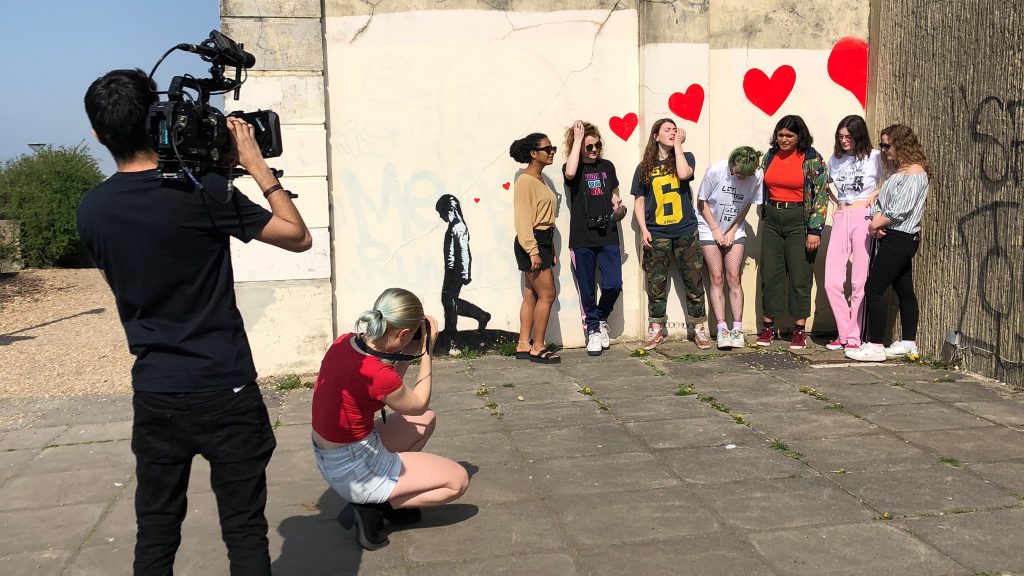 The team at Brighton5 believe the videos could help with early prevention of mental health disorders, and let teenagers know they're not alone with their problems. This idea was first conceived when Brighton5 founder Daisy Cresswell's 17-year-old daughter and four of her friends were sitting around her kitchen table discussing important issues that affected them as teenagers. Her kitchen table became their safe space to share their worries.
Sharon Collett, Principal of the Greater Brighton Metropolitan College said, "GBMet is honoured to work in partnership with Brighton5. There is complete synergy in our values and a real understanding that together we can positively impact on the wellbeing of the young people in our care. We are so excited to be part of an innovative approach and with the passion and enthusiasm of Brighton5 driving us forward we are confident that we can make a difference."
The ethos behind Brighton5 aims to teach teens the following things: fearless enquiry, creative exploration, collaboration, empowerment, and emotional resilience. One of the problems being continuously raised is mobile phone and online culture having a damaging effect on teenagers, causing the root of anxiety and depression in some young people.
Tayler added: "Part of what we want to do is to help young people to truly understand how their devices are designed and what effect they are having on them – and to have the teens to explore this for themselves."
For more information on Brighton5 and to donate to the Crowdfunder, visit their page.