The theme of today's street fashion feature is that of variety. We are all different, possessing different tastes and styles. So whether your fashion taste is girly, vintage, high street or quirky (to name just a few) they should all be celebrated. Therefore, we have searched the streets of Brighton for a variety of fashionable individuals, each different to one another but all looking uniquely fabulous.
JK is looking very dapper in his bespoke three piece suit. Originally from the USA, JK moved to Brighton 8 years ago and since then hasn't looked back. JK dislikes consumerism, preferring clothes to be made with care and having a meaning. He prefers artisan produced products and likes the idea that there is a soul in handmade creations.  JK gets his clothing from a variety of places, including charity shops in and around Brighton. His spending varies concerning clothes because he buys a lot of tailored or bespoke pieces. As a result of this JK may buy a tailored suit for £1000 but it could last him a decade due to the high quality and perfect fit. His shoes are handmade from Northamptonshire and his suit was made for him in Brighton. As a lover of smart fashion JK usually wears a different suit every day!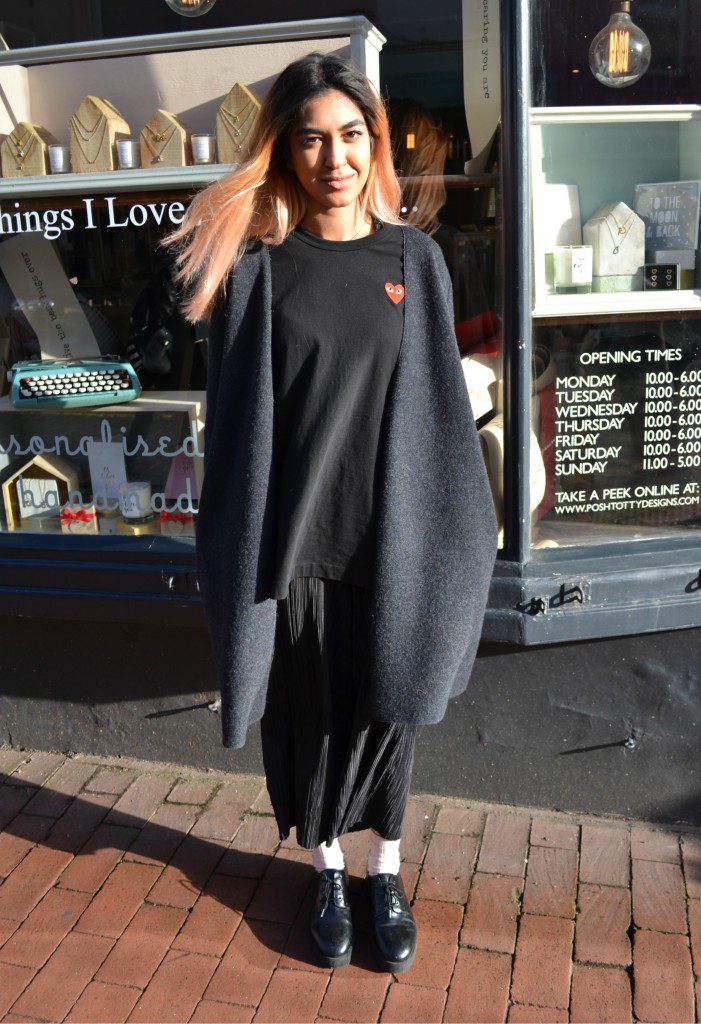 Khadija is proving that structure and shape can really make an outfit. Khadija studies Fine Art at the University of Brighton. Her artwork revolves around form and structure, so this has also been implemented in to her fashion sense. Her daily outfits usually involve flowing and oversized clothes with monochrome or pastel colours. Her shoes and cardigan are from Cos, her trousers are from Topshop and her top is from Comme De Garcon a Japanese brand. Khadija has recommended that we all visit Dover Street Market, London for edgy clothes and exclusive items.
Ben is a musician and writes dark music reflecting this in his dress sense.  He usually wears black and other dark colours daily but will occasionally wear red if he fancies a dash of colour. He loves to shop in charity shops however his all-time favourite shop is Cos. Ben likes a clean cut look and today he is wearing Levi Jeans, Dr Martens, a shirt from Cos and a coat from a Brighton charity shop. Although Ben does like deals he will spend more on coats and shoes as they need to be durable and long lasting. Ben recently got a pair of Dolce and Gabbana trousers in Oxfam for £12 what a find Ben, we want to go shopping with you!
Peter is looking very smart from head to toe. Peter's style can vary and it all depends on what he picks up. However when choosing an outfit, he usually focuses on his shirt first as a foundation layer. In regards to his fashion tastes Peter does not favour a particular era to base his look on, instead he likes to  'mix things up' and 'throw things together' in his own unique way. Therefore the image that he conjures up can change on a daily basis. Peter does not shop at traditional high street shops. His jacket is a 1930's hunting jacket from France,  his waistcoat is a 1920's/1930's hunting waistcoat from eBay. His trousers are from a charity shop on London Road and his shoes are from the Marina Market. Price wise, Peter does not like to go overboard and his whole outfit cost him less than £100. However he does spend money on tailoring his clothes to ensure that they fit him perfectly.
Audrey is a fashionista for all things vintage and gets a lot of her influences from Doris Day. Owning her own vintage boutique in Brighton called 'All About Aud', Audrey has an extensive knowledge of all things fashionable. She prefers the vintage look, particularly Japanese and Indian vintage clothing. Her go to items are dresses, especially lace, boho, ethnic print and 1970's style dresses. Audrey's outfit today all comes from All About Aud, however her boots are Vagabond. Audrey prefers dresses over trousers any day and we think she looks great.
Max is rocking the cropped trousers style. Originally from Bath, Max now resides in Brighton. Max's style is very versatile and changes on a regular basis. However his base items are usually vintage clothing. His fashion secret is that he always cuts the end of his trousers off and every single pair of his jeans have been altered in this way. Today Max is wearing a Wolf and Gypsy shirt, jeans from Nudie Jeans and Russell and Bromley shoes with a band t-shirt underneath. Max loves deals and buys a lot of his clothes from charity shops, but he also gets some of his clothes for free because he's in a band – lucky you Max!
Photographs: Kamilah McInnis
Kamilah McInnis
kamilah@brightonjournal.co.uk