In recent years plus size fashion has made its way into the mainstream, with plus size models being celebrated for their beauty and their bodies as much as non plus size models. This means that plus size fashion has also had a massive breakthrough, for a long time plus size women had to put up with unflattering silhouettes and unfashionable choices but now plus size clothing is just as fashionable, and easier to find online and on the high street. Here are just some of the brands that do a great plus size range.

New Look: A great high street store that is affordable and on trend, New Look has a great plus size range, from casual t shirts to party wear and a gorgeous suede trench coat that anyone would be in love with. For affordable and fashionable plus size clothing from ranges 18-32, New Look is definitely one of the best places to go.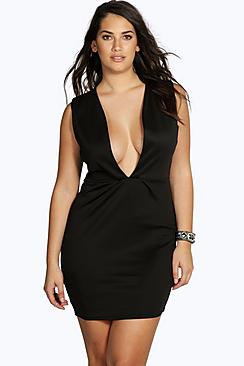 Boohoo: Not a high street store but one of the best online stores for plus size fashion, particularly for formal wear. From jumpsuits to maxi dresses boohoo.com is the go to place for great plus size formal wear, and it's affordable. They also do casual wear with some great checked shirts and casual shift dresses from sizes 16-24.
Missguided: Another online store Missguided is great for all things plus-size. From gorgeous leather skirts to biker jackets and velvet dresses, Missguided is perfect for that slightly more expensive but still affordable outfits for those sized 16-24. If you want something a bit edgier, Missguided is the best place to go.
Forever 21: I always think Forever 21 is the underdog of the High Street stores, probably because there aren't many of them about but their online store is also full of wonderful finds. Their plus size section is huge, bigger than many online stores, from casual jersey jumpers to coats and formal jumpsuits, Forever 21 has a great selection and it's really affordable. Definitely a hidden treasure amongst plus size brands. Only trouble is their sizes are a bit odd, and aren't in numbers but in S, M, L and go up to 3XL in plus size clothing.
ASOS: An obvious choice, but for good reason. ASOS is one of the best online stores for plus size clothing, for any clothing in fact. From over 1000 items to choose from, ranging from tracksuit bottoms to formal dresses, ASOS has everything you'd ever need. They stock sizes 18-30.
feature image: plus size model Allison McGevna from dailyvenusdiva.com
holly@brightonjournal.co.uk