If you thrive on competition and have a keen interest in Golf and Football, I have just the thing for you. Two of the world's most popular sports have combined to produce a growing phenomenon that is sweeping the UK, opening new courses on a regular basis as Footgolf continues to seal the approval of players up and down the country.
Footgolf originated in 2006; however its meteoric rise in popularity has been seen over the past few years, with over 150 courses currently open across the UK. The game is also spreading worldwide, becoming increasingly popular in the US and there's even a Footgolf World Cup that will be held in Argentina next year.
The game is pretty self-explanatory; it carries the same objective you get with golf, however kicking a size 5 football towards an over-sized hole, in replacement for a golf ball and a set of expensive clubs.
The growth of the precision sport has been rapid, which represents the overall success it has achieved, intertwining two popular sports to produce an end product that captures the imagination of those participating.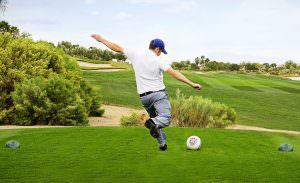 If you think it sounds easy, believe me it's not. Whether you fancy yourself as a competent footballer or the next Rory Mcilroy on the golf course, you'll be surprised at the difficulty involved when both sets of skills meet in the middle.
If you're a golfer that spends most of your time in amongst the trees, you could easily be doing the same with Footgolf, slicing the ball out of bounds or simply not getting enough distance on your strike, before watching your ball roll into danger.
And if you think putting will get any easier in this sport, you're very much mistaken. You can find yourself only a couple of feet from the hole and before you know it, you're touch has let you down and you're on the other side of the green.
The game can leave you clenching your fists in frustration or crying with laughter, it really is a sport that anyone can enjoy, no matter what level of ability they possess within either sport. Whether you treat it as a competition or just a bit of fun, it simply cannot be knocked until you give it a go.
There are currently five courses across Sussex that offer Footgolf facilities, with more courses looking to open in 2016. Here are a list of the local courses available to you:
Tilgate Forest is a 9-hole course located in Crawley. A day ticket can be purchased at only £10 for adults and £5 for under-16's, meaning you can play as many holes as you like, which is fantastic value for money. A refunded £10 deposit is required if hiring a football, however the course encourages players to bring their own ball
Rookwood is home to a 9-hole course near Horsham. Prices are based on 9/18 holes, costing £9/£15 for adults and £6/£10 for under-16's. You may take your own football, however if you need to hire, a £1 fee is applicable and a £4 deposit which you will receive once returning the ball.
Waterhall Golf Club has the second Footgolf course that was opened in Sussex. The Brighton-based course that sits beside the A27, charges adults £8/£12 for 9 and 18 hole rounds respectively, with a smaller price of £6/£10 for under 16's.
Rustington has only opened its Footgolf course recently, located on the Par 3 course at the front of the golf complex. It's the shortest Footgolf course in Sussex, therefore it's perhaps a good option for player's wanting to get to grips with the game, before taking on one of the longer courses. Prices are based on 9 holes, costing £8.50 for adults and £6 for under-16's.
Chichester was the third Sussex course to open its fairways to football. The course that boasts stunning surroundings, has nine testing holes and one full circuit will cost £9/£6 for adults and under-16's respectively. You may take your own football or hire one from the clubhouse, however a £5 deposit will be charged and given back to you once returning the ball.
Visit UK Footgolf for all other details on these courses.
Kieran Cleeves
kieran@brightonjournal.co.uk