With only three weeks to go until Christmas Day, the pressure to get all your shopping done before the deadline drops is escalating at a rapid speed. It's not easy to find time at this end of the year, with work responsibilities tying you down and other commitments taking up precious time that could be spent finding perfect gifts for the ones you love.
The hustle and bustle of weekend shopping can also be a nightmare, with hectic shopping centres and quite ridiculous queues making the whole experience one to forget. Your relaxing day off is replaced with stressful situations, which is no way to enjoy your time away from work.
Luckily, thanks to sites such as NotOnTheHighStreet.com, you can purchase unique gifts without the strain and struggle of high street shopping. The site boasts an abundance of quirky products and diverse gift ideas that can satisfy any member of the family. If you're lost for creation, this site has everything to rekindle the enthusiasm Christmas shopping has drained you of and helps rediscover the enjoyment of picking out presents for your loved ones.
An array of personalised gifts ranging from stunning jewellery to canvas prints displaying inspirational family quotes, makes the site a unique playground for gift ideas in a world of expensive brands and unsocial technology.
The company's philosophy revolves around finding innovative ways to produce original items that ooze both creativity and personalisation. In 2006, the company began with around 100 creative small businesses on board and has since grown in size, offering items from thousands of skilled contributors within the creative industry.
The slogan 'choose a life less ordinary' is the company's underlying message. If you're looking for an Iphone 6 or the latest installment of technology that steals our focus, this isn't the site for you. Spending our lives wrapped up in a mobile screen is sadly considered ordinary in this day and age, however NotOnTheHighStreet.com offers a way out and the chance to buy something of real value and meaning.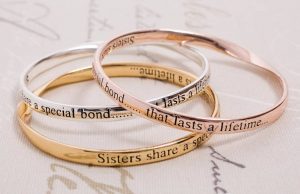 Instead of buying an item of clothing that loses reputation as fashion develops, why not celebrate something that's likely to never lose its meaning, family and friendship. A personalised mirror, wine glass, matching bracelets for the entire family, the opportunities are endless.
You'll find something for just about anyone on this site and what can be easier than doing it all from the comfort of your own home? Step away from the norm and walk into the wonderful opportunities online. NotOnTheHighStreet.com should be your first stop this Christmas, as you get personal with your gifts and purchase something that carries a deeper meaning.
Presents can be expensive but family and friendship is priceless. Meet in the middle this Christmas and generate smiles that will last long into the New Year.
Kieran Cleeves