This week, Brighton has something for everyone when it comes to live music. Ranging from the most promising new hip-hop stars to bonafide legends of glam-metal, here's our look at just a few of the gigs taking place…
Dizraeli @ Green Door Store, Monday 9th December
Dizraeli is a rapper, multi-instrumentalist and singer carrying hip-hop to new terrains. In 2016, he released his EP 'Eat My Camera', which mixed hip-hop, spoken-word poetry and acoustic folk. His songs always carry a political edge, addressing themes such as social injustice, consumerism, and the refugee crisis. Head to the Green Door Store on Monday for a gig that will get you thinking as well as dancing.
19:00, Green Door Store, 2,3, 4 Trafalgar Arches, BN1 4FQ. Click here for tickets.
Hiss Golden Messenger @ Chalk, Monday 9th December
Folk singer-songwriter Hiss Golden Messenger comes to Brighton's newest venue Chalk (formerly The Haunt) for a special solo performance in support of his latest album, 'Terms of Surrender'. With his unique voice and distinct country-soul sound, Hiss Golden Messenger has evolved into one of the most vital roots music pioneers of the past decade. This solo gig will be a great chance to hear his songs in a stripped-back style that really allows the power of his voice and lyrics to come to the fore.
19:30, Chalk, 13 Pool Valley, BN1 1NJ. Click here for tickets.
The Darkness @ Brighton Dome, Tuesday 10th December
Best known for that classic Christmas song with the high-pitched singing, 'Christmas Time (Don't Let The Bells End), The Darkness return to Brighton with their 'Easter is Cancelled' tour, and to perform their greatest hits. Expect tight costumes, bejewelled codpieces, and sparkly guitars. What better way to celebrate the festive season?
19:00, Brighton Dome, Church Street, BN1 1UE. Click here for tickets.
WU-LU @ The Hope and Ruin, Tuesday 10th December
Described as 'jazz but not 'jazz', hip-hop but not 'hip-hop", Wu-Lu's music accepts elements from all corners, while continually providing something new. His most recent EP 'S.U.F.O.S' (Save Us From Ourselves) explored themes of racial injustice in contemporary Britain, black empowerment and self-exploration, blending jazz-inflected improvisation with classic lo-fi soul. This South London favourite is certainly one to watch. 
20:00, The Hope & Ruin, 11-12 Queens Road, BN1 3WA. Click here for tickets.
New Model Army @ Concorde 2, Thursday 12th December
Having been on the scene for almost 40 years, English rockers New Model Army come to Brighton in support of their latest album, 'From Here'. This album was recorded in early 2019 on the tiny Norwegian island of Giske, and reflects the spectacular isolation of that environment while offering profound messages about the state of the world.
19:30-23:00, Concorde 2, Madeira Drive, BN2 1EN. Click here for tickets.
Hot Snakes @ Patterns, Saturday December 14th
Post-hardcore band Hot Snakes formed in the late 90s and released a string of no-frills, high-energy albums in the early 2000s, before re-forming in 2018. Their music blends elements of hardcore, garage and punk, and coupled with the sweaty surroundings of Patterns this promises to be a high-octane, head-banging gig.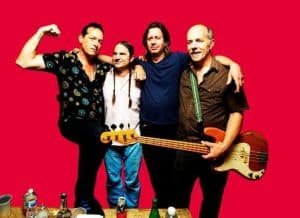 19:00, Patterns, 10 Marine Parade, BN2 1TL. Click here for tickets.
Featured image: © The Darkness 2012 via Wikimedia.