With the weather we were blessed with this weekend just gone, it's hard to believe Brighton has returned to being nestled amongst numerous dark rain clouds (I guess the weather knew the working week had begun…). Unfortunate as it may be, when June is hot on our tails, we here at the Brighton journal like to be prepared. So rain or shine, we're here to keep you up to date on the best activities to do in our lovely city. And with that being said, we present you with our list of top rainy day outings and activities!
Dive Into The Dome
Located in the heart of Brighton, there is little more iconic our city has to offer than the Brighton Dome. The grade 1 listed architectural marvel has played host to many institutions over the years including: A stable block, a temporary hospital and even a roller rink. Now, however, the dome is simply known as the south coast's leading multi-arts venue. So why not take shelter in one of Brighton's most talked about venues and take in some culture while you're at it?
For tickets and other information click here.
Explore The Royal Pavilion
While you're swinging by the dome why not take a look at another of Brighton's pride and joys? The Royal Pavilion can be described as "an exotic palace in the centre of Brighton with a colourful history", in case you couldn't already guess that just by looking at it. To most people this building sticks out like a sore thumb amongst the rest of Brighton's (mostly) understated Victorian architecture. The pavilion was built as a "seaside pleasure palace" for King George IV and offers a visual style with Chinese and Indian influences. So spend some time in wonder of this architectural anomaly, exploring the history it has to offer.
For tickets and other information click here.
Go To The Pictures
A visit to Brighton isn't quite complete without a trip to The Duke of York's Picturehouse. That being said, it's hard to justify sitting in a dark room for 90 minutes when the weather is good, so why not seize rainy days as an opportunity! This cinema lays claim to a prestigious title, in fact The Duke of York's is the oldest cinema in continuous use in Britain today. If that's not enough for you, in 2012 it was voted "best cinema in the UK". So you can take in a film and experience some of Brighton's history while you're at it – win, win.
For tickets and more information click here.
Take In Some Toys
Brighton's Toy and Model Museum is another of our city's hidden gems and the perfect place to shelter the family on a rainy day. This treasure trove of vintage toys and models is situated right under Brighton train station, meaning it's super convenient for people visiting the town for just a day. Expect to be wowed and taken back in time with model planes, trains and automobiles!
For tickets and more information click here.
Bring Home Some Bargains
Brighton is well known for its abundance of shopping locations, but visiting the lanes often means darting in and out of shops, getting soggier and soggier as you go. So if you fancy shopping without the wetness, try out a flea market! Kemptown Flea Market is located just out of town, but it's hard to miss given its bright pink exterior. Though small, it's packed to the brim with little treasures. Whether you're in it to make a purchase or simply just to see what the market has to offer, it's definitely a good place to ride out the storm.
For more information click here.
Birds, Butterflies & Bones
With so many museums hidden in Brighton, it's easy to overlook them, but The Booth Museum of Natural History is definitely one worth paying attention to. Primarily focusing on taxidermy, the museum holds a whole host of birds, butterflies, bones and fossils. In fact, the museums collection of taxidermied birds is one of the largest in the country! Creepy or cool? You decide. (PS, a big bonus is that admission is free).
For more information click here.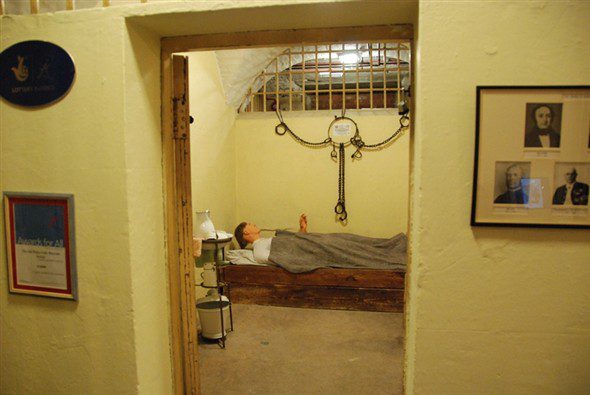 Get In Trouble
If museums are your thing but creepy crawlies creep you out, why not give the Booth a miss and visit The Old Police Cells instead? Offering visitors a unique insight into the history of Sussex's police force, the museum is located in the basement of the town hall. You can explore old cells, learn about famous arrests and even check out their pop up exhibitions.
More information click here.
See The Sea Life
On a rainy day, you'd have a hard time getting a good view of the sea and I'd be surprised if you'd want to brave the rain for it even if you could. But all is not lost, if you promised your kids a day out to the seaside, it doesn't mean you have to break that just because of a bit of bad weather! Why not visit the world's oldest operational aquarium, Brighton's Sea Life Centre instead? Bursting with beautiful sea creatures, this is a great way to spend a day out of the rain with friends and family alike. From sharks to turtles to clown fish, you can see it all with extensive exhibitions and tanks to look in on.
For tickets and more information click here.
Hunt For Hidden Treasures
If one flea market just isn't enough for you, fear not, Brighton is full of them! The North Laine Antique and Flea Market is located centrally and offers a similar selection of stuff to the one located in Kemptown. Whether you're on the hunt for an elegant dress circa 60s, a vintage model car or just an old fashioned postcard, you're bound to find something of interest in here. With so much history to be found inside, it's almost like visiting a museum in itself.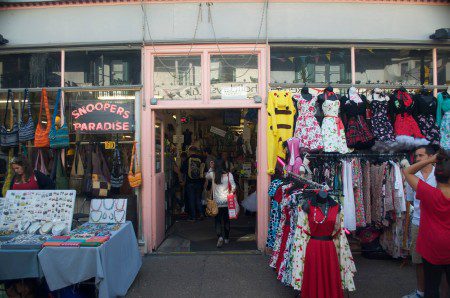 Snoop Away The Day
If antiques are your thing then you'll love Snooper's Paradise. Situated in the heart of the North lanes, this shop really is like no other. It may not look like much but this shop really does go on for miles once you're inside. Snooper's Paradise contains most everything you could ever imagine. From books to cameras to magazines to clothes to toys to lunch boxes to dinner plates to furniture – the list really is endless. If you wanted you could easily spend hours in there just waiting for the bad weather to subside. This is definitely a hidden gem worth visiting at least once in Brighton!
For more information click here.