With more and more students flooding to Brighton every year, nightlife is a staple in Brighton's culture. So, we thought we'd show you the best student nights out, through the eyes of students. So if you're looking for somewhere to party the night away, stay tuned for our weekly student night posts!
Known for playing host to up and coming DJs from all over the world, this week we visited Patterns. Previously known as Audio, this club has long been loved by students and people of Brighton alike. But everybody knows that a true student night doesn't only commence once you reach the club, so we headed out for the much loved tradition of pre drinks.
Before we hit Patterns, we visited Ye Olde King And Queen, a traditional pub located just outside of Brighton's town centre. Although many students may opt to drink at home (which is definitely the more budget friendly option), this place was definitely full to the brim of students and night owls alike. Luckily we managed to find a seat, to take in the nice weather with a cold beer (watch out for £2 pints on Tuesdays!).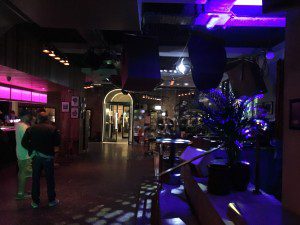 Now for the main event – Patterns. Every Thursday the club welcomes funk goers for their equivalent of a student night, Midnight Funk Association (MFA). We walked in to the sound of funk filling the room, from MJ to Donna Summer to The Pointer Sisters. The atmosphere certainly felt like we had stepped back in time, with the upstairs of the venue lit to the stars with funky lighting fixtures.
The music soon took a turn when the first DJ of the night stepped into the booth… The sound of funk quickly faded as she transitioned into her first song, something upbeat by Beyonce. After all, the theme of this night's MFA was "R'n'Bae". And who's more bae than bey herself?
As we listen to classic R'n'B song after classic R'n'B song, the projector above the dance floor showcases some of the 90s and 00s best R'n'B music videos. With appearances from Ciara, J Lo and Eve, the club really was being true to its theme.
We take a moment's pause from dancing to explore the club. It's not hard for something to catch my eye as I'm immediately drawn to some artwork hanging beside the projector. It seems the club has been showcasing local artists in the form of posters. They even have a vending machine that prints them out for you! (for £30 a pop).
After admiring numerous pieces of art, it seemed about time to get a drink and see if the prices really reflected the club's student audience. Unfortunately, the prices are slightly less pleasant than everything else about the place, with a pint setting you back £4.50. That being said, with cheap entry (£3 on the door before 12), paying a little extra for a drink doesn't seem too bad to experience the vibes.
Fear not, if you're dancing shoes get a little tired, the club has several seats so you can appreciate the music from a slightly more comfortable position. Corey (left) said he "likes the club's intimate size" and thinks "it's cool how you can just sit and chill" if you want to.
Lastly, and possibly my favourite part of the night – the photo booth! What night out is complete without embarrassing pictures to remember it by? And what better way to take those pictures than with a photobooth! At just £2 a go you get a chance to pose for 4 photos, all with captions telling you what to do. (Although I don't think we got the memo that the first one was 'axe murderer'…)
Patterns will be hosting Midnight Funk Association every Thursday from 11pm-3am until the 8th June.