Remember, remember? Of course you do! As we make the transition from carved pumpkins to crackling fireworks, we prepare ourselves for the Lewes Bonfire Night Celebrations tonight.
Starting at 5pm and going until 1am, this years celebrations plan to be just as fantastic and flammable, chaotic and controvertial as it has always been. With the big Bonfire a day away, we cannot wait and contemplate, who will go up in flames? We want to hear from you. Whose effigy could or should be burned tonight at the Celebrations?
In the meantime, here are some effigies of the past.
Bindaloo, Osama Bin Laden (2001)
Photo from This Brighton
2. Bashar al-Assad (2013)
Photo from Lewes Bonfire
3. Vladimir Putin (2014)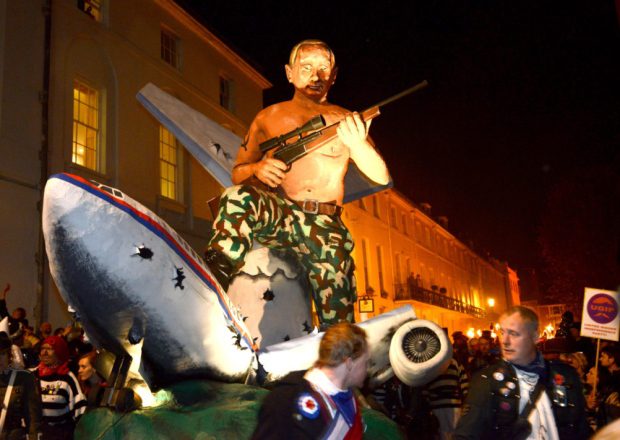 Photo from Sussex Express
4. David Cameron and Nick Clegg (2010)
Photo from Chris Giles Photography
5. Barack Obama and Alistair Darling (2008)
Photo from The Argus
6. The Pope (2005)
Photo from Joseph Shomperlen News
7. Harry Potter (2011)
Photo from The Occasional Expat
8. Condalisa Rice (2006)
Photo from Daeschner
9. Muammar Gaddafi  (2011)
Photo from Flickr Hive Mind
10. Guy Fawkes (2013)
Photo from Daily Mail
Feature photo from Sussex Life
Aycan Garip
aycan@brightonjournal.co.uk