If you ever find yourself lucky enough to take a visit to Brighton and you're stuck on ideas to do, then we sure have a list for you.
Brighton is known for its quirky, unique and entertaining image it gives it locals and tourists. With surprised and unbelievable sights around every corner and side road, you'll sure to have a fun filled packed time.
Brighton Pier and Beach 
Take a stroll down the Brighton Pier or emerge yourself in the rides. You could also have a nice stroll along the beach and gaze upon the sun setting behind the burnt down West Pier, beautiful sight.
Snoopers Paradise 
Have a snoop around vintage, antique and quirky Snoopers Paradise. With hundreds of treats and old timely objects you may find an item of value to yourself.
Choccywoccydoodah
Fancy a treat or milkshake at Choccywoccydoodah's garden cafe. Beautifully decorated cakes with delicate detail stand out among the cafe's particular stunning decor.
Live Music Scene
Don't forget to take a visit at one of our many pubs and venues. Live music from local bands and artists to entertain you til late at night.
North Laine Shops
Be sure to wander through the North Laines and have a shopping spree from the unique variety of shops and pop up shops. From comic book stores to vintage fashion.
Cocktails at Shuffle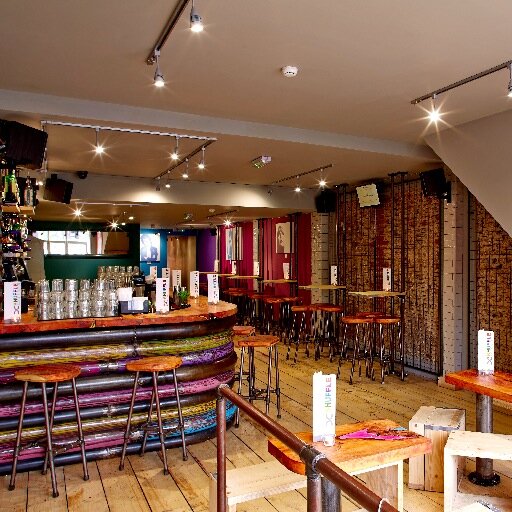 Stop in for happy hour at Shuffle where two for one cocktails will surely give you the buzz you need. Colourful atmosphere and decor will make you want to party all night long.
Cloud 9
Take a visit to Cloud 9 cafe and enjoy a scrumptious, cute cake from their collection. You'll be on Cloud 9 after a bite.
White Rabbit
Fancy an Alice in Wonderland themed pub, then look no further than the White Rabbit. Take a step through the doors and enter the world of the looking glass. Enjoy a tasty meal of Jabberywocky Burger and a refreshing beer then you'll be grinning like the Cheshire Cat.
Brighton Fringe Festival 
Be sure not to miss or even be apart of the Brighton Fringe. Many events to be seen at this festival every May, including artists, photography, performances, live music etc.
Ghost Tours
So you may have heard that Brighton is pretty haunted right? You won't realize how much until you go on one of the mystery ghost tours through the laines and to a few pubs. Find out the glorious tales of the streets of Brighton, gruesome stories of killers and you may even run into some visitors.