Friday – Gal Pals @ Komedia
If you want to say bi bi bi to your queer girl blues, head to Komedia for all things glitter and girl power! Gal Pals is a girl-run girls night playing the best in female-fronted pop, hip-hop, rock, R&B and bangers. (It's LGBTQ friendly, if you hadn't guessed).
11 pm – 3 am
Entry £3 before midnight, £5 after
44-47 Gardner St, Brighton BN1 1UN, Tel. 0845 293 8480, Website, Facebook 

Friday- NEON @ Volks
Brand new fully immersive space decor by NEON Studios! Expect a banging sound system, bouncy people and the best music! On decks are Avalon, Clayton, Morfinn, Hugoblin and Reckless Martini – and that's just in the first room.
11 pm- 6 am
Tickets £10, OTD only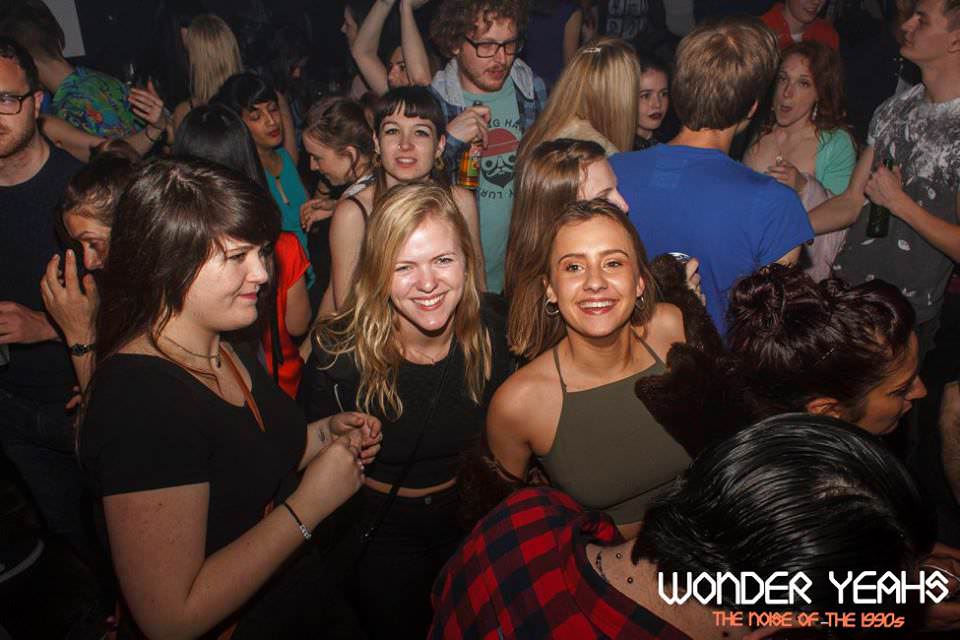 Friday – The Wonder Yeahs! @ The Haunt
Get your groove on for The Haunt's monthly 90s party! Everything from The Cranberries, Shaggy, Alanis Morrisette, Wheatus, The Breeders, 4 Non Blondes, Bloodhound Gang, Ace of Base, Blackstreet, Weezer and more. Drinks deals all night.
11 pm
Entry £3
10 Pool Valley, Brighton BN1 1NJ, Website
Friday – Showstopper! The Improvised Musical @ The Theatre Royal
With nine years as an Edinburgh Fringe must-see phenomenon, a BBC Radio 4 Series, a critically acclaimed West End run and now an Olivier Award to their name, The Showstoppers have delighted audiences across the globe with their ingenious blend of comedy, musical theatre and spontaneity.
A brand new musical comedy is created from scratch at each performance of this award-winning show as audience suggestions are transformed on the spot into an all-singing, all-dancing production with unpredictable and hilarious results.
7:30 pm
Tickets from £17.90
New Rd, Brighton BN1 1SD, Tel. 0844 871 7650,  Website 
Saturday – Craig Charles Funk and Soul Club @ Concorde 2
Craig Charles, of Red Dwarf and, Coronation Street, and Robot Wars fame, returns to Brighton for another blowout performance. Armed with his infamous armoury of Funk & Soul cuts, Charles' BBC Radio 6 show has become a firm staple in the nation's entertainment diet since 2002.
11 pm – 4 am
Tickets £15.50
Madeira Dr, BN2 1EN, Brighton, Tel: 01273 673, Email, Website
Saturday- Pender Street Steppers @ Patterns
Jack Jutson and Liam Butler, collectively known as Pender Street Steppers, have fast become two of the most sought-after selectors on the circuit, both championing the rich sounds and aesthetic of the Canadian music scene. With a relaxed, funky and quite often cerebral approach to DJing, the pair traverse through vintage disco, jackin' house and their own earthy productions, with a sense of warmness that could be likened to a hug of sound.
11 pm – 4 am
Tickets £8.00
10 Marine Parade Brighton BN2 1TL, Tel: +44 (0)1273 894777, Email, Website 
Saturday – Spellbound @ The Komedia
The 80s club night for people who HATE 80s nights, with Jenna and Simon Price (the team behind legendary London glam night Stay Beautiful) playing alternative classics by the likes of Siouxsie, Soft Cell, Stray Cats, Smiths and Specials (and that's just the eSSes!)
9 pm – 3 am
Tickets OTD only
44-47 Gardner St, Brighton BN1 1UN, Tel. 0845 293 8480, Website 
Saturday – Soulful Strut @ The Green Door Store
The party to be at with many unforgettable, sweat drenched sessions and sweet soulful vibes. Super dope party vibes monthly, featuring Russ Dewbury plus Live and DJ guests. Expect Nu Yorican Funk, Disco, Afro Latin, Jazz Juke Beats and Percussive Soul.
11 pm – 4 am
Free entry
Lower Goods Yard, Brighton Train Station, Brighton BN1 4FQ, Tel:07944 693214, Website
Saturday – 2003 & Dude Ranch @ Sticky Mike's Frog Bar
2003 is a revival of the much-missed early 200s indie night, playing music from The Strokes, The White Stripes, Black Rebel Motorcycle Club and other big names. Expect all the best hits and bits from 2000 – 2006.
You'll be guaranteed to sing along at Dude Ranch. Party into the night with all the best in pop-punk, ska, and emo – all things catchy and nostalgic!
2003 from 9 pm, Dude Ranch from 11 pm
Free entry
9-12 Middle St, Brighton BN1 1AL,01273 749465, Website
Sunday – Brighton Folk, Roots & Acoustic @ The Brunswick
Wind down your weekend in style at this relaxed evening of live local and touring folk, roots and acoustic music, hosted by Amy Hill. This week's performances are from Bear Bozeman, Gwinny, and Self Help Group.
8 pm
Over-18s only
Free entry
1 Holland Road, Hove BN3 1JF, Tel: 01273 733984 Email, Website 
Sunday – EUROHOUSE @ The Brighton Dome
Two performers – one Greek, one French – dance and shout, cry and sing, agree and disagree, about life in the Eurohouse.
Created and performed by Bertrand Lesca and Nasi Voutsas, EUROHOUSE takes a darkly comic look at the EU's founding ideals and what got lost along the way.
3 pm and 6 pm
Tickets £10
Church Street, Brighton BN1 1UE, Tel:01273 709709, Website