The weekend is almost upon us and like always there is plenty to see and do in Brighton and Hove! To give you some ideas, we have put together a list featuring some of the very best events happening in our city at the end of the working week.
This weekend promises be fun packed full of live comedy, film and music, so take a look!
On the Edge Comedy w/ Yuriko Kotani @ Caroline of Brunswick – Friday 7th September
Following a brief summer break, The Caroline of Brunswick are back this Friday bringing you the best new comedy acts from across the UK for just £6! Their headliner this week is UK-based Japanese comedian and BBC New Comedy Award winner, Yuriko Kotani! Come along for a laughter-fuelled evening!
Caroline of Brunswick, 19:45 – 22:45, £6.00 tickets, 39 Ditchling Rd, Brighton, East Sussex, BN1 4SB
Bakk Lamp Fall @ The Verdict – Saturday 8th September
Bakk Lamp Fall are proud to bring their contemporary West African fusion to The Verdict in Brighton this Saturday. The West African Fusion Band name "Bakk Lamp Fall" is Wolof (language of Senegal) for: "Light into the Darkness". The line up of the band combines an outstanding West-African percussion section accompanied by an ensemble of hand-picked UK instrumentalists all topped with the outstanding vocal power of their Senegalese singer Khadim Sarr!
The Verdict,19:00 – 23:00, £10.00 tickets, 159 Edward Street, Brighton, BN2 0JB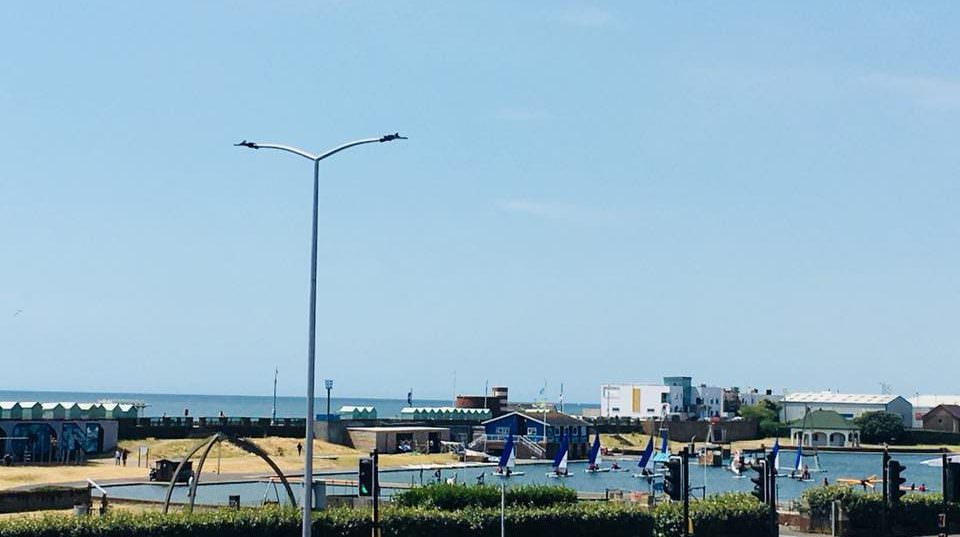 LagoonFest @ Hove Lagoon – Saturday 8th September
Brighton's much-loved DJ Norman Cook (aka Fatboy Slim) will be opening LagoonFest this Saturday, the inaugural festival being put on to raise money to install new natural plantings at Hove Lagoon! Organised by volunteers from Friends of Hove Lagoon, there will be live bands and dancing, food and drink stalls, a skateboard lesson and skateboard jam (for all ages), street art by Cassette Lord, a dog show, water sports demonstrations, a theatre production, Tai chi, Pilates, model yachts, a tombola, a raffle and more! With loads of children's activities as well, this will be the perfect family day out!
To read more about the event, you can see our separate post on LagoonFest here.
Hove Lagoon, 11:00 – 16:00, Free, Kingsway, Hove, East Sussex, BN3 4LT
Jurassic Park in Concert @ The Dome – Saturday 8th September
25 years ago, one of the most thrilling science fiction adventures ever made, Jurassic Park, was released! Now as part of a nationwide tour, audiences can experience this ground-breaking film as never before! This Saturday at the Brighton Dome, it will be screened in full in stunning high-definition with a full symphony orchestra performing John Williams' most iconic and beloved musical scores. Welcome… to Jurassic Park!
The Dome, Church Street, tickets/more info, Brighton, East Sussex, BN1 1UE
Record Fair @ The Komedia – Sunday 9th September
Calling all music lovers and vinyl collectors! Come along to the Komedia this Sunday and browse thousands of great vinyl bargains and collector's items! With specialist sellers of reggae, rock, punk, soul, jazz and punk, there'll definitely be something for everyone! This free event will surely be a great way to spend your Sunday finding the music you love and discovering new sounds! Additionally this event is in support of Martlets.
Komedia,10:00 – 16:00, Free, 44-47 Gardner Street, Brighton, East Sussex, BN1 1UN
CAVERN TO IMAGINE The Vox Beatles @ Brighton Open Air Theatre (BOAT) – Sunday 9th September
The Vox Beatles, one of the UK's leading Beatles Tribute bands, perform this Sunday at BOAT! Playing with passion, enthusiasm and superb musicianship that encapsulates their famous counterparts, this band use authentic Vox amplification and Gretcsh, Gibson Les Paul, Rickenbacker, Epiphone and Hofner guitars to emulate the Beatles sound. Expect a set bursting with early days Cavern Club, Beatlemania, Sgt Pepper / Magical Mystery Tour, The White Album and Rooftop eras!
Brighton Open Air Theatre (BOAT), 14:00-16:00, tickets, Dyke Road Park, Hove, East Sussex, BN3 6EH
Featured image shows Brighton's much-loved DJ Norman Cook (aka Fatboy Slim). Via Google Creative Commons