As the first weekend of July approaches, we are all in pretty high spirits as the weather continues to (pleasantly) surprise us. If you're still trying to beat post-Glasto blues, or post-Glasto FOMO then rejuvenate your spirit with all our dynamic city has in store.
Friday 5th July
The Maydays present: Happily Never After.
This improvised Gothic tale presents a playful story full of dark humour and spooky songs, with a Tim Burton edge. Taking influences from Lemony Snicket, the Brothers Grimm and other thrilling fairy tales, you won't be sure whether to laugh or be horrified. Award winning theatre and comedy company The Maydays have been accumulating fans around the globe with their captivating and unique talent, dazzling audiences with their improvisation skills.
Komedia, 7:00pm – 10:00pm. Tickets £10 . 44-47 Gardner St, Brighton BN1 1UN
American Independence Day @ The Poets Ale & Smokehouse.
As much as we hate to admit it, a lot of us enjoy revelling in North American culture- as well as finding an excuse for a drink. So, why not head down to Poets Corner to celebrate a traditionally American evening with music, smoke house food and 2-4-1 Jack Daniels shots. There will also be American waffles served all day. Do you need any more convincing?
The Poets Ale & Smokehouse, 12:00- 00:00. 33 Montgomery St, Hove, BN3 5BF
Saturday 6th July
The Total Who Show
The beauty of 60's, 70's and 80's music is that it's an absolute crowd favourite, and effortlessly timeless. Celebrate the 50th anniversary of The Who at Brighton Open Air Theatre with the enigmatic Johnny Warman's Magic Bus band. Rock out to two hours of all the hits including; Won't Get Fooled Again, My Generation, Pinball Wizard, Who Are You and many, many more.
Brighton Open Air Theatre, 7pm. Tickets £12-15 . Hove Green, Dyke Road, Hove, BN3 6EH.
Paddle Round the Pier
Brighton's biggest and best annual beach festival is back and it's jam packed with as much seaside fun as ever. Not only is it free, but there's a huge range of water sports to get involved in, because let's face it if now's not the time then when is? A load of live music, talks, workshops and entertainers are on the programme. No age group is off limits!
Hove Lawns, FREE, Saturday 6th – Sunday 7th July. Kingsway, Hove BN3 2PE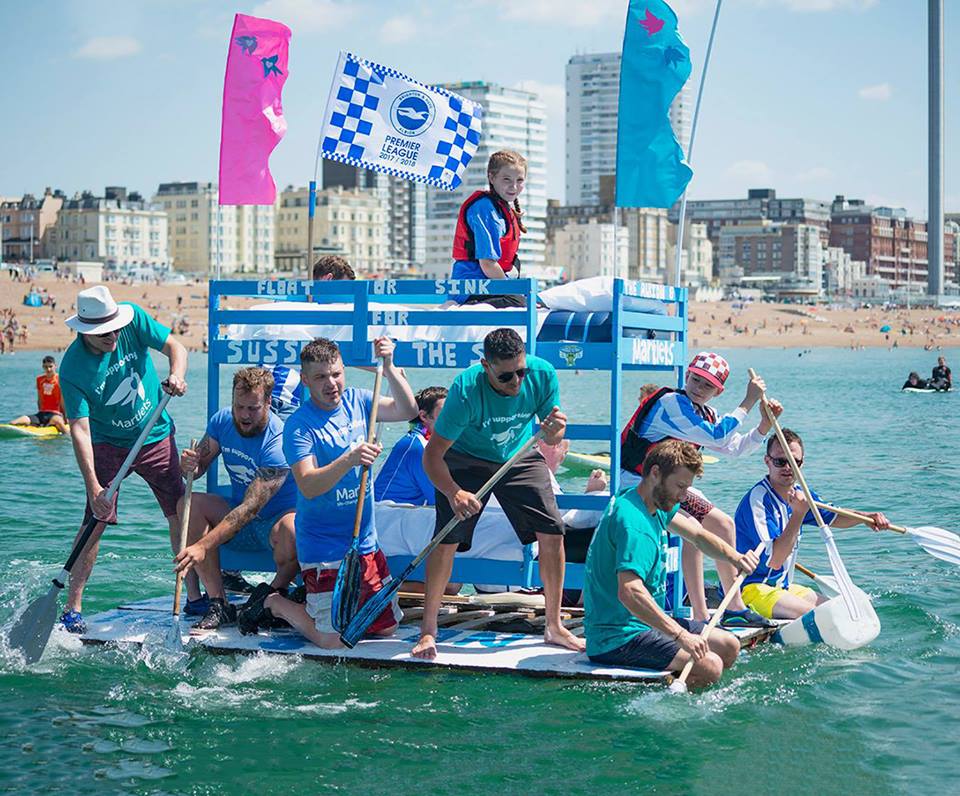 Making Theatre is Easy
As part of a series of activities the Brighton People's Theatre are holding over 2019 to explore the local appetite for theatre, they are hosting an exciting workshop. You don't have to be a professional, or even close. The team will pick an iconic music video and work together to stage a live version of it in one morning. From music and costume to acting and choreography, this is a morning to let your inner star, shine.
Attenborough Centre for Creative Arts, 10:00 am – 1:00 pm. Donate what you can. University of Sussex Campus, Falmer, BN1 9QF
Sunday 7th July
Pride Community Day and Dog Show
Who would have thought Pride and dogs go together? Brighton always find a way of making it happen. As the season is upon us, this canine show features a catwalk dog show, retail stalls, a bar and street food. Industry professionals ensure every star pooch gets the recognition their proud paws deserve. A day for an excuse to admire adorable dogs, what better way to spend a Sunday?
Preston Park, 12- 5pm. Free entry. Preston Rd, Brighton BN1 6SD
Sami Swoi Summer Polish Family Festival
It seems safe to say that a majority of British culture is made up of a range of other wonderful cultures. Which is something we don't celebrate enough! Head down to Hove Park to indulge in a festival in all things Polish. There'll be Polish delicatessen food, music, traditional dances, a fun fair, competitions and lots more to enjoy at this family friendly event.
Hove Park, Free entry. Goldstone Cres, Hove BN3 6BG
Qigong Day Course
With the increasing popularity of practices such as yoga comes an increasing awareness of the benefit of such physical, mental and spiritual exercises. Qigong is a holistic system, derived from China, which trains us to seamlessly integrate our body, breath and mind into a transformational state. Brighton Natural Health Centre are offering a one-off day course for all to have a taste of this beneficial practice.
Brighton Natural Health Centre, 10:00 am – 4 pm. £45. 27 Regent Street, BN1 1UL. http://www.bnhc.co.uk/workshops