Have you ever wondered about this obscure seafront sculpture?
There's a lot about Brighton that catches your eye. Then, holds it for five to ten seconds or so, before you return to your path and shrug it off as one of those weird (yet, simultaneously normal) Brighton things. You soon learn the knack of almost filtering these sights out, becoming familiar with the carousel of oddness that waltzes around us. However, what we also know about Brighton is that it is full of vibrant characters and a rich and interesting past.
One of these instances is fisherman Rory McCormack and the unusual beach grotto he created from his little alfresco office, which has been his for over fifteen years.
You might not imagine a place back in time where Brighton was a bustling fishing village with a thriving fishing community. A place where the beach was not eaten alive by Londoners, international school children, hen and stag-do's , or the locals enjoying their suspicious amount of free time. Yet, since Rory's childhood, this is how he spends his pastime. Whilst the rest of Brighton's fishermen may as well have been swept up with the tides, Rory is Brighton's last standing beach Fisherman.
A decade and a half ago, the 7ft fence was built to protect fishing equipment. Six or so years ago, Rory built a workbench as he was tired of working on the floor. As the bench became decorated with beautiful beach shells collected over the years, the project escalated from there. He recalls it being a particularly bad winter those six years ago, and as he pottered around his space in the middle of the beach, a work of art was born. Used were materials found on the beach – predominantly flint – and various items Rory had lying around at home.
Now the space displays something similar to that of prehistoric art, with a Venus of Willendorf and a Sumerian goddess cradling a child. Something quite magnificent, all done by bare hand; the mighty working hand of a fisherman. From a distance, the intricate design and individuality of each carefully crafted sculpture does not always come across. You must venture close enough, if you dare, to see just how incredible each statue is.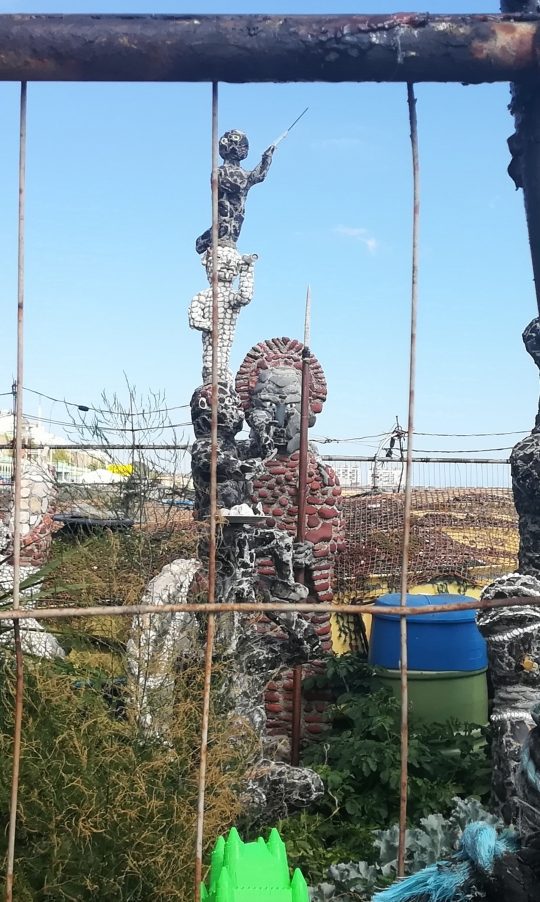 We can smile and know that this masterpiece lives on our pebbly shores. For creativity in Brighton finds a way, even in the most unexpected of places.