We probably all have the same feeling. It gets to the end of the week and all we can think is "Thank god, it's Friday!" Two days to kick back, relax and do fun stuff with family and friends. If you haven't made your plans for the weekend yet, here is where to head to.
Friday – BeAvantGarde @ Marwood Cafe
BeAvant Garde and Marwood cafe have teamed up to bring to life a free garden party taking place this afternoon. From 5 pm on, a full line-up of DJs will take you on a journey through sounds you have never experienced before.
Runs from 5 pm until 2 am. Marwood Cafe, 52 Ship Street, BN1 1AF Brighton. Entry is free but capacity is limited. So get there in time.
Friday – Gal Pals @ Komedia
Once a month, the Gal Pals club night takes over the dancefloor of Brighton's Komedia. Run by girls for girls, this queer dance party brings you the best in female fronted pop, rock, hip hop and R&B. All genders welcome.
Doors open at 11 pm at Komedia, 44 Gardner Street, BN1 1UN Brighton. Entry is £3 before midnight, £4 when you get there later.
Saturday – Pop Up Pug Cafe @ Cafe Plenty
Pug owners and pug lovers are invited to bring their furry friends down for a pugoccino and loads of special treats inspired by this amazing breed as the famous Pug Cafe UK comes once more to Brighton.
From 10 am to 4 pm on Saturday, pugs will find their paradise at Cafe Plenty, 3-4 circus parade, New England road, Brighton BN1 4GW. Pre-booking is essential. For more information, check out the Facebook event.
Saturday – Big Fun Run @ Hove Park
With no time being taken for runners, this 5K run is perfect for everyone who wants to do some relaxed exercising without sweating. You can even take part pushing your little one in a pram or taking your toddler along.
Brighton's Big Fun Run takes place from 1 pm to 3 pm this Saturday in Hove Park. The event is ticketed, but under 5s go for free.
Saturday – The Brighton Soul Train @ Concorde 2
Inspired by the US show Soul Train, this clubnight features the big classics from Funk, Soul, Disco and Motown. There will be make-up artists ready to make you look like you had only just jumped out of the 60s, 70s and 80s, a soul train danceway and ten DJs that will take over the club's Main Room and Room 2.
Doors open at 11 pm on Saturday at Concorde 2, Madeira Shelter Hall, BN2 1EN Brighton. Tickets are available online or on the door. Entry is £7 or £10.
Saturday – Memory Box @ Patterns
After its spectacular 4th anniversary party in London, Memory Box Parties have re-invited American DJ Joey Beltram to spin the decks at Patterns this Saturday. The set will reatrce the history of electronic club music, from its origins to the latest beats.
Doors open at 11 pm tomorrow night at Patterns, 10 Marine Parade, BN2 1TL Brighton. Advanced tickets are on sale online from £9.
Saturday and Sunday – New Road Vintage Market
Head to Brighton's New Road this weekend to browse through a big variety of stallls offering everything from vintage rags to long-lost artworks and other pre-loved treasures.
The market will be open from 10 am to 5.30 pm. New Road, BN1 1SD Brighton.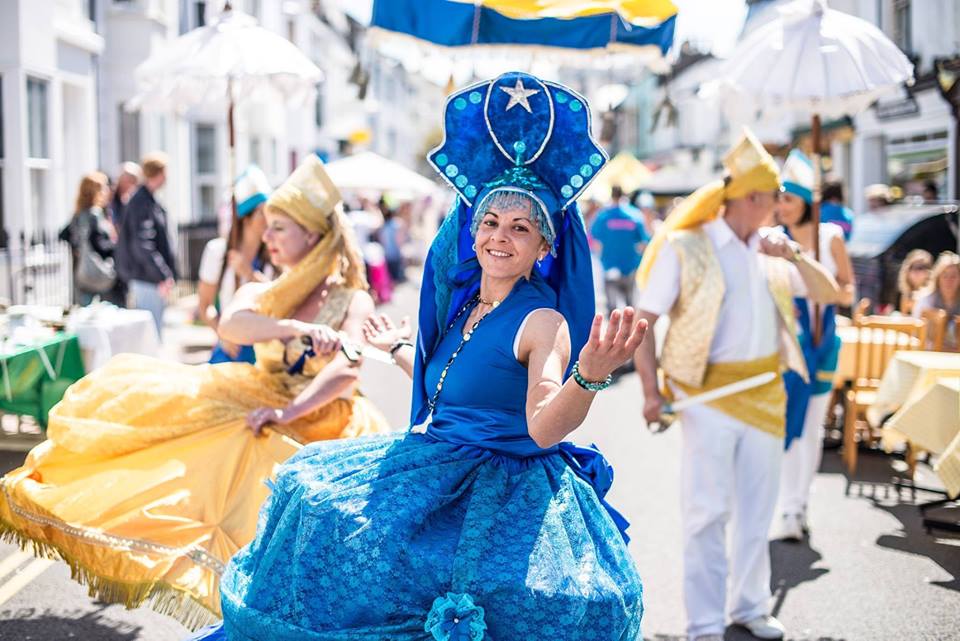 Sunday – Kemp Town Carnival Alternative Celebrations
Although the official celebrations have been canceled for this year, Brighton won't totally miss out on its annual carnival spirit as the samba bands and processional troupes that usually turn Kemp Town into a colourful street party will hold an alternative celebratory parade along Brighton's seafront. The march will end on a Pier where there will be a carnival-themed live-music day. At the same time, Patterns will be hosting a carnival Sunday social.
The alternative parade will start at 11 am at The Fortune of War at the seafront.
Sunday – Brighton Summer Madness Main Event
Said to have its biggest year ever, the Brighton Summer Madness will take over Brighton's seafront, featuring fun fair rides, sports tournaments, live music acts, open competitions, raffles… To sign up for any of the tournaments, email Brightonsummermadness@gmail.com.

The main event takes place on Sunday from 10 am to 9 pm at the area around the basketball couts down at the seafront opposite the Grand Hotel. Entry is free.