This week Brighton Journal spoke to Amalia Sanchez de la Blanca, local artist and founder of Linescapes. Set up in 2014, Linescapes specialise in architectural portraits, offering bespoke commissions and detailed prints. Amalia's background as an architect informs her artwork, combining both her eye for detail and experience with CAD software. We discussed Amalia's new Sun Collection, her work with Sir John Soane's Museum, and how moving to Brighton seven years ago influenced her artistic journey. Keep reading to find out more about Amalia's wonderful work.
What are you doing today?
Today I'm finishing a house portrait for a lovely customer. She asked me to draw a portrait of the house her father built in the 60's in Belfast. He was a well-known architect who passed away in June. His son moved to the house recently and her sister wanted to give him a portrait of the house as a birthday present as well as making prints for herself and another sibling. It's a very interesting house so I'm really enjoying doing it.
Describe where you do most of your creative work.
I work from my spare room in my flat in Hove.
What's the most exciting thing you've worked on?
As well as private commissions to draw people's houses, I also work for cultural landmarks quite often. I have done illustrations for institutions such as Manchester Art Gallery, Nottingham University, Canterbury Cathedral, Chatsworth House and Lord's Cricket Grounds among others. But the one I'm most proud of is the work I did for the Sir John Soane's Museum in London. They created the most beautiful collection of products featuring my illustration and it's been so popular that I've just signed a 3-year extension to my royalties contract as they want to carry on selling it.
What made you decide to become an artist?
Since I was a child I was always happiest when drawing. However, I became interested in buildings while living in LA in the 90s, so I became an architect and obtained a Masters degree from the Royal College of Art. But from the beginning of my career my instincts pulled me towards Architecture's artistic rather than its technical side. This tension, between my passion and the demands of my job, was present throughout my career. I was, in fact, an artist doing an architect's job.
After moving to Brighton 7 years ago I realised that I didn't have to be torn between architecture and drawing and that I could in fact enjoy both. So I started capturing the buildings around me and developed an understated and elegant style that resulted in a large collection of illustrations of iconic landmarks that keeps growing as well as undertaking private and commercial commissions. So I finally achieved my dream of becoming an artist without losing my love of architecture.
What are you currently working on?
I just finished creating my new Sun Collection which features all my illustrations while giving customers the chance to choose from 5 different colour backgrounds. I'm planning to add more products featuring these colours such as coasters, placemats, mugs, and much more in the new year.
What are the key themes in your work?
Architecture!
What would you like people to notice about your work?
Because of my background as an architect, I have developed a strong attention to detail that is obvious in all my architectural portraits. I love capturing details accurately.
What attracts you to the medium you work in?
I use the same computer CAD programme I used when I was an architect. I always loved drawing with it because it gave me the opportunity to add colours and shadows to my architectural drawings, adding in the process an artistic quality to what could be otherwise rather dry drawings.
What equipment could you not do without?
My iMac, keyboard and mouse.
Who or what inspires you?
I love every style of architecture, but I particularly love Modernist (or Bauhaus) buildings. The clean lines and simplicity of volumes are very pleasing to the eye and always sit well in every environment, whether it is a city or in the middle of the countryside. The De La Warr Pavilion is my favourite Modernist building in the UK and Mies van der Rohe's minimalist buildings are particularly inspiring.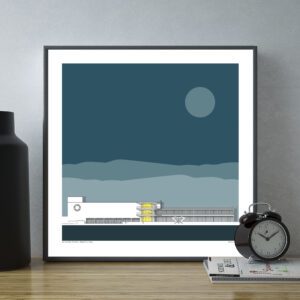 How is your work affected by living in this area?
Well, the catalyst for me leaving architecture and taking the plunge to become a full-time illustrator was the moment I moved to Brighton and fell in love with its elegant architecture. It's very inspiring!
What's your favourite thing to do locally?
During lockdown I started walking more with my dog to keep fit. Everyday I would go out and go 'wherever my feet would take me', so I discovered wonderful streets and buildings that I would have never known before. I still do.
What's your favourite gallery (or place to see/experience art)?
To me a gallery is not just about the exhibition content but also about the context, background, lighting and feel of the spaces. I absolutely love experiencing art installations in The Tanks, the ground level concrete industrial spaces Tate Modern opened up a few years ago.
If you could collaborate with one artist, from any time, who would it be and why?
Zaha Hadid. Although she was an architect, her representational drawings of her designs were exquisite. She was to me 80% an artist, 20% an architect, it was only when building technology advanced that her buildings were finally possible to build. I'm not sure if I could have collaborated with her per se, but I would have loved her to teach me how to paint.
What's your favourite colour?
Yellow!
To find out more about Amalia and her work, take a look at her website and Instagram.