This week Brighton Journal spoke to Ben Fenton, who's back in his Hastings studio space for the first time since lockdown began. Ben's work explores Mental Health through environment and landscape, frequently taking inspiration from this corner of the country and its coastline. He describes every painting he creates as a self portrait. We discussed Ben's ongoing and upcoming projects, as well as his favourite things to do locally. Take a look.
What are you doing today?
I am back in my studio today for the first time since lockdown began. It's been 101 days. It's good to be back. I am working on a couple of small paintings that I started at the beginning of the year and am preparing canvases for a couple of commissions.
Describe where you do most of your creative work.
I have a studio space at Common Mormon Studios in Hastings. I have been here for nearly two years. This is where I make my work.
What's the most exciting thing you've worked on?
I am very lucky to have worked on a number of exciting projects so far in my career. Last Spring I was granted access to the derelict Observer Building in Hastings before work began on its refurbishment. I was assisted by my daughter and we extensively photographed the interior for a series of paintings which form an ongoing project called This Is Mental Illness. In September of last year I was the subject of a documentary by the superbly talented filmmaker Thomas Bryan. It's called Just Plain Ben, and explores my life long battle with mental illness, and how that informs and inspires my work process. It was a real privilege to be a part of. I have a couple of new collaborations lined up for later this year involving murals and wall coverings, but I can't say too much about them just yet.
What made you decide to become an artist?
When I left school I became an apprentice hairdresser, which eventually led me to move to London. After a couple of years I realized I wasn't cut out for that and retrained as a gym instructor. Again, after a year or two, I realized it wasn't really for me. I was living in a grotty bedsit in Kilburn and working a job I didn't enjoy and wondering where it had all gone wrong. So, one day I bought a few paints, brushes and canvas boards from an art supply shop on Kilburn High Road, and started to teach myself to paint. It was probably the best decision I've ever made.
What are you currently working on?
I have a number of projects on the go at the moment. I have two new commissions to complete. The first is a painting of the High Light Tower Lighthouse in Dungeness and the second is the Roche's Point Lighthouse in Cork Harbour. The people that commissioned me did so before the lockdown began, and so have been very patient in waiting for my studio to reopen, so I am very keen to get on with the work for them. I am also continuing to work on my coastal paintings and a new series of Bottle Alley here in Hastings. I shall also soon be starting some works of WW2 defence architecture for a group exhibition entitled Island Fortress 1940: Britain's War Defences Then And Now which will tour between Cornwall's Regimental Museum, Chepstow Museum and the Royal Engineers Museum in Gillingham.
What are the key themes in your work?
Mental Health is the key theme to my work. I have suffered from mental illness all of my adult life and without art, I absolutely wouldn't still be here. It is my career, but also, and more importantly, my daily therapy. The biggest factor of my mental illness and depression is the almost constant feeling of loneliness and isolation. It took me many many years to figure out how to best represent that within my work. I originally come from Dungeness in Kent and grew up on and alongside the Romney Marsh in Greatstone, Rye and Winchelsea Beach. I am the son of a fisherman, so we always lived near the coast, and my blood is definitely of the salty variety, so four or five years ago I realized that that environment and upbringing was my muse. Painting the empty coastline of Kent and Sussex and the stark, concrete architecture built to withstand the sea reclaiming the low lying lands is the most honest way I have found to do that.
What would you like people to notice about your work?
I hope that the one thing people notice, or take from my work, is its honesty. Every painting I make is a self portrait, so I do hope that that is apparent.
What attracts you to the medium you work in?
I am a self-taught artist, and have developed a way of working oil paints that is unique, involving liberal amounts of White Spirit, a lot of stripping back and over painting and plenty of mess. My studio manager is thankfully very understanding, but I wouldn't be able to make the works I do with any other materials.
What equipment could you not do without?
I absolutely could not create my works without the collection of utensils I've built up over the years. They vary greatly in size, with some being hard edged and others serrated to differing degrees, but all of them are imperative to the work I make.
Who or what inspires you?
I have two inspirations in my life and they are my children, Astrid and Rocky. My mental health has caused me to reach some very frightening lows, on more than one occasion, and I nearly didn't find my way out of them. Simply put, to varying degrees I battle mental illness every single day and I wouldn't have the strength to do that without them.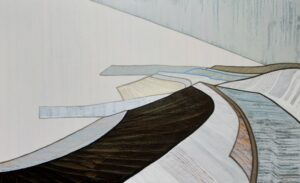 How is your work affected by living in this area?
My work is almost entirely centred on this little corner on the country. Although I would like to paint parts of the coastline in places further afield, as I said in a previous answer, this little bit is my muse.
What's your favourite thing to do locally?
I like to spend time on the beach. As much as I do love to swim in the sea, generally the colder and quieter the beach, the better.
What's your favourite gallery (or place to see/experience art)?
My favourite gallery is The Dirty Old Gallery in Hastings old town. It's run by Megan, Joe and Adam, three artists here in Hastings. They care deeply about local arts and artists and curate beautiful, thoughtful shows, as well as finding time to make their own work. It is definitely one to visit.
If you could collaborate with one artist, from any time, who would it be and why?
Francis Bacon is, in my humble opinion, the most brilliant, breathtaking and honest painter whose work I've ever been fortunate enough to view. However, I don't think he would be all too keen to collaborate with someone like me. So, due to a number of similarities in our subject matter and locations, I would be greedy and choose to work with both Paul Nash and Joan Eardley.
What's your favourite colour?
My favourite colour is Yellow.
To find out more about Ben and his work, take a look at his website.