This week Brighton Journal spoke to local illustrator, printmaker and designer, J David Bennett. David creates both limited and open edition prints using digital and traditional media. His work is humorous and vibrant, while combining elements of branding, storytelling and typography. He is currently working on a new series of typographic-based Brighton designs, as well as sports team themed packaging prints. We discussed David's recent projects, inspirations and favourite things to do locally. Keep reading to find out more about David and his wonderful work.
What are you doing today?
Packing up internet orders at Studio Greenhouse, a space I share with several other artists and creatives.
Describe where you do most of your creative work.
Whilst walking. A lot of my work is ideas based, walking clears my head and lets random thoughts creatively collide. My artwork is often quite a quick process, as I like to give it a feeling of energy, but the ideas take a lot longer.
What's the most exciting thing you've worked on?
I recently had a commission for very large versions of some of my popular Brighton Packs range. It was very exciting to see them so huge, they made a real impact in my customer's new home!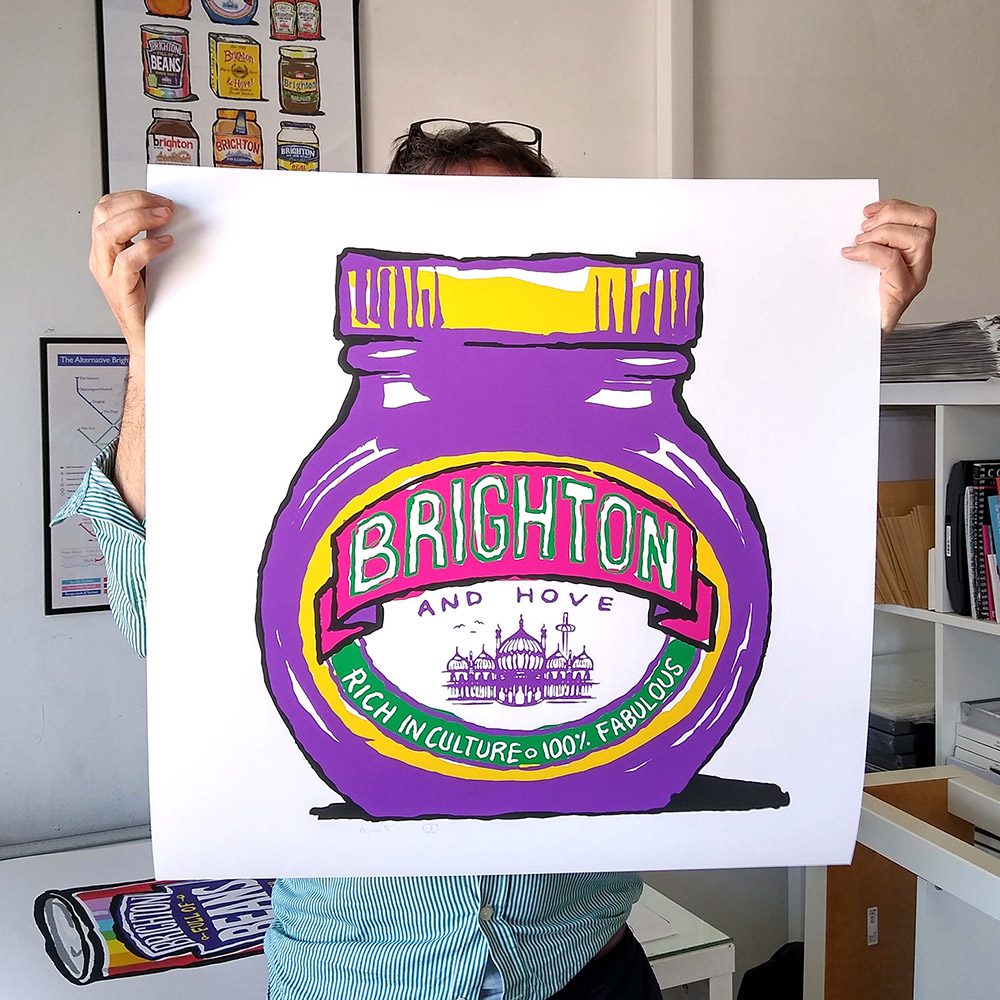 What made you decide to become an artist?
I was always creative as a child and that went on to become a career in design and animation, which slowly moved into printmaking. It was never a conscious decision.
What are you currently working on?
I'm working on more sports team versions of my packaging prints, as well as some new typographic based Brighton designs.
What are the key themes in your work?
Humour, branding, story and typography.
What would you like people to notice about your work?
The joy of realising that you're in on the joke. A lot of what I do is 'double-take' so you don't always notice it at first. My Brighton Tube Map is often mistaken for the real thing by tourists, before they realise Brighton doesn't actually have an underground.
What attracts you to the medium you work in?
Digital printmaking is a very accessible art form. I love the fact that my art is affordable, so lots of people can enjoy one of my prints as a fun talking point.
What equipment could you not do without?
Pencils. My artwork may end up digital, but it all starts with a sketch.
Who or what inspires you?
Interesting colour combination, clever puns, good composition, typography and all the better if combined in a good piece of street art.
How is your work affected by living in this area?
I love the vibrancy and ever changing nature of the city. It keeps my work fun and colourful.
What's your favourite thing to do locally?
I like to treat myself to lots of random comedy gigs at the Fringe each year. It's not always good, but always memorable!
What's your favourite gallery (or place to see/experience art)?
It's an odd kind of art but the Booth Museum with all its Victorian taxidermy cases stacked up to the ceiling is fascinating.
If you could collaborate with one artist, from any time, who would it be and why?
Andy Warhol would be fun! I think he'd love working with a digital artist.
What's your favourite colour?
Teal. Can anyone not like a lovely greeny-blue?
To find out more about J David Bennett and his work, take a look at his website and Instagram.