This week Brighton Journal spoke to Orna Schneerson Pascal, whose abstract paintings explore pattern and colour. Orna was one of the winners of the 2020 Habitat Brighton art project, which invited artists to create work inspired by Brighton. She has also exhibited at Farleys House & Gallery, and is currently working on a series of paintings that are going to be displayed at a gallery in Cornwall this July. We discussed the one book that inspired Orna to be an artist, as well as her love of Stanmer Park and acrylic paints. Keep reading to find out more about Orna and her vibrant work.
Featured image: by Gili Dailes.
What are you doing today?
Today I am already up in my loft studio looking at my latest large canvas that I started painting on Friday. I'm looking forward to continuing it with fresh eyes as it's always fascinating to look at a painting the morning after working on it the night before. The light is different, and sometimes I can be really surprised by the shades of colour.
Describe where you do most of your creative work.
I do most of my creative work either in front of a canvas in my studio or in my sketchbook in different locations. My studio is my happy and safe place where I can detach completely, yet connect and travel to whatever and wherever I feel like in my head. Even if my mood is not the best, everything melts away as soon as I touch and mix my paints.
What's the most exciting thing you've worked on?
There are quite a few exciting things I've worked on. One of the highlights was definitely preparing my solo show in 2016 for the Farley Farm House gallery in Sussex. Farley Farm House is the home of the surrealists Lee Miller and Roland Penrose, and I had the honour of being invited by their son, writer and artist, Antony Penrose. Being a part of that magnificent place for the three-month show was a great experience. The show included paintings and textiles and was a big success.
What made you decide to become an artist?
From a very early age I was always creating anything from everything, using whatever I found around. My hands were always busy creating something. At the age of 10 I came across an art book about Picasso, and since then I knew I wanted to be an artist – nothing could stop me. That great feeling has given me the confidence to always create and express myself exactly the way I want to, and feel without boundaries.
What are you currently working on?
I am currently working on a series of paintings to be exhibited in July 2021 in a gallery in Cornwall.
What are the key themes in your work?
The key themes in my work are different shapes, squares, circles, triangles, patterns, fish, trees, faces and flowers, both semi abstract and abstract.
What would you like people to notice about your work?
I would like people to notice the life and energy in my work.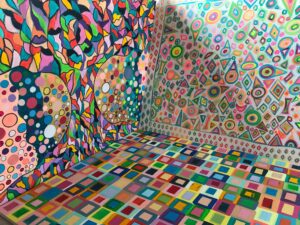 What attracts you to the medium you work in?
I work in Acrylic. I love its quality and colour shades. I work fast, and it suits me well that it dries fast so I can layer it and create the patterns that I want. I can transfer it fast and flow with it.
What equipment could you not do without?
I could not do without my paints, canvas or papers. Although if I didn't have them I would still find ways to create colours from nature or foods and paint on walls, furniture, myself, in nature or on anything you can imagine.
Who or what inspires you?
Everything in life inspires me, including life itself. I always feel inspired, and have both shapes and colours in my head all day long. I sleep and wake up thinking of shapes and colours.
How is your work affected by living in this area?
Living in Brighton is great, there's freedom here. We are lucky to have an alternative and open lifestyle by the sea and the beautiful downs that surround Brighton. It's a very creative and vibrant city, full of art events, stimulation and inspiration that suits the artist lifestyle.
What's your favourite thing to do locally?
My favourite thing to do locally is spending time in nature. My all-time favourite natural space is Stanmer Park, I live near it and spend a lot of time there. I always feel inspired by the versatile trees and nature, and love following the changes of the seasons all year round. It's fascinating. I love walks along the seafront, beautiful sunsets and the starling murmuration by the pier, the big open sky and the changes of the colours on the sea.
What's your favourite gallery (or place to see/experience art)?
My favourite gallery is the Tate Modern, I miss visiting it a lot. I love getting lost there in its never ending interesting and beautiful pieces of art, in a perfect spacious architectural design.
If you could collaborate with one artist, from any time, who would it be and why?
I would have loved to collaborate with the artist FAHRELNISSA ZEID. I saw a show of hers at the Tate in 2017 and it was mind blowing! I particularly loved her large work of patterns and shapes. I felt very connected to it, and somehow part of it felt as if it were a twin soul. I feel that it would be totally mind blowing to combine our work together and paint together on the same large canvas. Sweet dream.
What's your favourite colour?
My favourites colours are red and pink. If I had to choose one, it's red.
To find out more about Orna and her work, take a look at her website, Facebook and Instagram.